I recently learned something interesting about the tides in Wells Maine. You can tell whether it is high tide or low tide by the summer traffic on Route 1 in Wells.
That is, when it is low tide at Wells beaches (Moody Beach, Drakes Island, etc.) and the weather is good, then everyone goes to the beach. This also means that traffic on Route 1 should be less crazy than it normally is.
On the other hand, if it is high tide at the Wells beaches, then fewer people are likely at the beach. Then, more people are likely driving along Route 1 and so you can expect more traffic delays.
Let me explain why it works this way.
Tides in Wells Maine: high tide vs low tide
Nearly every beach town I've ever visited, it didn't matter when you visited the beach. High tide, low tide, it was all the same. It just might mean that during low tide, for example, you might have more sand to walk across before you got to the water.
However, on the seacoast of Southern Maine, things are very different. At least they are in Wells.
You see, when the tide comes in at the beach, the beach disappears in Wells. Go check it out sometime. You'll see that the water is right up against the sea wall.
Then, when low tides happens, suddenly the beach appears again. It's just the way the landscape is at the Wells beaches–and from maybe some coastal erosion, too.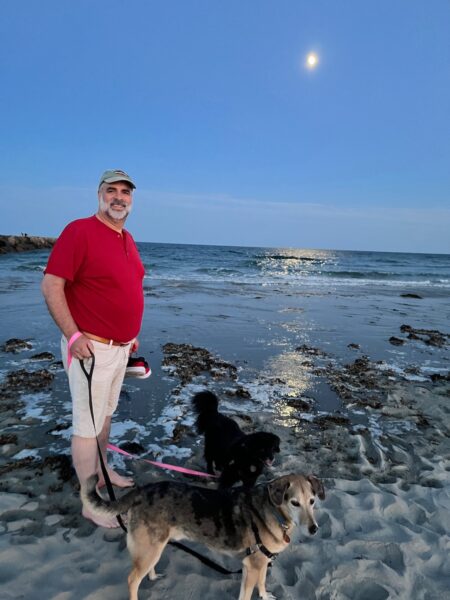 Names of Wells Beaches
Wells has three beaches that border the ocean. They are:
Crescent Beach
Drakes Island Beach
Wells Beach
There is a fourth beach–Harbor Beach. However, it is not on the ocean.
Even though there are separate beaches in Wells, Maines, the times for high tide and low tide are virtually the same.
When is low tide in Wells this week
So, unlike other beaches you might visit on the East Coast, when in Wells, you'll want to plan your visit to the beach based on low tide. Because what's the point of going to a Maine beach in summer if the sandy beach isn't there.
Again, it's only during low tide that you'll have sandy to lay out your beach blanket or set up your umbrella. Once it is fully high tide, you won't have any beach left.
That's why we've put together this guide to when low tide occurs this week. I'm only focusing on low tides during daylight hours because that's when you'll want to hit the Wells beaches.
As mentioned earlier, there are multiple beaches on the ocean in Wells. Even so, you'll find that the tidal times are pretty much the same.
So, we've only listed "Wells Beach" generically. However, you can feel confident that the tidal chart is as accurate as can be for Drakes Island, Crescent Beach and Wells Beach all together.
Note: We've rounded low tide to the nearest half hour because tides can fall at funky times. They change by about 50 minutes each day, give or take.
Here's when you can expect low tide in Wells this weekend.
What this Wells tides calendar covers
Also, this calendar is for Memorial Day to Labor Day only. That's when most people are visiting the Maine Seacoast and Wells in general, and may want to go to the beach.
Also, you usually have six hours between low tide and high tide. So, you'll definitely have enough time to take advantage of the beach.
Finally, if you're not a beach goer but rather a shopper–and it's a sunny day–you'll also want to refer to this information on when low tide occurs. Then you won't be fighting as much traffic because many people will be at the beach.
Source of tidal information
We're using the National Oceanic and Atmosphere Administration (NOAA) Tides and Currents data.