Not only are many southern Maine beaches wheelchair accessible, now some offer specialty beach wheelchairs designed to travel on the sand. Some chairs are even designed to float in the water.
The information here is relevant to the summer season, Memorial Day to Labor Day. Reach out to the local authorities for off season information.
List of Southern Maine locations with accessible beaches
Below is a roundup of local beaches and what they offer. In general chairs are reserved on a first come, first served basis.
Cape Elizabeth
Crescent Beach State Park in Cape Elizabeth, near the Two Lights Lighthouse has a chair that visitors can borrow. When you reach the entrance gate, tell the attendant you need the chair and a park ranger will meet you. If you have questions call (207) 799-5871.
Casco
Sebago Lake State Park has beach wheelchairs available to access the freshwater beach on Sebago Lake. The park phone number is (207) 693-6231.
Old Orchard Beach
Old Orchard Beach has a variety of chairs available for pick up at a numerous locations along the beach. For a list of current locations phone Parks and Recreation at (207) 934-0860.
Kennebunk
There are two ways that the Town of Kennebunk makes its beaches accessible for visitors and residents alike. You can rent equipment to help access the beach, and some of the beaches have ramps.
The Town of Kennebunk has two wheelchairs for the public to borrow. One is a floating model.
The chairs can be reserved and must be picked up at the town offices during business hours (M-F, 8-4:30). They are free, but the borrower must supply a credit card number that will not be charged if the chairs are returned undamaged.
Mother's Beach is essentially on grade with the sidewalk and is relatively easy to access via wheelchair. Gooch's Beach, on the other hand, has a ramp adjacent to the north stairs.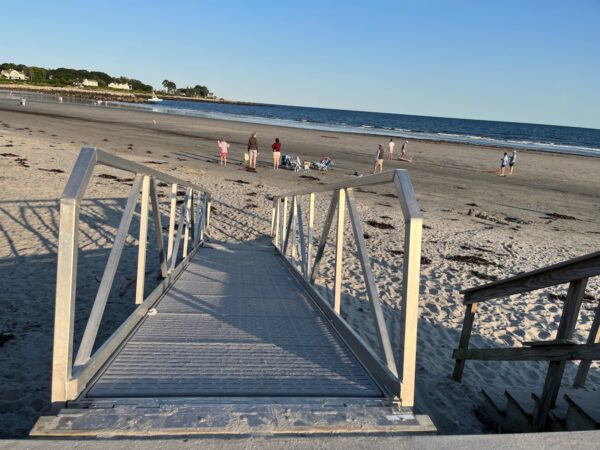 The southern end of the beach is on grade with the sidewalk, but the access may be a bit too steep and rocky for easy wheelchair navigation.
The Parks and Recreation Department can be reached at (207) 985-2102 ext. 1335.
Kennebunkport
There is an access mat as well as a beach wheelchair available at Goose Rocks Beach in Kennebunkport. To be certain that it is available reserve in advance. Also, be sure to pick up a parking pass. Kiosks to purchase one are located at kiosks located outside the Goose Rocks Beach General Store or at Proctor and Kings Highway. The town office number is (207) 967-4243 .
Poland
Range Pond State Park offers free beach wheelchairs to access this freshwater pond. The park office phone number is (207) 998-4104.
Saco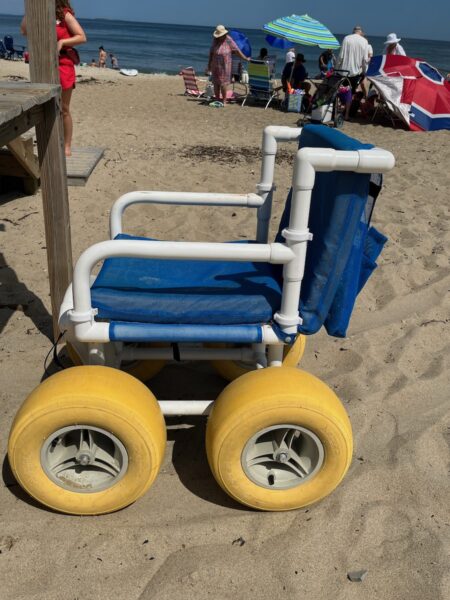 Bayview Beach in Saco has beach wheelchairs available. They have also added mats to high-traffic areas to aid in navigating the terrain. For information on borrowing the chair, call (207) 283-3139 between 9 am and 1 pm.
Also, Bayview Beach is dog-friendly year round.
Wells
Beach wheelchairs in Wells cannot be reserved and are available from 9-3 on a first come, first-served basis. They are free of charge and at least one floating style chair is available.
There are chairs available at the Eastern Shore parking lot on Wells Beach at the lifeguard shack. There is also one available at Drakes Island Beach parking lot. See a parking attendant for paperwork. For questions phone the Wells Fire Department at (207) 646-7912.
Finally, at least one Wells Beach has a wheelchair mat on the sand to help make it easier to get to the water.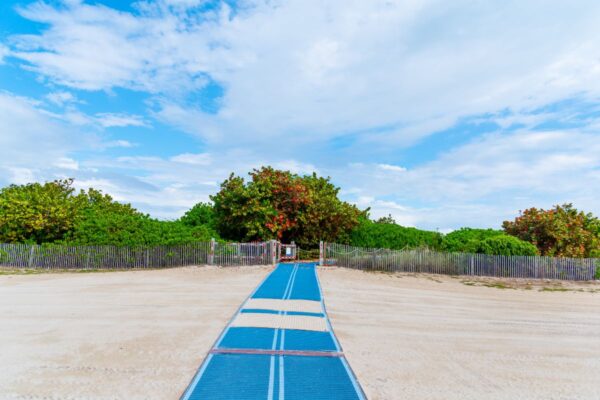 Short Sands Beach, York
Short Sands Beach in York has a single wheelchair that is available on a first come, first-served basis. Pick up the chair at the lifeguard stand. York Parks and Recreation can be reached at (207) 363-1040.
If we've missed any other accessible beaches in Southern Maine, please post a comment to let us know.