Since you may be wondering what towns in Southern Maine we cover, I present to you this map of Maine. I've circled on the map the area in Southern Maine where we focus our coverage.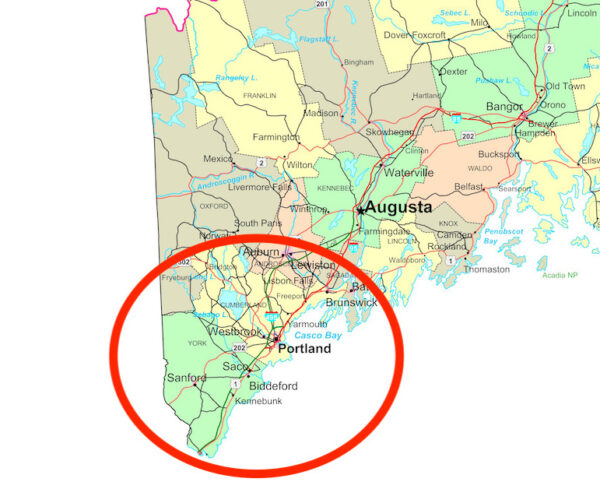 Primarily, we are covering everything in York County, the southernmost county in Maine. In addition, Southern Maine on the Cheap includes Cumberland County. That goes as far north and east as Brunswick where Bowdoin College is located.
Finally, you'll notice that we've included a little piece of Oxford County–really the southern tip of Oxford County, which is where you'll find towns like Fryeburg–as well as a little bit of Androscoggin County. This would include Lewiston and Auburn and nearby towns.
Why include Lewiston and Auburn? These sister cities are home to Bates College.
Colleges and universities can be a treasure trove of free and cheap events. So we wanted to make sure we included them in our coverage.
Finally, this article does a deeper dive on noteworthy towns in Southern Maine.
If you want to see a complete map of Maine, here is a stock image I've license of the Maine map.