You've probably heard of some of the most popular towns in Southern Maine. Places like Kennebunkport, Ogunquit and Portland.
However, do you know what each of these locations is best known for? Also, are you aware that there are coastal towns in Southern Maine along with charming inland communities?
Finally, like many places in New England, Maine has towns that are not pronounced the way they are spelled. Or, they are pronounced in a way you might not expect.
Therefore, in this guide, I'll share with you these pronunciations so local Mainers will be less likely to know that you're "from away."
Top Coastal Towns in Southern Maine
First I'm going to take you along the coast, if you will, and explain some of the most popular coastal and beach towns in Southern Maine. Then, I'll head inland a bit to share lesser-known locations that are definitely worth a visit.
Track the Maine fall foliage map so you know where to see the prettiest trees.
Kennebunkport
Americans likely first became aware of Kennebunkport, a charming coastal town located in York County, when George H.W. Bush became the 41st president. That's because the Bush family has an oceanfront compound in Kennebunkport called Walker's Point.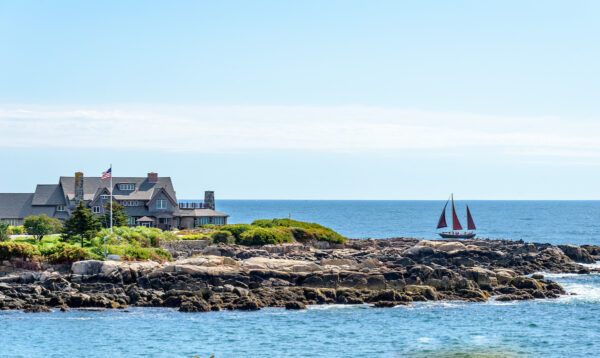 His son George W. Bush, aka the 43rd president, continues to summer at Walker's Point. In fact, he marches each year in the Kennebunkport Memorial Day parade.
The main shopping drag, if you will, in Kennebunkport is Dock Square. Another popular place to visit is the Seashore Trolley Museum (children and train aficionados like the fictional Sheldon Cooper from "The Big Bang Theory" love this place).
For a peaceful dose of nature, there is the Rachel Carson National Wildlife Refuge, which appears in this article on free things to do in Maine.
Finally, you pronounce Kennebunkport this way–Kenny-bunk-port or Kport for short.
York
York is a historic town located in, where else, York County. It's close to the New Hampshire border.
York is known for its rich history. I strongly recommend a visit to the Old York Historical Society grounds.
In addition, York has some of Southern Maine's prettiest beaches–including beaches that are dog friendly. York's downtown and harbor are lovely places to take a walk.
Old Orchard Beach
To me, Old Orchard Beach is what you would get if you transplanted the Jersey Shore to Maine. Basically, it's an old-fashioned beach town that runs parallel to the seven-mile-long beach.
On the boardwalk you'll find the same kinds of restaurants and shops plus an amusement park like you might find in Point Pleasant, New Jersey or Wildwood, New Jersey. One big difference? You won't hear a New York or Philly accent spoken here. Instead, you're likely to hear lots of French.
That's because Old Orchard Beach is a popular summer destination for Quebecois or French-speaking residents of Quebec, Canada. FYI, Quebec is closer to Old Orchard Beach than New York City is.
Wells
Wells is a quintessential summer town. Literally.
During the winter months, it is a sleepy, quiet place where half of the restaurants and stores are closed for the season. However, come Memorial Day weekend, Route 1, the main road in Wells, is bustling with visitors–and lots of car traffic.
There are three beaches worth visiting in Wells, all along a barrier island that divides the Atlantic Ocean from Wells Harbor. They are Wells Beach, Moody Beach and Drakes Island Beach.
Finally, all Wells beaches are dog friendly after 6 p.m. and great to visit to watch the sunset.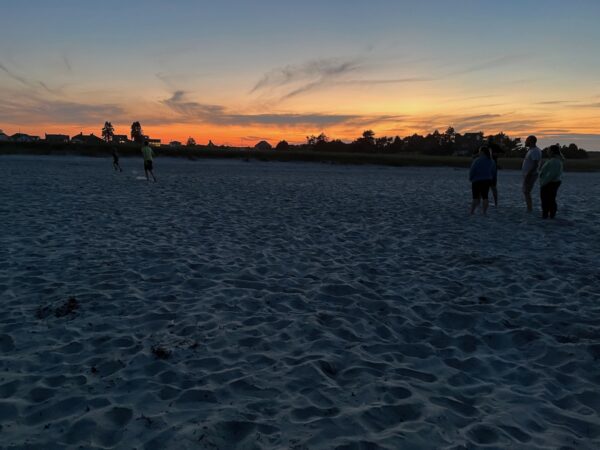 Biddeford
There are two versions of Biddeford. One, there is downtown Biddeford, with a picturesque main street that is part of a year's long rejuvenation project involving a nearby mill complex.
And, two, there is Biddeford Pool, a small beach town near the University of New England. It is one of the lesser-known beach towns in Southern Maine and one of the best-kept secrets.
Also worth visiting–the nearby Biddeford Pool Wildlife Sanctuary
Finally, here is how the locals pronounce Biddeford–Bid-uh-fahd.
Biddeford is included in this list of lakes in Southern Maine.
Historic Towns in Southern Maine
Southern Maine is home to many historic towns that offer visitors a glimpse into the region's past. In fact, some of these towns were founded before the United States became a nation.
Here are three towns worth visiting for a day or the weekend.
Kennebunk
It's important to know that Kennebunk and Kennebunkport are not the same places. While families that live in both towns send their children to the same school district, overall they are very different places. Together, they are known as the Kennebunks.
Whereas Kennebunkport hugs the Maine seacoast, Kennebunk is a bit farther inland. It has a walkable downtown with a rich history dating back to the 1600s.
Kennebunk's own museum is called the Brick Store Museum. It's across Main Street aka Portland Road aka Route 1 from a white steepled church dating back to the Revolutionary War. Talk about being historical.
In the weeks leading up to Christmas, Kennebunk and Kennebunkport host something called Prelude. It includes Christmas tree lighting, caroling, cooking decorating and Santa arriving on a lobster boat.
Finally, like Kennebunkport, Kennebunk is pronounced Kenny-bunk.
South Berwick
South Berwick is a small, inland town with a big history. It was settled in the 1600s and played an important role in the American Revolution.
According to the Old Berwick Historical Society, men from the town–two companies worth–went to fight in the American Revolution. Many joined John Paul Jones and served in the new Navy.
If you like National Historic Landmarks, South Berwick has one. It is the Sarah Orne Jewett House. Jewett was a fiction writer who wrote novels with stories set in Maine.
Those with a strong Maine accent, pronounce this town's name as South Buh-wick.
Kittery
Kittery is like a tale of two Americas. On the one hand, it is home to the Portsmouth Naval Shipyard, named for the New Hampshire town just across the Piscataqua River. That shipyard has been around since the 1800 and is the U.S. Navy's oldest continuously operating shipyard.
On the other hand, Kittery, Maine is home to Maine's largest outlet shopping mall, where you can celebrate National Outlet Shopping Day in June. There are hundreds of stores at the Kittery Outlets, which comprises three separate outlet shopping malls along Route 1. With all of that retail to choose from, no wonder it is where you'll find some of the best outlet shopping in Southern Maine.
Arts and Culture
Lovers of art and culture need not travel to Boston to get their fill. There are many places in Southern Maine that are well known for arts and culture. I've highlighted three.
Ogunquit
Some of the top attractions in Ogunquit include the Ogunquit Museum of American Art and the Ogunquit Playhouse. In fact, the Ogunquit Playhouse gets many of the same shows that you could have seen on Broadway at one time or another.
In addition, the Ogunquit Playhouse has a vibrant children's theater during the summer months. Some of the shows for 2023 include Finding Nemo and Spongebob: The Musical.
You pronounce Ogunquit this way: Ah-gun-quit.
Portland
Portland is a small city with a big arts scene. The Portland Museum of Art is a popular destination for art lovers. It has a rich collection that includes works by Winslow Homer, John Singer Sargent and Andrew Wyeth, all Mainers at some point in their lives.
The city is also known for its vibrant music scene, with venues like the State Theatre hosting concerts by both local and national acts. Upcoming concerts of some of my favorite artists include Death Cab for Cutie, Guster and Ben Folds.
The Portland Symphony Orchestra plays outdoor concerts during the summer at the city's Seaside Pavilion and then indoors during colder weather at the Merrill Auditorium.
Brunswick
The fact that Bowdoin College sits at the center of Brunswick's downtown contributes to the lively arts scene here. For starters there is the Maine State Music Theatre, which, like the Ogunquit Playhouse, has a vibrant lineup of Broadway shows throughout the summer.
In addition, Bowdoin has its own museum of art. And Brunswick is home to the Brunswick Outdoor Art Festival, which occurs every August.
You'll also find plenty of covered bridges in Southern Maine.
You know what, though? There are more covered bridges in Ohio than there are in Maine.