There are two places where you'll find the best outlet shopping in Maine.
Both are in Southern Maine.
One, there is Kittery.
And, two, Freeport, Maine, home to shopping mecca L.L. Bean.
These locations offer two very different outlet shopping experiences when you're in Maine.
So, in this article I'll explain what you can expect to find in each location, including the names of stores, any shopping holidays coming up and more.
Best outlet shopping in Maine
There were two reasons that my family and I would hit up the Maine outlets during the summer.
One, we were getting ready to go back to school and needed to buy new clothes and shoes.
Or, two, we were looking for rainy day activities during a trip to Vacationland (aka the State of Maine).
In the latter scenario we found that the outlets at Kittery were the better option.
Why?
Many of the stores are interconnected with a covered sidewalk between them.
Therefore, if it was really coming down that day, you were less likely to get wet walking from store to store.
That's not to say that you can't visit Freeport on a rainy day.
However, Freeport is a more traditional downtown setting, so you'll need to keep opening and closing your umbrella as you travel to each store.
Anyway, let me go ahead and describe the outlet shopping in these two towns.
One more thing: you'll notice that some brands call their outlet stores factory stores or company stores.
They're basically all the same thing.
Best outlet shopping in Kittery, Maine
Kittery is literally the first town you'll hit when you cross over the border from New Hampshire to the south into Maine.
You can get to Kittery on the Maine Turnpike aka I-95.
Or, you can drive Route 1 North from Portsmouth, New Hampshire.
Either way you're going to end up on Route 1, because that's where all of the outlets are located.
Simon Properties owns the main outlet shopping center in Kittery.
In fact, in 2022, Simon created its own holiday–National Outlet Shopping Day.
They held it on June 11 and 12.
In 2023, National Outlet Shopping Day is June 10 and 11.
There were extra coupons and savings and freebies for shoppers so mark your calendars.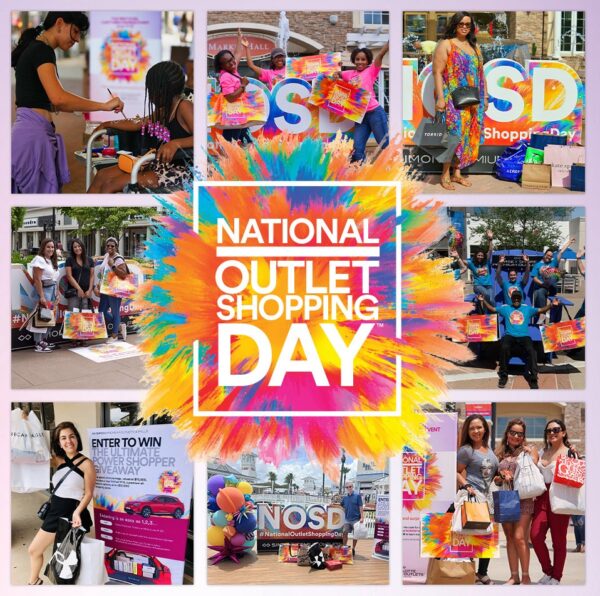 Photo courtesy of Simon Properties
What outlet stores are in Kittery, Maine
In Kittery you'll find the outlet version of brands you're familiar with or may have shopped in other outlet malls elsewhere.
In addition, you'll find stores with the name "outlet" in them but I can't vouch for how outlet-y they really are.
Finally, there are a number of different groupings of outlet malls on either side of Route 1.
So, park your car once and walk everywhere since the traffic along Route 1 can get gnarly during tourist season.
And if you happen to have an electric vehicle, you're in luck.
There are four EV charging spots at the Kittery Premium Outlets.
List of Kittery outlet stores
Here is an alphabetical list of the outlet stores along Route 1 in Kittery.
This does not include restaurants.
Adidas
Aeropostale
American Eagle
Ann Taylor Factory Store
Banana Republic Factory Store
Barbour Outlet
Boston Sports Cave/Moose Stash
Brooks Brothers Factory Store
Calendars, Games and Toys
Calvin Klein
Carter's Babies and Kids
Champion
Chico's Outlet
Clarks
Coach
Cole-Haan
Columbia Factory Store
Crate and Barrel
Crocs
Curated Brands
Daily Thread
DXL Destination XL
East Coast Output
Ecco
Express Factory Outlet
Gap Factory
Gap Kids
Go! Calendars, Games & Toys
Hanes Brand Outlet
J.Crew Factory
J.Crew Factory Crewcuts
Jockey
Johnston & Murphy
Kate Spade New York
Kitchen Store
Kittery Trading Post
Le Creuset
Levi's
Lindt Chocolate
Locally Handmade
Loft Outlet
Lucky Brand Jeans
Lululemon athletica
Movado Company Store
Nautica
New Balance Factory Store
Nike Factory Store
Old Navy Outlet
Orvis Outlet
Osh Kosh B'Gosh Outlet
Pepper Palace
Polo Ralph Lauren Factory Store
Saucony
Sea Bags
Skechers
Sperry
Sunglass Hut
Talbots
The Children's Place Outlet
The Cosmetics Company Store
Tommy Hilfiger
Tumi
Under Armour
Uniform Destination
Village Candle by Stonewall Kitchen
Waves
Yankee Candle
Zumiez
Here is a link to the Kittery Outlets website.
Outlet shopping in Freeport, Maine
You might be familiar with Freeport because it is home to L.L. Bean.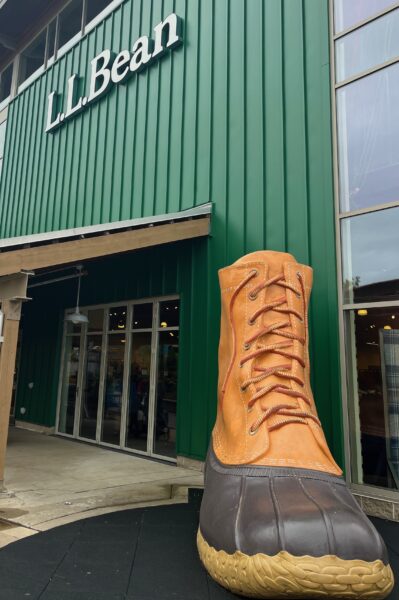 Photo by Leah Ingram
Also, Freeport is a stop along the Amtrak Downeaster line, which offers senior discounts.
And if you need EV charging, you'll find it in Freeport.
However, you've come for the shopping advice, and that's what I'm bringing.
While Freeport may not have the sheer number of outlet stores that Kittery does, it has a bunch worth visiting.
Plus, in the last few years, Freeport has really made it easier to visit and shop.
For example, they built something called Freeport Village Station.
Basically, it's an outdoor mall of outlet stores on top of a well-designed parking garage, where you can park for free.
It's really tastefully done.
A handful of Freeport eateries participate in Maine Restaurant Week.
Outlet stores at Freeport Village Station
These are the Freeport outlet stores you can expect to find upstairs at Freeport Village Station:
Brooks Brothers
Carters
Claire's
Coach Outlet
Famous Footwear Outlet
Francesca's
Freeport Outlet
The Kitchen Store Outlet
L.L. Bean Outlet
Lindt Chocolate
Oakley Vault
Old Navy
OshKosh B'Gosh
Skechers Warehouse Outlet
Sunglass Hut
Talbots Outlet
Outlet stores along Freeport Main Street and side streets
In addition to Freeport Village Station, Freeport has a legit walkable downtown.
There, you'll find outlet stores scattered among "regular" retailers.
Here is a list of outlets along Main Street and the side streets in Freeport.
American Eagle
Banana Republic Factory Store
Eastern Mountain Sports
Gap Factory
J.Crew Factory Store
Jockey
Levi's Outlet
Loft Outlet
Orvis
Patagonia Outlet
Polo Ralph Lauren Factory Store
The North Face Outlet
Under Armour Factory House
Vineyard Vines Outlet
Here is a link to the Visit Freeport website.
Another outlet shopping experience in Maine
There is one more outlet I wanted to mention in this article about the best outlet shopping in the state.
And that would be the Goodwill outlet store in Gorham.
Did you even know that Goodwills had outlets?
Granted, this is not the typical outlet experience in how items are presented.
I mean, the items at the Goodwill outlet are what outlets are supposed to be–where clothing and other items that didn't sell in regular stores are sent to clear out.
However, instead of clothing racks and shelves, at Goodwill outlets you'll find gigantic bins.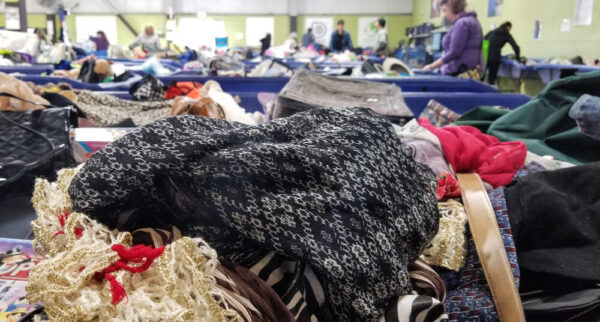 Photo courtesy of Goodwill Industries NNE
If there was ever a shopping experience that was akin to finding a needle in a haystack, then that's how I would describe shopping at a Goodwill outlet.
You are literally pawing through piles of items in oversized bins.
Sometimes you'll find gems, such as clothing that are still new with tags.
Other times you might just find a lot of junk.
However, if you enjoy that kind of hunt, then I think you'll love shopping at the Goodwill outlet store in Gorham, Maine.
Finally, if you decide to buy anything here, you'll be purchasing by the pound, not by the item.
So, it could be a real money saver for you.
These brands offer healthcare worker discounts, including at their outlet stores.