Soon it may be easier to find free and cheap EV charging stations in Southern Maine, at least in Portland and South Portland. That's because both cities have enacted or plan to enact an ordinance that any newly built parking facilities must include electric vehicle charging stations.
In the meantime I've researched and fact-checked where you can find free and cheap EV charging throughout Southern Maine. These options range from spots in Brunswick all the way down to Kittery. Then, as I come across more information, I'll update this list accordingly.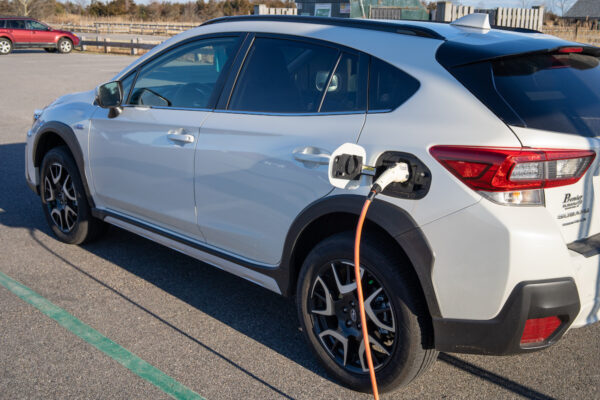 Where to find free and cheap EV charging stations
I have to give a shout out to the excellent website PlugShare.com, which has an interactive map of charging stations. It was my starting point for researching this story.
However, I did find at least one other source to confirm the information on the PlugShare site. Therefore, if you know of free or cheap EV charging stations in Southern Maine that do not appear here, it's because I could not independently confirm the information. However, feel free to reach out to let me know.
Finally, places with electric vehicle charging stations are listed here in alphabetical order by town.
Biddeford
University of New England, 11 Hills Beach Rd
There are two charging stations for public and campus use. So, if you're visiting for a college tour, you can charge up at the University of New England for free.
Bridgton
Shawnee Peak, 119 Mountain Rd
According to the Ski Maine Association, Shawnee Peak has at least one electric vehicle plug-in charging station.
Brunswick
Bowdoin College
Bowdoin College announced two places on campus with charging stations. One, you'll find two Level 2 chargers at the John Brown Russwurm African-American Center on College Street. They are free to use but the college asks that you move your car once it is fully charged.
And, two, you'll find a Chargepoint outlet near the Roux Center for the Environment at the corner of Harpswell Road and College Street. There, up to four cars can juice up at once. The first four hours are free. After that you'll pay $3 an hour.
Flight Deck Brewery, 11 Atlantic Avenue
Located near the Brunswick Executive Airport, you'll find four free charging stations here for customers to use. The Flight Deck Brewery installed these way back in 2017.
Casco
Casco Community Center
The Casco Community Center installed its first EV charging station in 2015–wow, ahead of the curve.
Cumberland
Congregational Church in Cumberland UCC
As part of its "green team" report, the Congregational Church in Cumberland UCC announced that they had installed an electric vehicle charging station. It is free to use.
Falmouth
Falmouth Memorial Library, 5 Lunt Rd.
The Falmouth Memorial Library shared this post and picture below on its Facebook page in 2021 after installing a plug-in charging station for electric cars.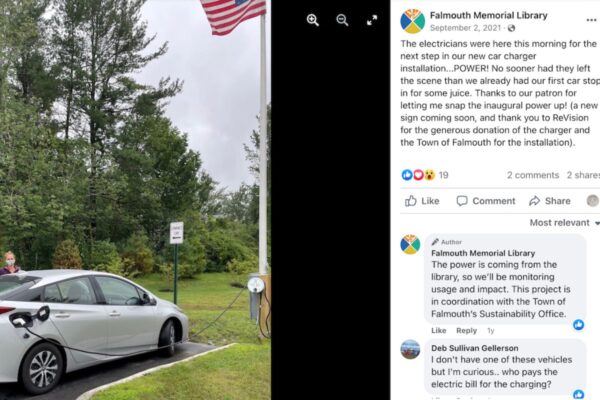 Falmouth Municipal Offices
The website for Falmouth government outlines where you can find free EV charging:
"There are 4 EV charging stations at the School Department, and one at the Town hall for public use."
This includes Falmouth High School, 74 Woodville Rd.
Maine Audubon Society, 20 Gilsland Farm Rd.
The Maine Audubon Society posted on its Facebook page when it had the 2016 ribbon cutting for the EV charging station. It includes this photo of the first car to use it.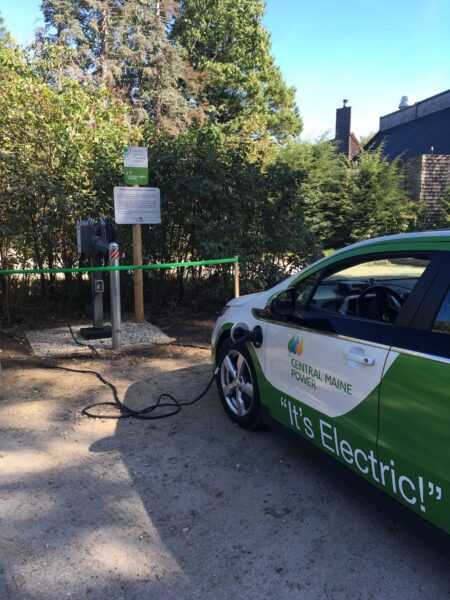 TideMart Global, 380 US-1
This marketing agency located along Route 1 has one EV charging station that the public can use for free.
Freeport
L.L. Bean, 95 Main St.
In the parking lot behind the flagship L.L. Bean store, you'll find 16 electric vehicle charging stations. Yes, you read that right–16 of them.
Eight are specifically for Teslas and the other eight are Level 2 chargers. It appears that at least the Level 2 chargers are free for the public to use. The next time I visit Bean, I'll be sure to take a picture of all of them.
Wilbur's of Maine Chocolate Confections Factory Store, 174 Lower Main St. Suite 11
I found a 2015 Portland Press Herald article that reported the store had added a single charging station to the parking lot. It's important to note that this is the Factory Store you'll pass first before arriving into Freeport from the south on Route 1. This EV charging station is not at the store on Bow Street in Freeport.
Gorham
Gorham Village, 42 South St.
You'll pay $3 per hour to park and charge your car here.
Kennebunk
Kennebunk-Kennebunkport-Arundel Chamber of Commerce, 16 Water St.
This Chamber of Commerce office has one charging spot in the parking lot behind the building. It is free to use.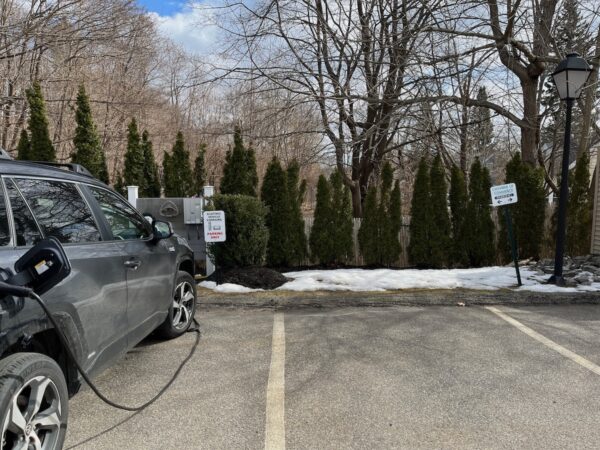 Kennebunk Light & Power District, 4 Factory Pasture Ln.
This is my power provider. I had no idea they had an EV charging station, free of charge, for people to use.
It is in a well-lit, covered area, just off Main Street (aka Route 1). Also, the EV charger is solar powered.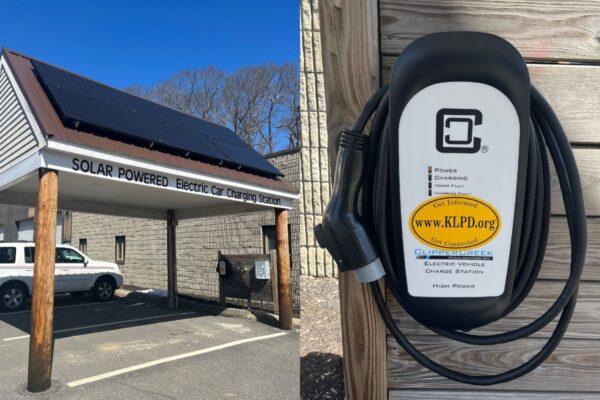 Washington Hose Company, 159 Port Rd.
In case you didn't know, the Washington Hose Company is part of the Kennebunk Fire Department. It is located in the lower Kennebunk Village. Anyway, there is a single, free-to-use EV charger behind this fire station.
Kennebunkport
Kennebunkport Fire Station, 32 North St.
There is one charger at this fire station near Dock Square. It is free for the public to use, on a first come, first served basis.
Mabel's Lobster Claw, 124 Ocean Ave.
If you're stopping at Mabel's Lobster Claw for lobster rolls, you can charge your car for free. Here you'll find three Tesla chargers, though I'm not sure which kind of Tesla chargers they are.
Keep in mind that the Mabel's website says the restaurant closes in October for the season and reopens in spring. So, it's not clear if the chargers are still available in the off season.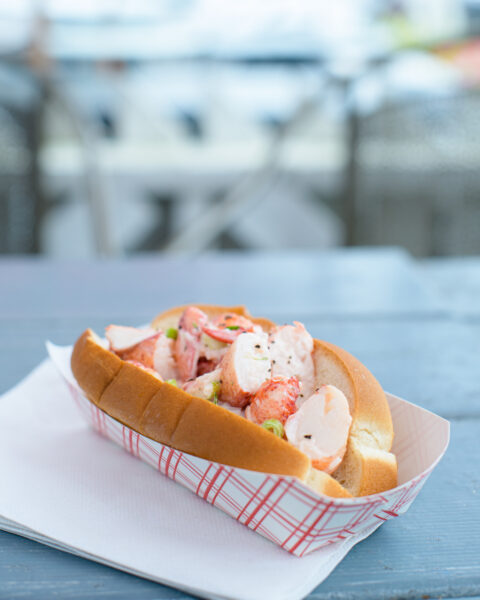 Kittery
Kittery Town Hall, 185 Rogers Rd.
The Town of Kittery announced the installation of four new Level 2 chargers on the town's website.
Rice Public Library, 8 Wentworth St.
There is a two-hour limlit to the free charging and parking at this Kittery library.
New Gloucester
Pineland Farms, 15 Farm View Dr.
I grabbed this picture of the EV charging station at Pineland Farms from their Instagram. There is a two-hour limit for free plug-in time. That's plenty of time to visit the Pineland Farms Store. You may find better egg prices here.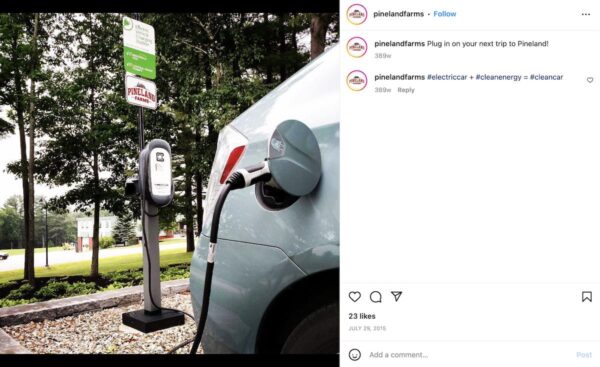 Find out what Pineland Farms is doing for Maine Maple Weekend.
North Yarmouth
North Yarmouth Community Center
The North Yarmouth Community Center used a 2020 Facebook post to announce the installation of two EV charging stations. They are at Wescustogo Hall and North Yarmouth Community Center. They also mentioned that these are solar-powered charges.
Old Orchard Beach
Old Orchard Train Station, 11 1st St.
There are four charging stations at this parking lot. Charging is free. However, parking in the lot (regardless if you have an EV or not) is $3 per hour.
Portland
City of Portland parking garages
Free and cheap EV charging in City of Portland parking garages
There are two city-owned and managed parking garages in Portland that offer free EV charging. I got these details from the PortlandMaine.gov website.
Elm Street Parking Garage, 21 Elm St. There are three Level 2 chargers (non-networked, free to use while parking). There is a three-hour limit. This garage is close to the Portland Museum of Art.
Spring Street Parking Garage, 45 Spring St. This garage has two Level 2 chargers (non-networked, free to use while parking.) There is a three-hour limit.
However, keep in mind that parking in the garages is NOT free. You'll pay anywhere from $3 to $5 per hour.
Greater Portland Council of Governments, 970 Baxter Blvd.
I found a report from the Greater Portland Council of Governments, touting the two EV charging stations on site. They are located in the covered parking lot.
Maine Medical Center, 22 Bramhall St.
The hospital complex in downtown Portland offers free EV charging for staff and visitors. You'll find the charging spots in the parking garage that overlooks the Emergency entrance.
Portland Foreside, 100 Thames St.
A newer mixed use area on the waterfront, it includes free-to-use EV chargers.
Portland Jetport, 1001 Westbrook St.
Head to the short-term parking to enjoy one hour of free charging–and 30 minutes of free parking overall. After that, you'll have to pay.
Saco
Bill Dodge Nissan of Saco, 852 Portland Rd.
There are three different kinds of EV charging stations at this car dealership. If the spots are available, you're welcome to charge here for free. However, you must stay with your car.
The Ecology School at River Bend Farm, 184 Simpson Rd.
If you're visiting The Ecology School at River Bend Farm, you're welcome to use the EV charger here.
Run of the Mill Public House and Brewery, 100 Main St.
Free charging for customers of this restaurant. Supposedly, the charging station is within the parking garage, towards the back.
However, it's not clear if the parking garage is also free. It's all within the renovated mill complex on the border of Saco and Biddeford.
Scarborough
Hannaford Corporate Offices, 145 Pleasant Hill Rd.
This is not a Hannaford supermarket but rather their offices. Nonetheless, there appears to be at least one EV charging station that is free to use.
Maine Medical Partners, 92 Campus Dr.
If you have a doctor's appointment at one of the specialists at Maine Medical Partners in Scarborough, you can charge up at one of the four EV stations. They ask that you do not leave your car plugged in for more than three hours, though.
Mainely Tubs, 415 Payne Rd.
The Scarborough showroom has two EV charging stations.
Scarborough Public Library, 48 Gorham Rd.
This is a solar-powered charging station, with three EV plugs.
South Portland
City of South Portland
Various South Portland municipal offices have EV charging stations, including South Portland City Hall, 25 Cottage Rd. During business hours staff use them. However, after hours, the public is welcome to charge their vehicles there.
This PDF shows all of the publicly available charging stations in South Portland. However, it doesn't note which ones are free versus paid parking.
Revision Energy, 758 Westbrook St.
The headquarters of this energy company, located near the Jetport, has at least six EV charging stations. While employees use many of them, the public is welcome to pull up and charge their vehicles if one is available.
Southern Maine Community College, 2 Fort Rd.
There are at least two free-to-use charging stations at Southern Maine Community College (SMCC). They are part of multiple initiatives to make the campus more sustainable.
South Portland Community Center, 21 Nelson Rd.
There are three charging stations, with a two hour limit. All are free.
Wells
People's Choice Credit Union, 774 Post Rd.
Stopped in to use the ATM and discovered these two EV chargers around back.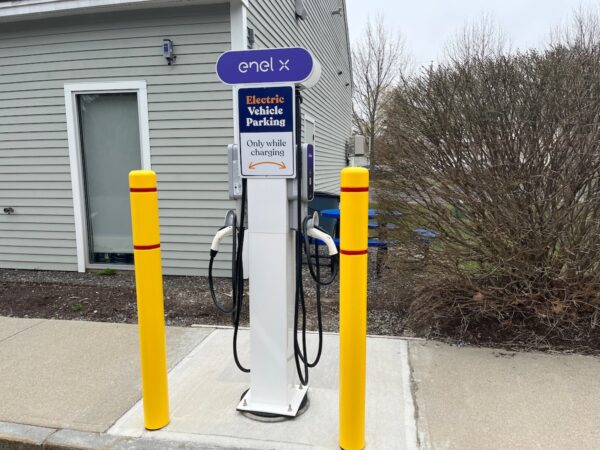 Photo by Leah Ingram
Wells Public Library, 1434 Post Rd.
You'll pay $3 per hour at one of the four charging stations at the Wells Public Library.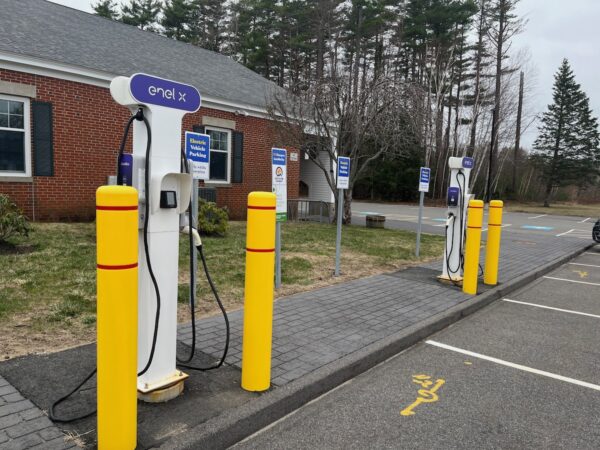 Photo by Leah Ingram
The public library also has a farmers market during the summer.
Wells Reserve at Laudholm, 342 Laudholm Farm Rd.
This is a public park near the Rachel Carson Nature Preserve. When we tried to take our dogs there last summer, we learned that dogs are not allowed. Nonetheless, there are two EV chargers here that you can use for free while at the park. Just don't bring your dogs.
Westbrook
Lee Dodge Chrysler Jeep, 200 Main St.
The Lee Auto Mall group promotes free EV charging at its dealerships throughout the state. One is in Southern Maine in Westbrook.
Yarmouth
Yarmouth Town Hall, 200 Main St.
You'll find three plugs at the Yarmouth Town Hall, which are free to use. There is a sign saying that you cannot charge your car overnight there between November 15 and April 15. I'm guessing that's because of snow plowing. However, that also seems to imply that between April 16 and November 14, you could conceivably charge your electric vehicle here overnight for free.