Have you noticed how high egg prices have become lately? Recently, I saw a dozen eggs in the store for almost $10. That's crazy.
So, why are egg prices so high? Well, there are a couple of factors.
One, there is inflation. This is not new.
We know that with the way the economy is trending, prices are going up on everything at the store. And not just the grocery store.
One source says that egg prices are up almost 60 percent in the past 12 months. So, if it feels like they've almost doubled, you're not losing your mind.
Two, there is avian flu. Avian flu is deadly to birds, including chickens.
According to the CDC, "Since early 2022, more than 49 million birds in 46 states have either died as a result of bird flu virus infection or have been culled (killed) due to exposure to infected birds."
What that means is fewer hens producing eggs. Therefore, the remaining eggs cost more. Basic supply and demand.
How egg prices vary at stores
Here's something I've learned about egg prices: it seems to be affecting mass-produced brands more so than others.
What do I mean by that? Well, this is an instance where store brands or "regular" eggs tend to be more expensive than organic or free range. Or at least the prices are comparable.
I believe this is perhaps because hens that lay organic or cage free eggs are not kept in such close quarters. Therefore, it's possible that Avian flu transmission isn't as severe as on mass farms.
Egg prices at Maine stores
For example, when I checked my local Hannaford, I discovered that the price for cage-free eggs was the same or only $.10 more expensive than "regular" eggs.
Normally, prices for these specialty eggs are much higher. I can recall seeing cage free or organic eggs at least $1 or $2 more for a dozen.
Over at the Walmart in Biddeford, I saw the same thing. Only $.10 separated a dozen generic eggs (Great Value Large White Eggs, 12 Count $4.83) from Marketside Large Cage Free Brown Eggs, 12 Count ($4.93), the Walmart brand. The Marketside organic brand is $5.14 for a dozen.
In addition, at the Target in Biddeford, you could get Eggland's Best Cage Free Eggs, one dozen, for less than the Target brand Good and Gather ($4.79 versus $4.89). Organic Good and Gather dozen eggs were $5.49.
Finally, when my husband went shopping at Aldi (we have to go to Portsmouth since there aren't any locations in Maine), he was shocked to discover this. At Aldi the organic eggs were actually cheaper than "regular" eggs. So, he stocked up.
How to deal with higher egg prices
So, what's a shopper to do? Obviously, price will drive many of your decisions. But you can add on savings here and there.
One, if you grocery shop at Target like I do–I do Drive Up or Pick up at either Biddeford or South Portland–definitely install the Target app. It used to be called Target Cartwheel. In 2019 it became Target Circle.
One of the benefits of having the Target Circle app on your phone is you earn rewards for every purchase you make. They show up in the app, under your "Wallet," as Target Circle earnings.
You can toggle on the earnings button and apply them to purchases when you check out. This is true either in store (you can bring up a barcode on your phone) or online for pickup.
Right now I've got $2.07 Target Circle earnings, which I could conceivably apply to purchasing eggs. This would bring the price down significantly.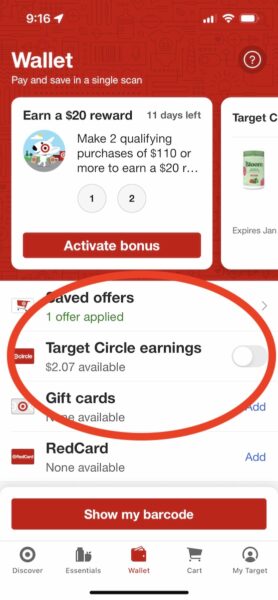 Target Circle offers
Also in the Target app, you'll see Target Circle offers. These are limited-time deals on products at Target.
Sure, it's mostly beauty and other household items. However, you'll find food offers, too.
For example, when I logged on to write this article, I saw 301 food products with offers.
One was a BOGO on Greek yogurt. Another was money off peanut butter–a manufacturer's coupon for $1 off.
Look for coupons
Speaking of manufacturer's coupons, these can be a great way to save. You can go online to get coupons from Coupons.com or another source.
If you still get a Sunday newspaper in print, you can look for coupons there. Same with your local supermarket flyer.
In fact, you can shop the Hannaford weekly flyer online here.
Another place for coupons is on manufacturer websites or social media feeds. So register to receive emails from them. Therefore, you could end up with coupons in your inbox.
Shop local
Given what egg farmers have been going through, now may be the time to start shopping locally. The University of Maine Cooperative Extension has an interactive map that can help you find farms near you throughout Maine.
You may find that prices at these farms are comparable to the supermarket. Plus, you'll be supporting a local business.
Finally, at least one of the locations I'd highlighted in this article about free and cheap EV charging has a farm store selling eggs. So be sure to check out those local farm options.
Where I found the best egg prices
So, where did I find what I consider to be the best prices on eggs? At Costco.
Yes, we drove all the way to Costco to get eggs. Let me tell you, it was worth it.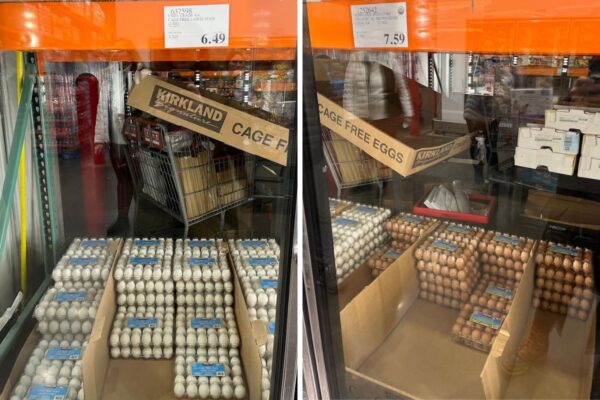 The prices shown above are for 24 eggs per container. We were limited to two containers each.
So, as you can see from the receipt below, we did buy our max of two containers of eggs. This should last awhile.
I can't wait for the Costco to open in Scarborough. You see, we've had our Costco membership since we lived in Pennsylvania.
I drove by the Costco site on Payne Road when I went out shopping for day-after Christmas sales in South Portland. Right now it's just a paved lot.
I understand it won't be open until 2024 at the earliest. Nonetheless, it's going to be great to have a Costco nearby, rather than having to drive to New Hampshire.
Egg substitutes and alternatives
I never thought about searching out egg substitutes until a friend pointed it out. In fact, he recently made a cake using Bob's Red Mill Egg Replacer.
It's a powdered substance that's vegan and gluten free. One bag is the equivalent of nearly three dozen eggs. But it costs way less than a single carton of eggs.
How did it work? He couldn't tell the difference.
Another egg alternative is the plant-based Just Egg. Finally, when baking, you can always substitute applesauce for eggs.