When we were first thinking of moving to Maine, I wasn't sure I could ever go shopping at Target. You see, I have a sort of retail litmus test when considering where I might want to live.
I'll usually find out if the following stores are nearby:
Costco
Target
Nordstrom
Trader Joes
As you likely know, Costco is opening its first Maine store in Scarborough in 2024. I'll be sure to cover it once I get more information.
Two, there is a Nordstrom Rack in South Portland. To visit the nearest full-service Nordstrom department store, you'll have to go to Massachusetts.
Three, I can go to the Trader's Joes in Portland or the one in Newington, New Hampshire. They're equidistant from my Kennebunk home.
Finally, now there are a handful of Target stores in Maine. So living in Maine was something I could definitely do.
Where are Targets in Maine
The only Target I knew about in Maine was in South Portland, off Running Hill Road. In fact, it was the chain's first location in Maine.
Now there are six Target stores in Maine. More than half are in what I call Southern Maine.
The Southern Maine Target locations are:
Auburn
Biddeford
South Portland
Topsham
The Target in Topsham is close to the Renys department store location.
Why I like shopping in Target
To borrow a phrase from an Elizabeth Barrett Browning poem, "How do I love shopping at Target? Let me count the ways."
In fact, I've been a devout Target shopper since the 1990s. At that time we were living in Ann Arbor, Michigan while my husband was attending graduate school at the University of Michigan. It was my first exposure to "tar-zhay."
Here are some of the benefits of shopping at Target or services you may not realize Target stores offer.
Target college registry
Some people call this the Target dorm registry. Either way, you can set up a registry for a child going off to college.
When my own daughters were going to college, we quickly discovered that Target has the best bedding for dorms. One, they always stocked plenty of Twin XL sheet sets.
For some reason dorm beds are extra long. Go figure.
Two, the cotton jersey version of these sheet sets were soft, washed up well and lasted forever. In fact, my daughters' sheets made it through four years of undergraduate and then went with them to graduate school.
Here's my review of the Target college dorm registry.
Shop online and pick up in store
I love Target drive up. Well, I loved it more before the Maine bag laws went into effect.
Now, because you have to pay for bags, I prefer to do in-store pickup versus drive up. That's because if you shop online and pick up your order in the store, you can bring your own bags.
Then, the store clerks will transfer your purchase into your bags. After that, they'll refund the bag fee.
That being said, late last year I was dealing with a back injury. Walking into my Target store in Biddeford was not an option. So, I sucked it up, paid the bag fee and did Target Drive Up.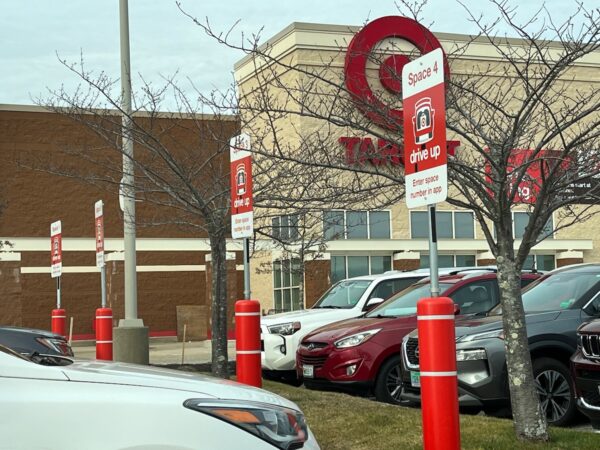 Read on to find out how I found the cheapest gas while driving to Target in Biddeford.
Finally, many Target stores have a full supermarket inside. Therefore, you can order your groceries online for free (no shopping fee), if you pick them up yourself.
On the other hand, you can choose to have your groceries and other purchases delivered to your home. Target uses Shipt shoppers for same-day deliveries. You will pay a fee for this convenience.
This article includes tips for saving money on eggs at Target.
Target wine and spirits
Does Target sell wine? Well, in Maine it does.
In fact, not only do Maine Target stores have wine but they have other kinds of liquor, too. This includes margarita cocktails, mojitos and spiked lemonade.
You can also get hard seltzers like White Claw.
FYI, don't forget to bring your empty alcoholic containers to Clynk bottle recycling centers. You'll get $.15 back for each container.
Savings on flu shots and other vaccines
Every year Targets roll out some sort of incentive so customers will get their annual flu shot. This is true for Mainers.
For example, when you visit a CVS inside a Target for a flu vaccine, you'll usually get a $5 Target gift card as a reward.
Recycling services at Target
Even though single use plastic bags are banned in Maine, you may still have some laying around. Or, you might buy something that comes with a plastic bag-like covering.
Well, you can bring those plastic items to recycle at Target. (I may do a separate article on where you can go in Maine to recycle plastic bags and other items for free.)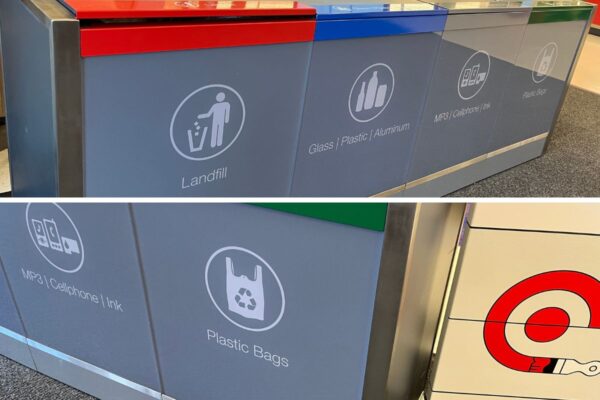 That's not the only thing you can recycle at Target. In fact, based on the recycling bins right inside the Target doors, you'll notice Target will recycle the following items for you.
Glass
Paper
Aluminum
MP3
Ink cartridges
Cellphones
Plastic bags
Some of this will save you a trip to the transfer station, plus any fee you might incur from that visit.
In addition, Target has a car seat recycling program. Usually, twice a year, Target will take back car seats for recycling at their trade-in event.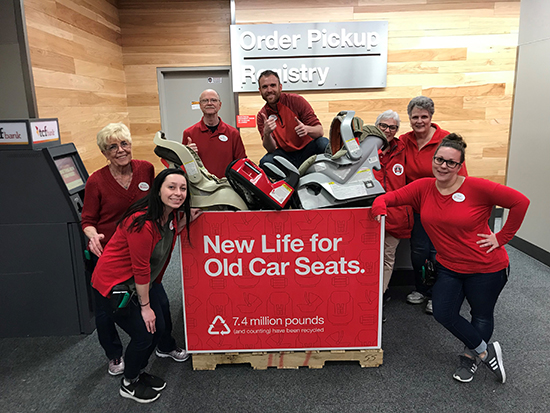 Then, you'll get a coupon to save on the purchase of a car seat. Last I heard it was a 20% off coupon.
Finally, I believe Target holds these events in April and September. However, I'll double check and post an update once I know for sure.
Target after Christmas sales
I love shopping after Christmas sales. And one of my favorite places to go is Target.
In fact, on December 26, you would have found me in South Portland at Target. I also hit up Sierra and Nordstrom Rack.
Clearly, I'm not the only one who loves Target's after Christmas sales. I took the picture below at the store, at around three in the afternoon on the day after Christmas. There's barely anything left!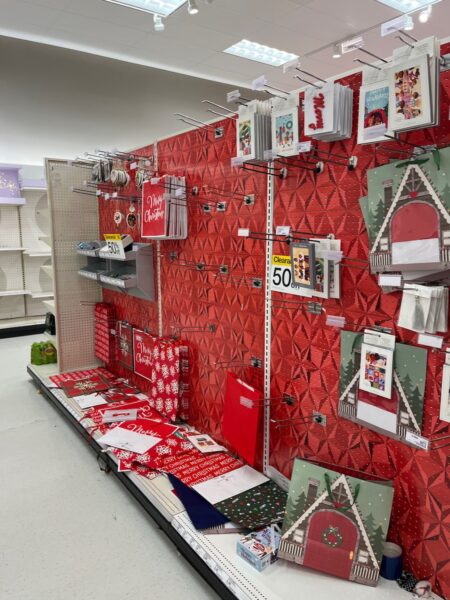 Marden's discount stores are considered to be Target salvage stores.
Finally, find out how to use SNAP EBT when ordering groceries from Target as Target is one of the places to go supermarket shopping in Maine.
Target Circle
I strongly suggest you join the brand's rewards program called Target Circle. It's free and easy to do.
Plus, as a member, you'll be able to take advantage of any Target Circle Week offers. In case you didn't know, Target Circle week is the store's semi-annual shopping event designed to go up against Amazon Prime Day.