Until we moved to Maine, I had no idea what Clynk bottle return was. I mean, I knew there was a bottle deposit law in Maine. However, I wasn't sure how or where I could return or recycle my bottles and cans to get my money back.
Then I figured out that Hannaford supermarkets had Clynk bottle redemption centers. They were either right inside the store entrance or in the parking lot.
So, I signed up for Clynk and that's been how we've been returning our bottles ever since.
In case you're not familiar with how the Clynk bottle return works, I wanted to give you this rundown.
How to sign up for a Clynk bottle return account
We went in person to the Hannaford in Kennebunk (where we live) to sign up for Clynk. There is a kiosk that looks like an ATM inside the supermarket, near the Hannaford customer service desk.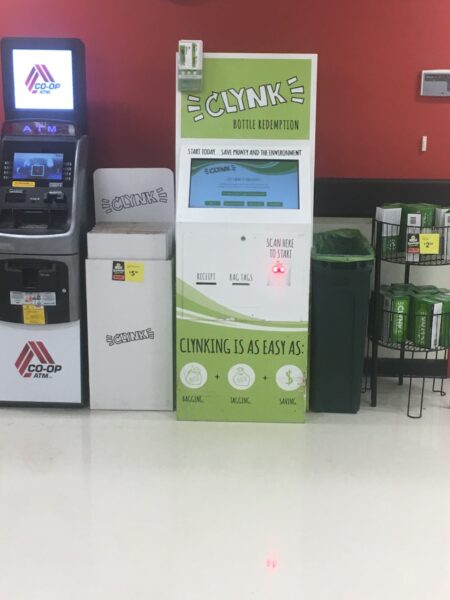 You fill out your basic information on the kiosk screen. Also, you'll choose a PIN for your account.
Then, it will print out your unique barcode stickers for your account. You'll have to attach them to the Clynk bags when you return them, and it will ensure you get the money for the bottles you've redeemed.
You'll also receive your Clynk membership card, which is just like a supermarket rewards tag you keep on a keychain.
As far as the bags go, you'll also get a coupon for the 10-pack of bags for free. Normally, they cost $2.50 for 10 or .25 each.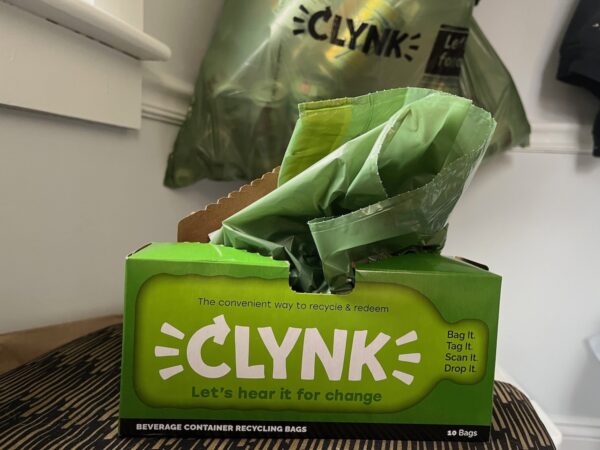 Remember: the Maine bottle deposit is five cents for soft drinks and 15 cents for alcoholic beverages. So you don't have to bring back that many containers to more than make up what you'll eventually pay for replacement bags.
What are the Clynk bags like
I was really surprised at how big the Clynk bags are. You see, in the past I've purchased bags to recycle clothing (in exchange for a money-off coupon at Bombas). When they arrived, I was so disappointed at how little they could hold.
Not so with Clynk bags. They are similar to large Hefty or Glad kitchen trash bags.
However, you're not supposed to stuff them full. There is a line about two-thirds up the bag to show how full a bag should be before bringing it back to a Hannaford location. Also, full Clynk bags aren't supposed to weigh more than 20 pounds.
Accessing Clynk online
You can sign up for Clynk online, too. However, you won't get your supplies right away.
Instead, you'll have to wait for the company to mail you your membership cards, barcode stickers and a voucher for your first box of 10 free bags. You'll need to head to Hannaford to cash in that voucher.
Once you've signed up for Clynk, you'll be able to log into your account online. However, if you registered at the store, you'll have to go through an extra step when you get home to establish your online account.
You'll set up your Clynk account online by entering the number on your membership keychain card. Then, you'll use the PIN you created at the store to get all your information.
After that, you'll choose a username and password for your Clynk login. Now you're ready to login for real.
Once in your account, you'll be able to see how many bottles you've redeemed and how much cash is in your account.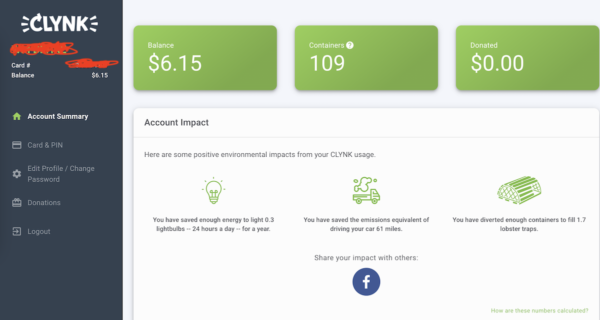 Returning cans to Clynk
As I mentioned, you'll find Clynk bottle return centers either inside Hannaford supermarkets or in a separate building in the parking lot. Let me walk you through how to return your bottles.
One, fill the bag at home.
Two, tie it shut.
Three, attach your barcode tag in the space shown on the bag.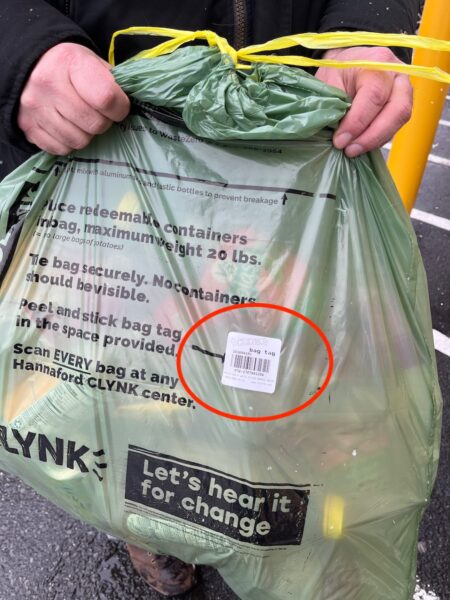 Four, hold the bag in front of the scanner at the Clynk bottle return depot. You'll need to do this to unlock and open the door and deposit your bag.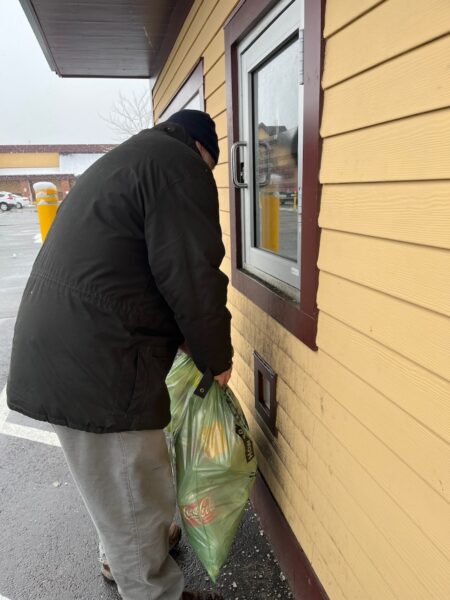 Five, open the door and place your bag inside the Clynk depot.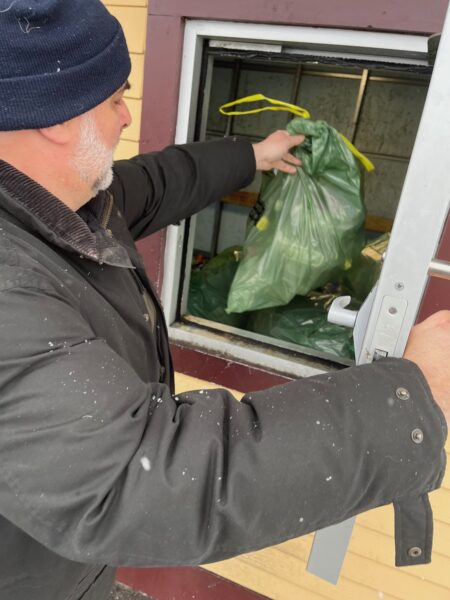 How to get your money from Clynk
I was under the (mistaken) impression that I could somehow connect my Clynk account online to Venmo or PayPal or my bank to get my money. Wrong.
The only way to get your Clynk money is to visit a Hannaford store in person. Then, you'll need to return to the kiosk, scan your card and choose to have the kiosk print a cash receipt. It takes two business days for cash from a drop off to appear in your account.
After that you have two options. One, you can take the cash receipt to the Hannaford customer service desk. There, you will get cash money.
Or, two, you can keep your receipt with you as you grocery shop at Hannaford. Then, when you're ready to checkout, you'll hand the cashier the Clynk cash receipt like you would any other coupon. The amount is then deducted from your shopping total.
Don't forget to bring a reusable bag with you. Starting July 1, 2021, Maine has banned single-use plastic bags. You can purchase a paper bag at the store, at five cents a pop. Or, you can bring your own reusable bag for free.
Where are Clynk bottle returns located in Maine
There are nearly two dozen Clynk bottle return locations in Southern Maine. All of them are at a Hannaford supermarket.
However, not every Hannaford in Southern Maine has a Clynk redemption center. Here are the towns with a Hannaford Clynk, by county.
FYI, the two counties that comprise Southern Maine are York and Cumberland.
Cumberland County
Gorham Hannaford, 99 Main St.
Hannaford Forest Avenue (Portland), 295 Forest Ave.
Hannaford Maine Mall (South Portland), 415 Philbrook Ave.
Hannaford Portland Riverside, 787 Riverside St.
Scarborough Hannaford, 31 Hannaford Dr.
South Portland Mill Creek Hannaford, 50 Cottage Rd.
Standish Hannaford, 71 Colonial Dr.
Westbrook Hannaford, 7 Hannaford Dr.
York County
Berwick Hannaford, 23 Somersworth Rd.
Biddeford Hannaford, 299 Elm St.
Buxton Hannaford, 21 Hannaford Dr.
Kennebunk Hannaford, 65 Portland Rd.
Saco Hannaford, 532 Main St.
Sanford Hannaford, 800 Main St.
Wells Hannaford, 107 Wells Plaza
Waterboro Hannaford, 20 Sokokis Trail
York Hannaford, 5 Hannaford Dr.
FYI, Clynk is not the only way to redeem cans and bottles for money in Maine. There are also private redemption centers that collect containers and recycle them, and give you cash. More about that soon.