When we moved to Maine, we had to get used to a whole new slew of grocery stores. Sure, there were stores where we'd shopped before and placed our supermarket orders online. This included Target and Walmart.
Also, we could go to Portsmouth, New Hampshire, to shop at Aldi–there aren't any Aldi stores in Maine–Trader Joe's and Whole Foods. However, Portland also has Trader Joe's and Whole Foods.
Grocery stores in Southern Maine
My mom, who lives in northwest York County, is a committed Hannaford shopper so that was literally the first grocery store we went to the day we moved to Maine. However, since then we've learned about many other supermarkets at our disposal in York County, where we live, and nearby Cumberland County.
For example, when I was working on an article about Girl Scout cookie knockoffs for my Real Sophisticated Consumer blog, we discovered Shaw's, which is part of the Albertsons supermarket family. They happen to have great Girl Scout cookie knockoffs, by the way, but I'm getting off topic.
So, I've decided to put together this list of grocery stores in Southern Maine. I'll let you know where you can shop, from York and Kittery to Freeport and Brunswick to Bridgton.
Here is a list of the most common grocery stores you'll find in Southern Maine, along with a brief description about them (if the brand isn't obvious).
Hannaford locations
As I mentioned, we've shopped at Hannaford locations in Kennebunk and Biddeford. However, we've also been to stores in Waterboro and Wells as well.
The Hannaford in Wells is in the same shopping center as Renys department store.
Here is a complete list of where you'll find Hannaford grocery stores in Southern Maine. Note: some of these cities and towns have more than one Hannaford there.
Auburn
Biddeford
Bridgton
Brunswick
Buxton
East Waterboro
Falmouth
Gorham
Gray
Kennebunk
Lewiston
North Berwick
North Windham
Portland
Saco
Sanford
Scarborough
South Portland
Standish
Topsham
Wells
Westbrook
Yarmouth
York
Market Basket locations
Market Basket is one of the newer grocery store brands to enter the Maine market. The Market Basket tagline is "More for your dollar," so definitely trying to tap into Mainer's frugality.
Right now, there are only two locations open in Southern Maine. They are in Biddeford and Westbrook. However, Market Basket is planning to open a new grocery store in Topsham soon.
Shaw's locations
There are nine Shaws supermarket location in the Southern Maine area that this blog covers. Those places are:
Auburn
Brunswick
Falmouth
Freeport
Portland
Saco
Sanford
South Portland
Windham
Whole Foods
There is a single Whole Foods Market location in Maine. It's in Portland.
Trader Joe's
Like Whole Foods, you'll find just one Trader Joe's in Maine. And it is also in Portland, on Marginal Way.
Target
There are three Target locations in Southern Maine. They are in Biddeford, South Portland and Topsham.
All have grocery shopping options. However, some are more robust than others.
Walmart Supercenters
If you want to do grocery shopping at Walmart locations in Maine, then you'll need to visit a Walmart Supercenter. These are the stores that are more likely to have full supermarkets within them.
Also, if you like to use Walmart Grocery Pickup, these are the places where you can do that.
You'll find Walmart Supercenters in these Southern Maine locations:
Auburn
Biddeford
Brunswick
Sanford
Scarborough
Windham
Wholesale clubs where you can buy groceries
Right now, there are two wholesale clubs that sell groceries in Maine. They are BJs Wholesale Club and Sam's Club.
However, in 2024, the first Costco in Maine will open, giving shoppers yet another option for getting groceries and other items.
Where are the Maine wholesale clubs located?
There is one BJs Wholesale Club in Maine. It's in Portland.
There are two Sam's Club locations in Maine. There is one in Southern Maine in Scarborough. The other is in the state's capital, Augusta.
Finally, when Costco finally opens in Maine, it will be in Scarborough. In fact, it's just down Payne Road from that aforementioned Sam's Club location.
Grocery stores in specific Maine towns
Here is a breakout of the grocery stores and supermarkets you'll find in popular Southern Maine towns. I've stayed true to the supermarket concept and not included any dollar store locations. Nor have I included convenience stores.
Keep in mind that most grocery stores must close on certain holidays in Maine.
Grocery stores in York, Maine
If you need to go grocery shopping in York, Maine, here are your options:
Anthony's Food Shop
Hannaford
Ogunquit grocery stores
You won't find any big box or chain supermarkets in the tiny, seaside town of Ogunquit. However, in a pinch you can do your grocery shopping at the Village Food Market. The store offers grocery delivery, too.
Portland, Maine grocery stores
Hannaford
Shaw's
Target
Trader Joe's
Whole Foods Market
Where to buy groceries in Wells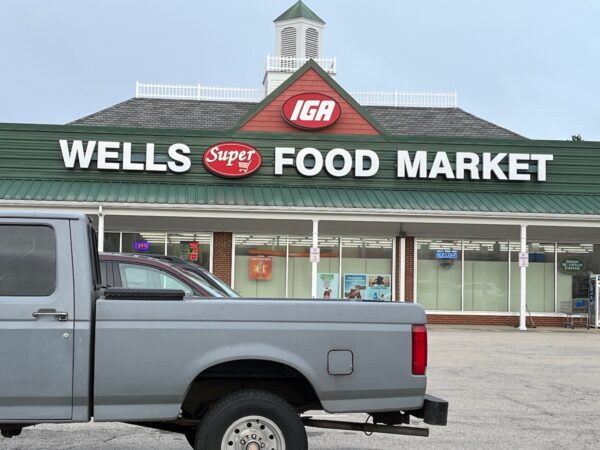 You have two traditional grocery store options in Wells, Maine. One, there is a Hannaford location near Reny's.
And, two, a little farther north on Route 1, you'll find the Wells IGA.
Both Hannaford and IGA are some of the most popular supermarket brands in the U.S.
Brunswick Maine supermarkets
In addition to the Brunswick farmers markets, you can buy food at the following stores:
Hannaford
Shaw's
Tess's Market
Walmart
Warming's Market
Kittery Maine grocery stores
If you want to grocery shop in a supermarket chain, you have two options. One, drive north to York.
Or, two, drive over the border to nearby Portsmouth, New Hampshire. There you'll find Stop and Shop, Trader Joe's, Aldi and Whole Foods.
On the other hand, you will find smaller, local food stores in Kittery away from the outlet shopping. They are Rising Tide Natural Foods and the Commissary, a supermarket for the military.
Freeport Maine supermarket shopping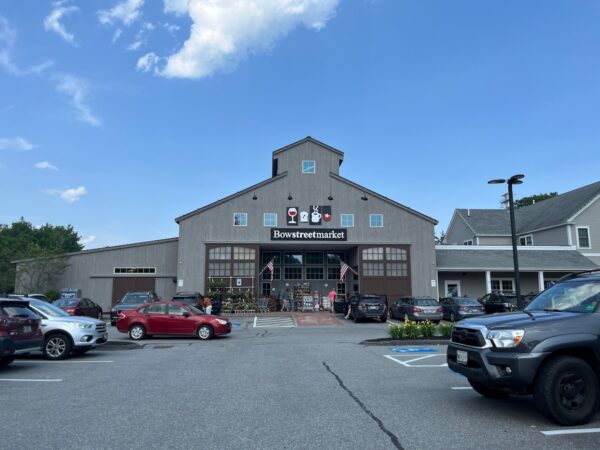 If you're making a pilgrimage to the L.L. Bean headquarters in Freeport or heading there for outlet shopping, here are the places where you can get groceries:
Bow Street Market
Royal River Natural Foods
Shaw's
Grocery stores near Old Orchard Beach
If you'll be vacationing at Old Orchard Beach, you'll need to do your grocery shopping in Saco, Scarborough or Biddeford.
Bridgton
You've pretty much got two options for supermarkets in Bridgton: Hannaford and Food City.
Sebago Lakes region
There is a Hannaford grocery store in nearby Standish. Then, in Windham, you can shop at Hannaford as well as Shaw's and Walmart.
Place grocery order online in Maine
As I mentioned at the top of this article, I like to purchase groceries online and then to drive up (at Target) or curbside pickup (at Walmart). However, these are hardly the only grocery stores that offer online shopping.
Here's what you need to know about supermarket shopping online in Maine.
One, it's a good idea in the summer. That is, if you're staying along the seacoast, you're going to find that grocery stores are packed on the weekends.
If you don't like crowds–and I don't–then you can place your supermarket order online. Then, you can drive and pick it up when you get here.
For example, when we first arrived at our house in Kennebunk, we took advantage of Hannaford To Go, their online grocery shopping option. However, because we waited too long to place an order for the Kennebunk store and all the slots were gone, we had to pick up our order in Biddeford.
Shaws also lets you buy online and pick up in store. They'll bring your order out to you.
We've also done Target Drive Up for groceries in South Portland and Biddeford, and Walmart curbside pickup in Sanford and Biddeford.
Bring your own bags
Since 2021, Maine has banned single-use plastic bags. If you don't bring your own bags to the store with you, you can get a bag but you'll pay for it.
Those are the reusable bags that you get when you shop at Target and don't bring your own bags. They cost $.10 each.
On the other hand, when I do a grocery order pickup at Walmart, they just put the groceries in my car's trunk. They don't bag them in the store and then charge you like Target does.
The smart thing to do when going to grocery stores in Maine? Keep a stash of bags in your car.