Whenever my husband and I drive into Ogunquit to have dinner, we always see people waiting for the Ogunquit Trolley. While not at bona fide bus stops — with shelters and what not like you might see in major cities — there is always a bench or sign that says "Trolley Stop."
That's where we see people waiting on both sides of Route 1 to catch this popular mode of transportation for tourists and locals alike in Ogunquit, Maine.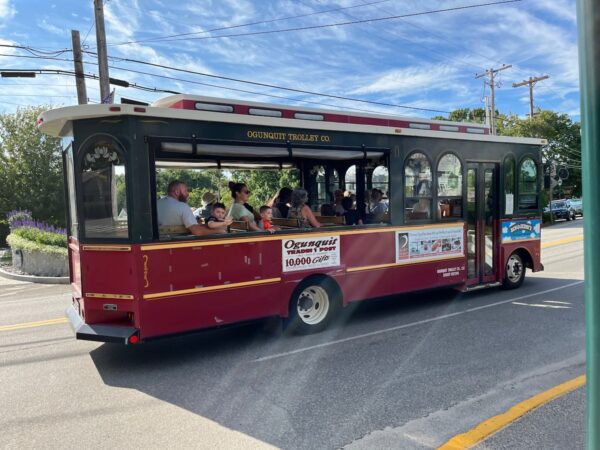 What is the Ogunquit Trolley
The Ogunquit Trolley first started running in 1981. Actually, there were four that would run during the summer tourist season.
Today, there are eight trolleys — called Molly Trolleys — that run throughout the Maine tourist season. That is July 1 through October.
The trolleys start their runs at 9 a.m. and do their last drop off at 9 p.m. Given the number of cars that often backup on Main Street and the side streets in Ogunquit, I'm sure that having the trolley around has helped with some of that congestion.
Cost of taking the trolley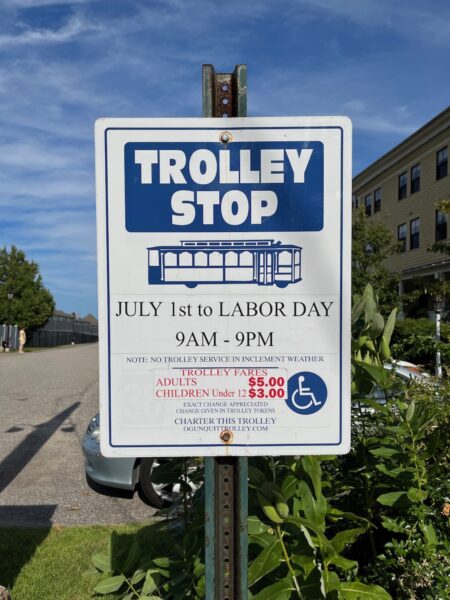 For some reason I was under the impression that a trolley ride was free — as if the Town of Ogunquit subsidized the trolley to help transport visitors.
I was wrong.
Here are the prices to ride the trolley:
$5.00/adult per ride
$3.00/child under ten per ride
That may seem like a lot of money, but you have to remember a few things about Ogunquit. One, Uber and Lyft are unreliable.
Two, many of the lots in downtown charge as much as $35 to park. And, three, that aforementioned traffic. The more people who choose to ride the trolley, the more it likely helps with vehicle traffic.
On the other hand, if a family of four wants to head to Ogunquit for dinner from one of the hotels or resorts along the way, they would spend between $32 and $40 roundtrip. So, driving may actually be cheaper.
Lots of people on Facebook complain about how the prices have jumped. Before the pandemic trolley rides were half of what they are now.
Don't you think a daily or weekly pass for the trolley would make more sense? I surely do.
Where does the Ogunquit Trolley stop?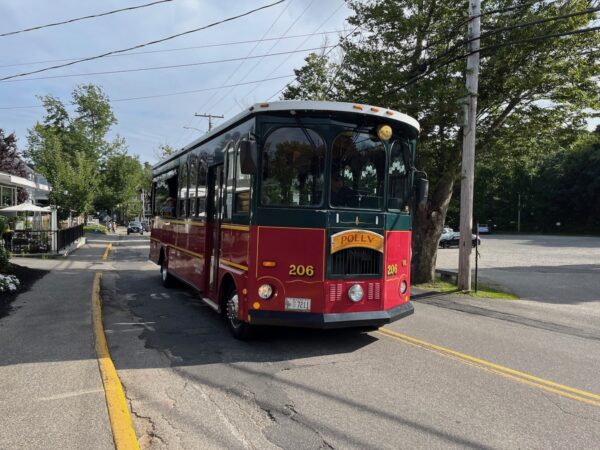 As I mentioned, I always see people waiting for the trolley along Route 1 during the summer. Well, it turns out that different trolley routes serve these different stops.
There is a northbound trolley route that runs, well, north towards Wells. And there is a southbound trolley route that runs towards Ogunquit.
In a second I'll tell you where the stops are along the northbound and southbound route, but I wanted to point out a discrepancy. And that's this: when you're in Wells, the town just north of Ogunquit, addresses on Route 1 are said to be on Post Road. However, as soon as you cross into Ogunquit, addresses change to Main Street and the numbers are very different.
So, some of the places I'm going to list could be just a few hundred feet away from each other on Route 1 or practically across the street. However, if they're in Wells (as at least one stop on the northbound route is), the address is Post Road. Then, the stops in Ogunquit along Route 1, you'll notice that the address is Main Street.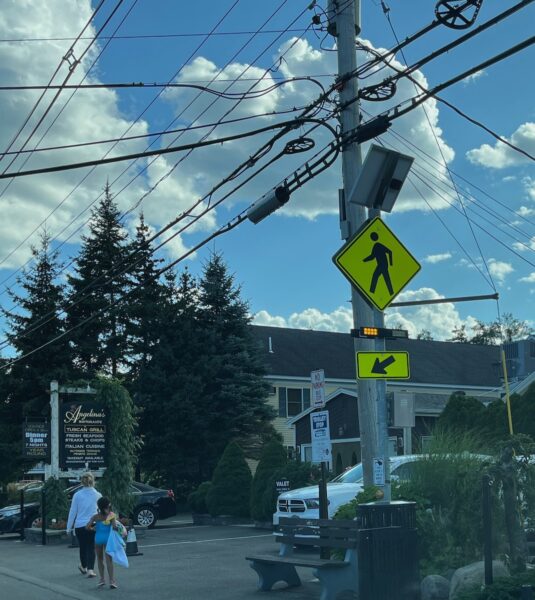 Southbound and Northbound trolley routes
The Ogunquit Trolley Company website doesn't include addresses of these stops. Therefore, I've researched them to the best of my ability and added them here.
I've listed them from first stop to last stop, again based on the trolley company information. If you see I've got something wrong about the address of any of these stops, please let me know.
Finally, based on my research, it's been a really long time since the trolley company updated the map of stops. For example, one stop on the southbound route is listed as a restaurant that closed almost three years ago. Don't worry — I've included the name of the restaurant that opened in its place, even if the trolley map doesn't.
Also, another stop on the southbound route is located in front of a restaurant at 655 Main Street. However, the trolley map lists it as being across the street. It's very strange.
Again, I've researched each and every stop to get you the most accurate information and address I could find.
You can use the Ogunquit Trolley to access the Marginal Way.
Southbound Ogunquit trolley stops
Ogunquit Plaza, 731 Main St.
Milestone Motel, 687 Main St.
Footbridge Plaza (could this be across the street from the Footbridge Beach Motel and Cottages? If so, the address is 668 Main St.)
Gazebo Inn Ogunquit, 571 Main St.
Eastwind Condos (still working on an exact address, possibly East Wind Lane and Main St.)
Gorges Grant, 449 Main St.
Seaview Motel, 417 Main St.
Bintliff's (a now-closed restaurant, which the Brickyard Hollow restaurant replaced), 335 Main St.
Veterans Park, approximately 95 Main St.
Main Beach (Ogunquit Public Beach), end of Beach St.
Betty Doon Hotel (left of Shore Road), 13 Beach St.
Fireman's Park, corner of Shore Road and Cottage St.
Seacastles Resort, 104 Shore Road
Roberto's, 200 Shore Road
Barn Gallery, Shore Road & Bourne Lane
Jonathan's Ogunquit, 92 Bourne Lane
The Grand Hotel, Meadowlark Village Lane
Perkin's Parking Lot, 324 Shore Road
Perkin's Cove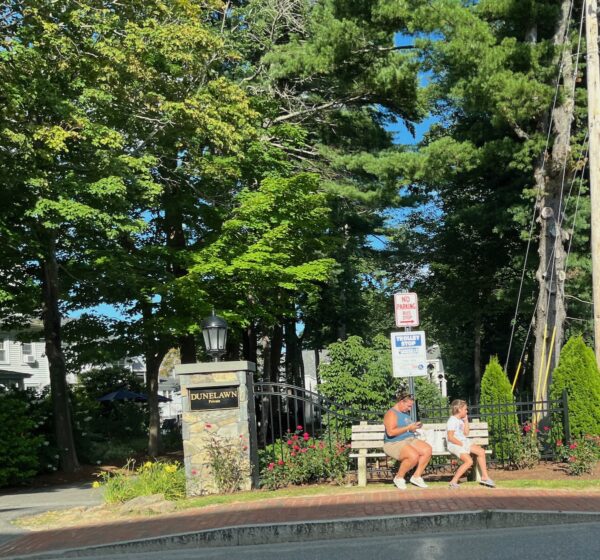 Northbound Ogunquit trolley stops
Frazier Pasture/Thompson Green, 309 Shore Road
Colony Terrace by the Sea, 23 Wharf Lane
Beachmere Place (possible in front of the Beachmere Inn?)
The Colonial Inn, 145 Shore Road
Sparhawk Oceanfront Resort, 85 Shore Road
Fireman's Park, corner of Shore Road and Cottage St.
Veterans Park, approximately 95 Main St.
Betty Doon Hotel (left of Shore Road), 13 Beach St.
Route 1 Parking at Dunelawn Drive
Juniper Hill, 335 Main St.
Ocean Towers, 444 Main St.
Dunes Cottages/Lobster Pound, 518 Main St./504 Main St.
Littlefield Village, Main St. near Littlefield Village Road
632 Main St (formerly Distant Sands B&B)
Footbridge Beach Parking, Ocean St.
Ocean Street Triangle
Liquid Dreams Surf Shop, 696 Main St.
Mariner Resort, 734 Main St.
Ogunquit River Inn, 17 Post Road (Route 1), Wells
Majestic Regency, 102 Post Road (Route 1), Wells
Final thoughts on the Ogunquit Trolley
Overall, the Ogunquit Trolley is a convenient and enjoyable transportation service for visitors and locals alike in Ogunquit, Maine. The open-air trolley provides a slow and scenic tour of the town, making it an ideal way to explore the area.
Unfortunately, it might not be a cost-effective transportation option for large families or groups. I hope in the future the company rethinks its pricing structure to make it more affordable for everyone.