When looking for things to do in Freeport, Maine, many people want to shop at the Freeport outlets. They also want to go to the flagship L.L. Bean store and take a picture by the giant boot. But that's fodder for another article.
To be honest, Freeport doesn't have as many outlet stores as Kittery does. However, what they have is worth mentioning. Primarily, you're going to find clothing outlet stores here.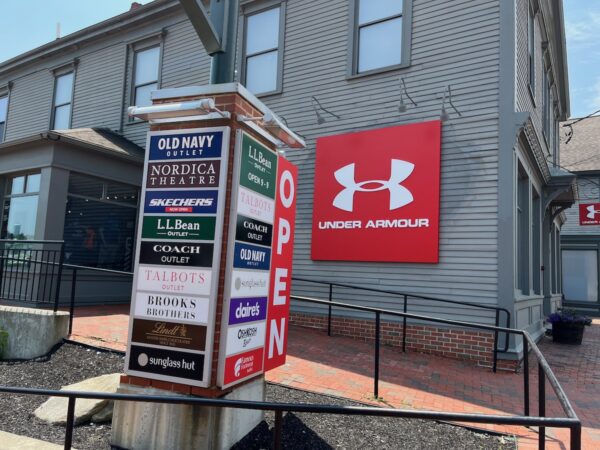 Freeport Maine Outlet Stores
Unlike Kittery, the outlet stores in Freeport aren't clustered in a strip mall. In fact, you'll find them scattered throughout downtown, along Main Street.
However, you'll find the greatest grouping of outlet stores at the Freeport Village Station. So, I've broken out outlet shopping by these two general areas–Main Street in downtown Freeport, and Freeport Village Station.
Main Street, Downtown Freeport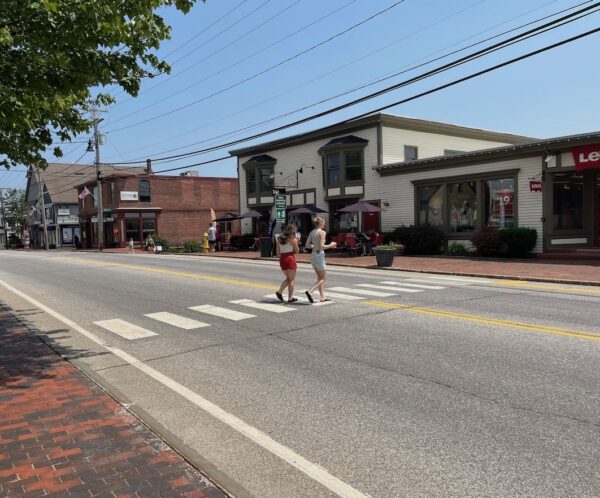 Not every store along Main Street in Freeport is a legit outlet or factory store. Also, not every retailer includes those words ("outlet" or "factory store") in its name.
In addition, I'm grouping stores under the "Main Street" heading. However, some of them are just off Main Street on a side street, such as Bow Street.
Stores on Main Street in Freeport, Maine
Here is an alphabetical list of the retailers with stores on and around Main Street in Freeport. This does not include stores located in Freeport Village Station.
Banana Republic Factory Store
The Cosmetics Company Store
American Eagle/Aerie
Gap Factory Store
J. Crew Factory
Jockey
Levi's Outlet Store
The North Face Outlet
Orvis Outlet
Polo Ralph Lauren Factory Store
Sperry
Under Armour Factory House
Vineyard Vines
Many of these Freeport outlets on Main Street are dog-friendly stores. Just look for the pawprint in the window.
Freeport Village Station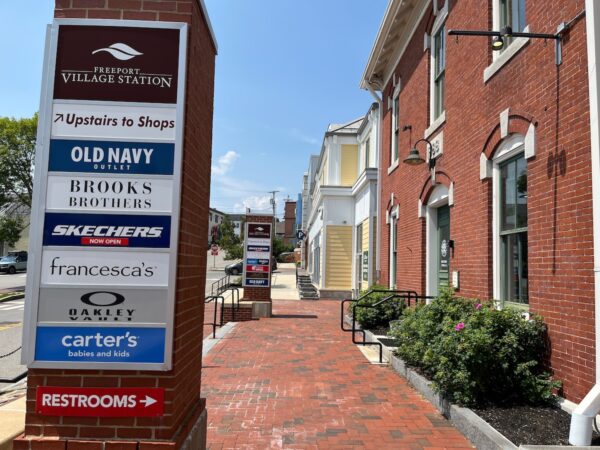 Freeport Village Station opened in 2009 on top of a parking garage that the town built to accommodate visitors. It also includes public restrooms and a movie theater called the Nordica Theatre. Parking is free.
You'll see signage for the Nordica Theatre when you enter Freeport Village Station off Main Street. However, the actual theater entrance is along the Depot Street side of Freeport Village Station, at street level.
The whole complex was basically built into a hill.
Depot Street is where you can catch the Downeaster Train north to Brunswick or south to Portland and the towns along the way to Boston.
There are a number of ways to enter Freeport Village Station. One, from Main Street. Two, via the parking garage. Or, three, up a set of stairs from either Mill Street or Bow Street.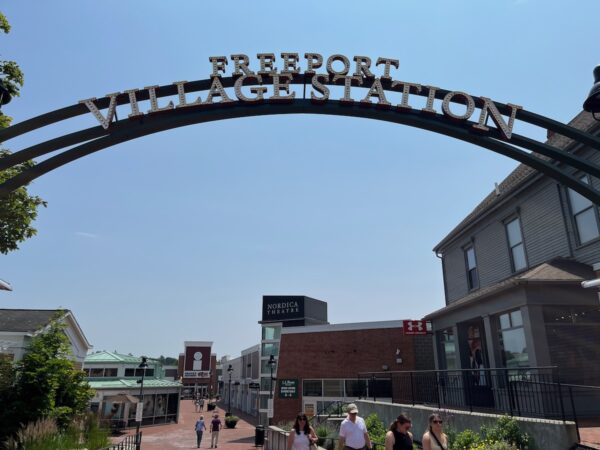 Outlet stores in Freeport Village Station, Freeport, Maine
Here is an alphabetical list of the outlet stores located within Freeport Village Station. Note: not every store has the word "outlet" or "factory store" in its name.
Brooks Brothers
Carter's
Claire's
Coach
Famous Footwear
Francesca's
The Kitchen Store Outlet
L.L. Bean Outlet
Oakley
Old Navy Outlet
Skechers
Sunglasses Hut
Talbots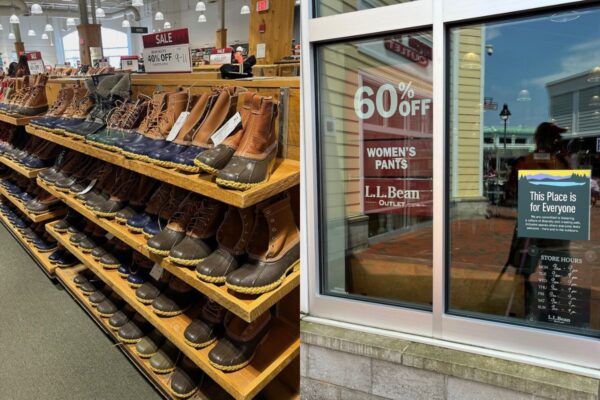 Thrift stores in Freeport, Maine
In my article about shopping Goodwill stores in Maine, I share my advice for always targeting thrift and consignment shops near wealthier areas. There you're more likely to find higher-end items at bargain-basement prices.
In this regard, Freeport, Maine, does not disappoint. In fact, I found three thrift stores right in downtown Freeport and one just outside of town.
I realize these aren't outlet stores, per se. However, you might find some great bargains nonetheless.
Freeport Community Services Thrift Shop, 53 Depot Street, Freeport
Depot Street runs parallel to Main Street in downtown. This thrift store sells clothing jewelry, housewares, furniture and more. Plus, it has plenty of free parking.
Gypsy Rags, 27 Bow Street, Freeport
You'll find all kinds of brand-name clothing at Gypsy Rags, a thrift shop near the CVS store in Freeport. Recently, the store highlighted clothing from Anthropologie, Talbot's and Zara on the Gypsy Rags Facebook page.
Haberdashery Resale Clothing, 114 Main Street, Freeport
There are two Haberdashery Resale Clothing locations in Southern Maine. One, the store in Freeport. And, two, there is a store in Old Port in Portland.
Haberdashery calls itself slow fashion. That's the opposite of fast fashion, where you buy and dispose of trendy pieces quickly. If dressing sustainably is important to you, then shopping at a place like Haberdashery Resale Clothing makes sense.
Sweet Repeats Children's Consignment Shop, 554 US 1, Freeport
You'll need to head out of downtown Freeport, along Route 1, to reach Sweet Repeats Children's Consignment Shop. This is a thrift and resale store that specializes in children's clothing, sizes newborn to children's size 16.
Some of the brands the store carries includes:
Baby Gap
Hanna Andersson
L.L. Bean (of course)
Patagonia
Of course, because of the nature of consignment, brands change all the time. However, you can expect to find recognizable names here as the owners carefully handpick what they take for consignment.
If you don't find what you're looking for at one of the outlet stores, definitely check out one of the thrift stores instead.
Final thoughts on shopping Freeport Maine outlets
Shopping outlets stores in Freeport means, in some instances, you'll be going in and out of lovely, historical buildings. For example, look at where the Banana Republic Factory store is located?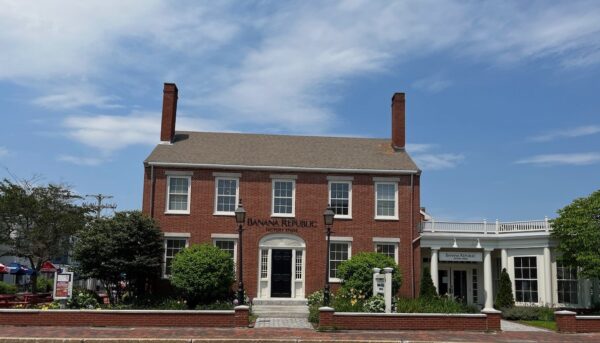 Overall, shopping in Freeport is a pleasant, enjoyable way to spend the day.
Finally, two pro tips. One, plan to hit Freeport midweek. You'll be fighting fewer crowds.
And two, watch the weather. On bad weather days in Maine, especially during summer, people go shopping. Wait until the weather clears out to head to Freeport.
On our last trip to Freeport, we went on a summer Wednesday, after it had been raining for a few days. Since everyone was taking advantage of the good weather (finally) to go to the beach, the town was almost empty.