Did you know that Duluth Trading Company, True Value and LL Bean are all dog friendly stores in Maine? Believe it or not, you can bring your dog with you when you shop at these retailers and many, many more.
How do I know this? I've brought my own dogs, Oscar and Sadie, with me when shopping at many of these retailers.
Of course, pet-oriented stores welcome pets. It would be crazy if they didn't.
However, you may be surprised to learn how many retailers, not specifically selling items or services for pets, are, in fact, pet friendly.
List of dog friendly stores in Maine
Here is a list of stores in Maine that let you shop with your dogs. I've also included the town in Southern Maine where you'll find these pet-friendly stores.
Right now I'm focusing on national retailers that have locations in Southern Maine. However, if you're familiar with locally owned stores, regional retailers or small businesses that welcome dogs, too, please let me know. I'd love to add them to this list.
In addition, if I've listed a store in Southern Maine as dog friendly but, in fact, it's not, please send me that corrected information.
Finally, after bringing Oscar and Sadie with us to lunch at Batson River Brewing and Pedro's, both in Kennebunk's lower village, I'm hoping to put together a list of dog-friendly eateries in Southern Maine, too. So, if you got intel on that topic, please get in touch.
Speaking of food, here are food holidays throughout the year.
One last thing: if you use a service animal, they should always be welcome in stores.
Ace Hardware
I'm told that leashed dogs are welcome at Ace Hardware locations. Your local hardware store is likely an Ace Hardware.
You'll find Ace Hardware locations in Maine in the following places:
Auburn
Bridgton
Buxton
Gorham
Gray
Kennebunk
Kittery
Limerick
Limington
Portland
Scarborough
South Portland
Waterboro
Yarmouth
York
Cabela's
I know Cabela's is dog friendly, because we've taken Oscar and Sadie there many times.
There is a single Cabela's location in Maine. It's in Scarborough, and you've probably seen it from the Maine Turnpike.
However, I learned that in 2019 Cabela's had to change the rules about pets versus service animals. Here is their Facebook post about that.
My bad for not realizing this sooner.
Duluth Trading Company
I took this picture of Oscar checking out a seat cover at Duluth Trading Company.
You'll find the only Duluth Trading Company store in Maine in South Portland, near the Jetport.
The Home Depot
It's a store-by-store decision as to whether dogs are allowed or not at The Home Depot.
Here are the Maine cities and towns where you'll find The Home Depot:
Auburn
Biddeford
North Windham
Portland
South Portland
HomeGoods
It is the HomeGoods manager's discretion about the dog friendliness of its stores.
There are two HomeGoods locations in Southern Maine. One is in Scarborough, and the other is in Biddeford.
Joann Stores
Joann Stores has the following pet policy on their website:
JOANN knows that pets make us happy and inspire creativity. That's why you should feel free to bring your furry friend to shop with you!
Joann's has three Southern Maine locations. They are:
You'll know if any Joann store pet friendly (because, it turns out, not all are) by looking at the store locator page and seeing if it mentions it being pet friendly. I checked all three Maine sites. They are.
Here is an example of what to look for on the store locator page; I grabbed this image about the Portland store.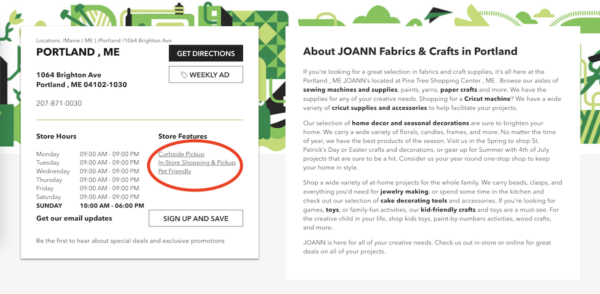 L.L. Bean
We brought Oscar and Sadie with us to the L.L. Bean store in Freeport. I was there to buy a pair of duck boots and my daughter a new winter coat.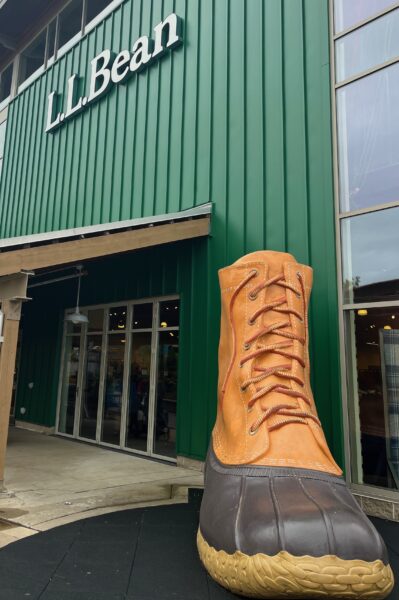 Lowe's
With a hashtag #dogsoflowes of course Lowe's is dog friendly.
Where are the dog friendly Lowe's stores in Southern Maine?
Auburn
Brunswick
Portland
Sanford
Scarborough
Windham
Marshalls
It's the manager's choice at Marshalls whether or not you can shop with your dog. The two Marshalls locations in Southern Maine are:
North Windham
Scarborough
Michaels
If you were wondering if Michaels was a pet-friendly place to shop, this picture from the Michaels Facebook page tells you all you need to know.
Michael's stores in Maine are in Biddeford and Scarborough.
Orvis
Orvis has two, dog-friendly stores in Maine. Both are outlet stores.
They are in:
Renys
Based on Renys Facebook page, it appears that you can shop with your dog there. Here are the Southern Maine locations:
Bridgton
Portland
Saco
Topsham
Wells
Windham
This article on Renys department stores tells you everything you need to know about the retailer.
Sierra Trading Post aka Sierra
It's up to the local store manager if dogs are allowed. There is a single Sierra location in Maine. It is in South Portland.
TJ Maxx
The store manager decides if you can bring your dog with you in the store.
You'll find TJ Maxx stores in Southern Maine in the following locations:
Auburn
Biddeford
Brunswick
South Portland
Tractor Supply Company
Tractor Supply Company welcomes "all leashed and friendly animals." I get the sense you can bring more than just dogs here.
There are two Tractor Supply Company locations in Maine. They are in Sanford and Scarborough.
True Value Hardware
I've lived in three towns with True Value Hardware locations. All of them welcomed my dogs.
Here are the Southern Maine locations with True Value hardware stores:
Biddeford
Bridgton
Cornish
Freeport
Gray
Kennebunk
South Portland
Springvale
Standish
Here is a list of dog-friendly beaches in Southern Maine.
Also, did you know that Maine drive-in movie theaters are dog friendly as well?