Twice a year, you can usually count on the Target Car Seat trade-in event.
This is a great opportunity if you have an old car seat that you'd like to have recycled.
Also, if you're in the market for a new car seat–or have a pregnant person in your life who is–you can save money on the purchase of a new car seat.
Let me run down the details.
When is the Target Car Seat Trade In happening
Usually, Target holds these car seat events twice a year–in April and also September.
You'll be able to bring a car seat to Target April 16-29, 2023.
That happens to coincide with Earth Day, on April 22, 2023.
There is definitely a green element to the car seat trade-in, which I'll explain shortly.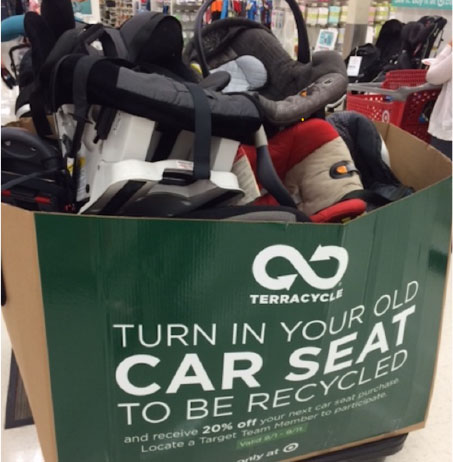 Why would you need a new car seat
There are a few reasons why you might want to have a new car seat for your child.
One, you registered your child's car seat with the National Highway Transportation Safety Administration when you bought it and found out it was recalled.
Two, your child has outgrown their previous seat.
For example, they're no longer infants.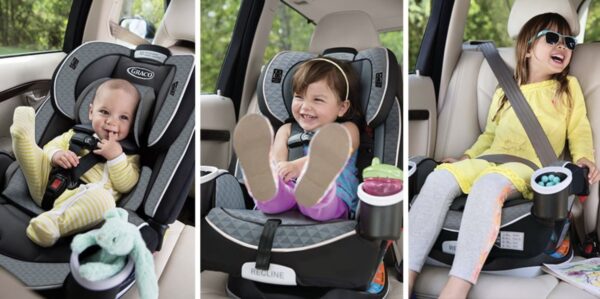 Three, you bought a new car and your old seat doesn't fit anymore–yes, it happens.
Or, four, you were in a car accident and needed a new seat.
Just like a bicycle helmet that's been in an accident, and therefore should be discarded, it's the same with a car seat.
This is true even if the child wasn't injured or you were able to drive away from the scene.
You'll never know if the car seat sustained minor damage that makes it unsafe to continue using.
Why risk it?
Eligible car seats
Target will accept all kinds of car seats for this trade-in event. This includes:
infant car seats
convertible car seats
car seat bases
harness or booster car seats
expired car seats
damaged car seats
What does Target do with old car seats
According to this Target FAQ, "Materials from the old car seats will be recycled by Target's partners to create new products such as pallets, plastic buckets and construction materials such as steel beams and carpet padding."
Since starting this car seat recycling program in 2016, Target says it has recycled more than 2 million car seats.
Also, the program has helped to recycle nearly 33 million pounds of car seat materials.
Timing of the car seat trade in and recycling
As I mentioned, Target is offering this trade-in program from April 16-29, 2023.
In exchange for bringing in a car seat to recycle, Target will give you a 20% off coupon for a single new car seat, stroller or other baby gear.
You'll need to use that coupon at Target by May 13, 2023.
Where to bring car seat
You'll likely see car seat collection boxes in the front of Target stores, near guest services.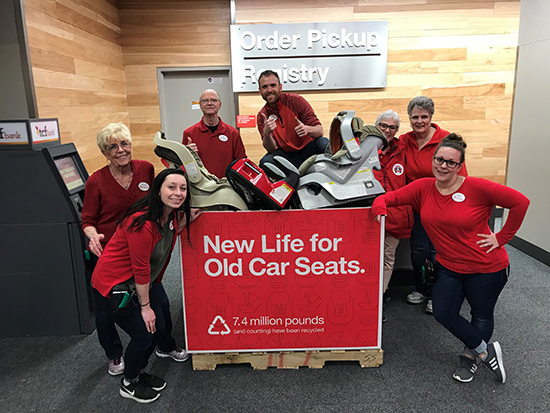 Nearly every Target store participates.
The only exception is smaller format Target stores in city locations.
However, there aren't any of those in Maine.
In fact, the only Target locations in Southern Maine are in the follow locations and they're all full-size Target stores:
Auburn
Biddeford
South Portland
Topsham