If you're looking for some of the best outlet shopping in Maine, I suggest you check out Marden's discount stores. Technically, Marden's is a salvage and surplus store. That's a place where retailers send their excess inventory that didn't sell.
However, during a recent visit to Marden's in Scarborough, I was shocked at how much like an outlet store it was when it came to clothing. That is, things were marked down to crazy prices.
Plus, there were apparel brands that I recognize and which have outlet stores in both Kittery and Freeport. However, if you're willing to be patient and go through racks of clothes (among everything else that Marden's stocks), I'm confident you'll find deal upon deal.
Photo by Leah Ingram
What are Marden's discount stores
Marden's Surplus and Salvage calls itself Maine's best bargain store. Where does Marden's get its inventory? From a variety of sources, including:
insurance salvages
closeouts
liquidations
overstocks
discontinued items
I can tell you that on the day I visited, I was able to determine where some of the inventory came from.
For example, as I walked into the Scarborough store, I noticed these boxes of Kirkland dog chews. Well, if you know anything about Costco stores, then you know that Kirkland is the store's private label brand. Therefore, I can say with confidence that Costco is one of the places sending its overstocks to Marden's.
Photo by Leah Ingram
Also, note the price on the box of 72 dental chews. They are $12.99 for the box.
I checked on the Costco website to see what these boxes sell for originally. There I found the exact same box of 72 chews selling for $36.99.
Clothing discounts
Someone had told me that Marden's was a Target salvage store, so I was on the hunt for anything that was clearly from Target. Let me just state upfront that even though I spent an hour at Marden's, I only made it through about one-third of the store. So, clearly I need to go back.
However, having spent most of my time in the clothing section, I did find a few items that clearly came from Target. Because if you're a frequent Target shopper like I am, then you can recognize the Target price tags like I did on these Stranger Things and Marvel boxer and sock sets.
Photo by Leah Ingram
So, you can see that they were marked down to $6.99 at Target but clearly didn't sell. Therefore, when they got to Marden's, they marked them down even more–to $3.99. That's a pretty good discount considering the price tag shows that, originally, they cost $9.99.
This article on Target salvage stores provides a directory for stores like Marden's but in states other than Maine.
J.Crew, Madewell and more
As I mentioned I spent all of my time in the clothing section of Marden's, and could have spent hours more. However, I had an appointment in South Portland so had to leave.
Anyway, some of the name brands I saw included J.Crew and Madewell. In fact, there were a lot of pants, tops and more from J.Crew and Madewell.
Photos by Leah Ingram
I couldn't tell from the price tags if these items came from J.Crew or Madewell retail locations or department stores that sell them. Also, the way the Marden's price tag is placed, you can't see the original price of these garments.
However, here's what I can tell you, at least about the Madewell white jeans. Sold new at Nordstrom, those jeans retail for $128. So, being able to get them for $29.99 is a steal.
Speaking of Nordstrom, I hit pay dirt in the bra section by finding two bras that I'd spent north of $100 for at Nordstrom a few years ago. How much were they at Marden's? $14.99. Yes, I bought both.
In addition, I found some clothes from the 41Hawthorn brand. Not familiar with that? Then you must not be a Stitch Fix customer.
I've been using online styling company Stitch Fix since 2015 and know that 41Hawthorn is a Stitch Fix-exclusive brand. So, I'm guessing Stitch Fix is sending its overstocks to Marden's, too.
Finally, the Marden's in Scarborough had a huge selection of prom dresses and other formalwear. I'm going to a wedding this summer that requires cocktail attire so I tried on a few dresses. All were from designer names I recognized, such as Calvin Klein, and many still had tags on from Macy's. While none of the dresses worked for me, the price definitely did–just $20.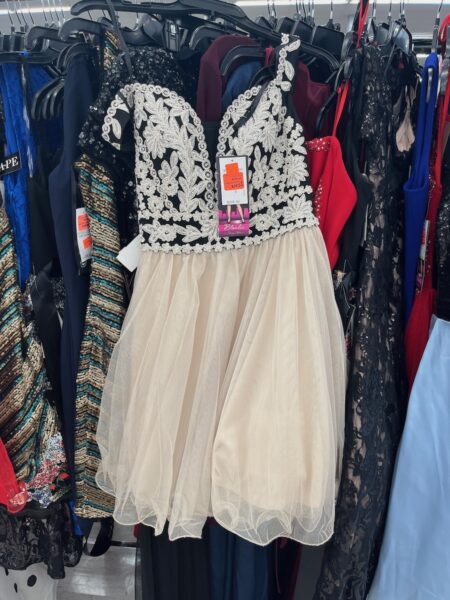 Photo by Leah Ingram
Marden's return policy
When I checked out at the register, I guessed that my purchase would be a final sale. Well, I was wrong, very wrong.
Marden's offers what it calls a 30-day "No Fuss" money-back guarantee. This assumes that you still have your receipt, the tags are still attached and what you bought is still in its "original condition." For example, if you bought shoes, you didn't wear them.
On a case by case basis, you may be able to make a return without your receipt in exchange for a merchandise credit aka store credit. However, there's no guarantee on that, so hold onto your receipts if you think you may want to bring something back within 30 days.
Mardens store locations
There are 13 Marden's discount stores in Maine. Five of them are in the catchment area that I call Southern Maine. The are, alphabetically:
Biddeford
Gray
Lewiston
Sanford
Scarborough
Each of the locations is slightly different in what they sell. For example, the Scarborough store that I visited includes fabric and flooring that other locations do not.
In addition, it has Papa's Produce store at the front. Papa's Produce is a discount seller of fresh produce that it buys and sells at bargain prices.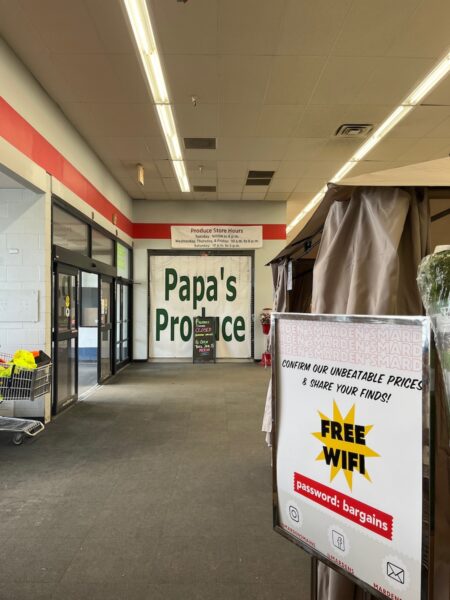 Photo by Leah Ingram
According to the Papa's Produce website, here is where they get their inventory:
"We try to buy as much local [sic] as possible, but obviously in the winter that is nearly impossible. In the summer, most of our inventory is from New England, New York, and Canada…We buy from the New England Produce Center which is the second-largest produce wholesale operation in the World. In the summer, we buy direct from numerous local farms as well."

Papa's Produce