Years ago, I worked at a magazine that did a story about the Iditarod. If you don't know, the Iditarod is a world-class dog-sledding event held each year in Alaska. Ever since editing that article, I've wanted to go dog sledding. And now that we're living full-time in Maine, I can. Yes, you can go dog sledding in Maine.
In fact, some of the best known dog sledding companies in Maine are located in Southern Maine or practically so. This includes the Ultimate Dog Sledding Experience in Oxford County and the Mahoosuc Guide Service in Newry, near one of the prettiest covered bridges in Maine.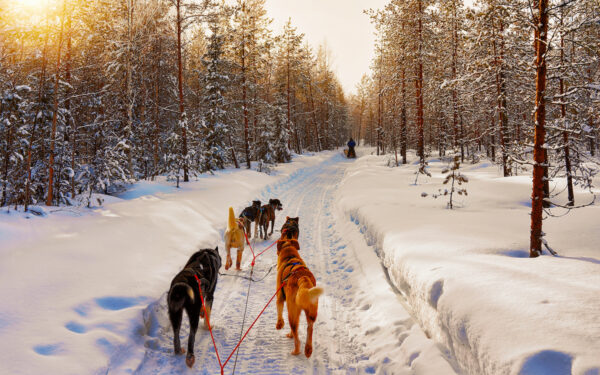 When to go dog sledding in Maine
If you know anything about dog sledding, then you know that you need to do this activity with snow on the ground. It's a lot like snowmobiling — you can't do the sledding part without snow. Therefore, here in Southern Maine, you'll likely have to wait for a little later into fall or early winter for there to be enough snow on the ground for dog sledding.
However, in general, there needs to be at least 4 to 6 inches of snow on the ground for dog sledding to be possible. Ideally, there should be a good base of packed snow that is at least a foot deep, which provides a smooth surface for the sleds and helps protect the dogs' paws. Additionally, the snow should be relatively dry and powdery, as wet or heavy snow can make it more difficult for the dogs to pull the sleds.
Finally, you need to think about the dogs and the best time for them to be outside, pulling a sled. As mentioned, you want the right kinds of conditions to protect their paws.
Also, the dogs have thick coats, so they easily overheat. (Here are tips to help your dog stay cool.) So, therefore, you want temperatures that are cold enough to keep the dogs comfortable and energized.
What kinds of dogs are used in dog sledding
In general, you'll find that dog sledding companies employ dogs that can tolerate the cold. In fact, they are the kind that likely love the cold. Not that my dog Sadie is dog sledding material, but in the winter, we can't get her to come in from the snow. She loves being out in the cold.
Anyway, the dogs used in dog sledding in Maine most commonly include these big, fluffy breeds:
Siberian Huskies
Alaskan Malamutes
Alaskan Huskies
Canadian Eskimo Dogs
Samoyeds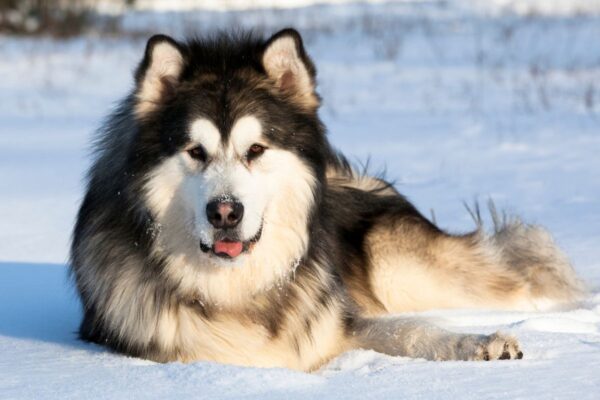 Of the two dog sledding companies I found in Southern Maine, they tend to use these breeds, too.
For example, according to the Ultimate Dog Sledding Experience website, they employ these kinds of dog:
Alaskan Huskies
Siberian Huskies
Eurohounds
I had to look up what a Eurohound is. Here's what I found.
A Eurohound is a type of dog breed that was developed in Europe specifically for sled dog racing. In fact, some people call them European sled dogs, versus Eurohound. They are typically a cross between Alaskan Huskies and various breeds of hunting dogs, such as Pointers or Greyhounds. The goal of this crossbreeding was to create a dog that had the speed and endurance of a hunting dog combined with the strength and pulling power of a sled dog.
Here's a picture of a Eurohound in the snow.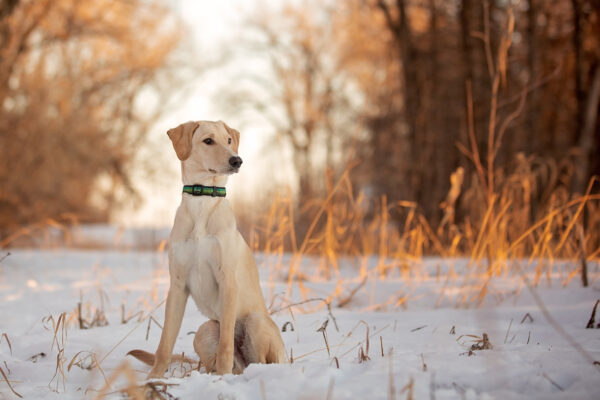 Where to go dog sledding
As I mentioned, there are two companies that offer dog sledding in Southern Maine. They are:
Since I have a December birthday, I'm going to ask my husband if we could go dog sledding for my birthday. I noticed that on the websites of these dog sledding companies that lots of couples pair special occasions with dog sledding. This includes marriage proposals and Valentine's Day dates.
If you ever head to Norway and want to try a different kind of sledding, here's where you can go for Tromso reindeer sledding.
Finally, dog sledding may not be the cheapest thing you can do in Southern Maine. However, there's always the chance that you can get a Groupon for dog sledding to save some money. If I come across any, I'll let you know.