Growing up, whenever I thought about covered bridges I thought about Maine. To me, those beautiful structures were synonymous with the state.
Turns out I was half right. That is, covered bridges are super popular in New England — or at least they used to be. At one time, there were hundreds of covered bridges in New England, according to the New England Historical Society. These days, though, Pennsylvania, Ohio and Indiana have the most of any states in the country.
And back here in Maine: there are eight remaining covered bridges.
Maine covered bridges
Of the eight covered bridges left in Maine, three are in the Southern Maine areas that we cover on this blog. One of those bridges is near where my grandparents lived and my mother grew up — and still lives today.
In fact, whenever we would visit my grandparents when I was little, I can remember going to see that covered bridge. Maybe that's why I thought only Maine had them. Silly me.
Ironically, when we lived for a time in Bucks County, Pennsylvania, there was a covered bridge just a few miles away. It was on the aptly named Covered Bridge Road in New Hope.
Where are the bridges in Maine
So what towns in Southern Maine have covered bridges?
Fryeburg
Porter/Parsonsfield
Windham/Gorham
Each of these locations is driveable from Portland. However, if your time is limited, we recommend heading to the covered bridge in Windham/Gorham as it's easily the closest to the Portland metro area.
Here's a bit more about each of these structures and where you can find them.
Hemlock Bridge, Fryeburg, Maine
Here's one of the things that make the Hemlock Bridge remarkable. It is, I believe, one of the only covered bridges left in Maine that you can still drive over it, albeit slowly.
According to the Maine.gov website, the bridge is considered to be a Maine Historic Civil Engineering Landmark. The American Society of Civil Engineers gave it that distinction in 2002.
You'll find the bridge on Hemlock Bridge Road, a few miles east of the town of Fryeburg, over an old channel of the Saco River. Lots of people tack on a trip to the bridge after taking in the Fryeburg Fair each year in October.
Porter-Parsonsfield Bridge, Porter, Maine
The Porter-Parsonsfield Bridge is the one I remember from my childhood. It spans the Ossipee River, just a few miles up from Kezar Falls, now known as Parsonsfield.
You can get to it on the Parsonsfield side (York County), off Kezar Mountain Road or Route 160. From the Porter side (Oxford County), you'll take Route 160. The bridge runs parallel to Route 160 as it crosses the river.
However, once you do get there, you won't be able to drive over it. The bridge closed to vehicles more than 60 years ago. I believe it's open to foot traffic, but I'll have to double check on that.
Babbs Bridge, Gorham/Windham, Maine
This covered bridge was built in 1840, giving it the distinction as the state's oldest bridge. However, even though a bridge called Babbs exists today in Windham/Gorham, it's not actually the original bridge.
The Maine Department of Transportation explains what happened:
"[T]he original bridge was burned by vandals in 1973. An exact replica was built with lumber milled locally in Gorham. MaineDOT meticulously reconstructed the queenpost truss bridge using historically authentic techniques and reopened it to traffic in 1976."

Maine DOT
The rebuilt bridge sits a few miles east of Sebago Lake, on Hurricane Road. It spans the Presumpscot River between the towns of Gorham and Windham.
If you'd like to find it, the nearest major intersection is Hurricane Road and River Road.
Best known covered bridge in Maine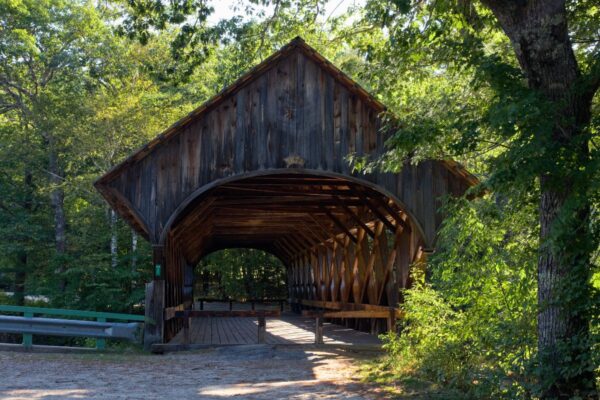 Even though it's out of our "catchment" area, we'd be remiss not to mention Maine's most famous covered bridge. And it's the Artist's Bridge in Newry, Maine — next door to Bethel, Maine.
You can find great dog sledding in Maine in Newry.
When we say it's famous, it's because local legend says it's the most photographed and painted (as in represented in paintings) covered bridge in Maine. Technically, it is the Sunday River Bridge, named as such because it is on Sunday River Road. However, everyone calls it the Artist's Bridge.
If you happen to go skiing at Sunday River in the winter, it's an easy hop to check out the bridge. In fact, you can see the ski resort from the foot of the bridge.