Whether you are looking for fairs and festivals in Maine this summer or things to do in Maine in the fall, Southern Maine hosts some of the state's most enjoyable events.
Fairs and Festivals in Southern Maine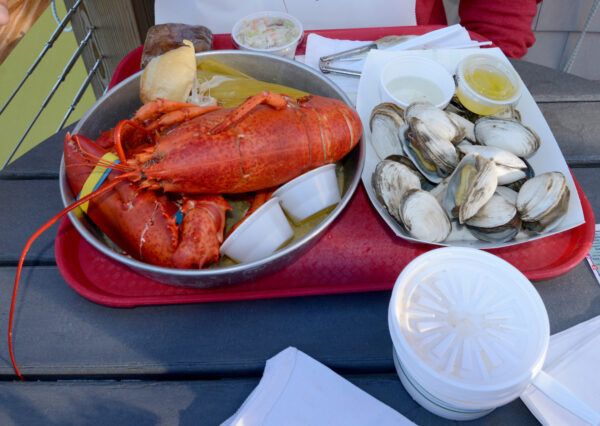 From car shows to blueberry festivals to craft and agricultural fairs, there's something for festival lover who lives in or is visiting Maine.
For example, if you love seafood, the iconic Maine Lobster Festival and Yarmouth Clam Festival both will certainly fill your plate. And that's just a start. Read on for all of the best Maine fairs and festivals happening soon.
Sebago Days
Sebago Days is a community festival featuring carnival, vendor booths, contests and live music. In 2023, Sebago Days run July 13-15.
Enjoy a 5k run, a talent show and a car show. Those with a competitive streak might enjoy the corn hole tournament or skillet tossing competition.
There will be fireworks on the last evening. Hours vary by day.
Entrance is free at Sebago Days. However, rides may have a fee.
The Gateway Summer Crafters Market
The Gateway Summer Crafters Market occurs on two Sundays in the summer. This year, those dates are July 16 and August 30.
This free fair in York usually has about 30 vendors who offer handmade items from wood turning to jewelry to clothing.
Admission and parking are free.
Yarmouth Clam Festival
Always beginning on the third Friday in July, the Yarmouth Clam Festival is July 21-23 this year. Here are some of the fun things you can do over those few days of festival fun:
Catch a photo with Steamer the Clam
Join the five-mile run
Watch a professional bike race
Relax and listen to music performed by great local bands
There's also a clam shucking contest, a police K-9 demonstration as well as antiques and crafts on display from local vendors.
Don't miss events specifically for the kids, including a sing along and a variety of family-friendly performances in the kid's area.
The adventurous can enjoy carnival rides.
This event is free to attend. However, a ride wristband costs $20.
Pets are welcome except in the carnival ride area.
The day before the Yarmouth Clam Festival kicks off is the weekly Yarmouth Farmers Market.
The Maine Renaissance Faire
The Maine Renaissance Faire, which is July 22-23 and 29-30, is the perfect event for ye olde faire goers of any age! As the name implies, this faire showcases the days of yore with shows, shops and food.
It is held at the Acton Fairgrounds.
Day tickets are $20 ($15 for kids 5-12). Kids under five are free.
There also discounted multi-day passes available. Tickets can be purchased in advance using credit cards, Apple Pay and Paypal. Cash only at the gate.
Hours are 10 am to 6 pm.
Casco Days
Casco Days, which runs July 27-29th, is a traditional community fair with food, vendors and rides. It is free to enter; rides cost extra. It also includes Fireworks, a parade and a road race. The hours differ each day.
Topsham Fair
The Topsham Fair is August 8-13, 2023. It includes traditional agricultural displays and contests as well as live music, vendor booths and carnival rides.
ATV mud runs, pulling contests, and food contests round out the weekend's entertainment.
Those not interested in taking advantage of the carnvial rides can get in for as little as $5. However, if you want to go on the rides, you can pay $20 for an unlimited pass.
Acton Fair
Along with carnival rides, food, music and vendors, enjoy the 10th annual "Cruisin' Car Show" at the Acton Fair, September 24-27, 2023. This event is at the Acton Fair Grounds.
Admission for those 13 years and older is $10.00. Children 12 years old and younger are free. Ride tickets are an additional cost.
On Thursdays, veterans with military ID are $5. On Thursday & Friday senior citizens are $5.00.
Parking is free.
Cumberland County Fair
Appearing annually since 1869, the week-long Cumberland Fair fair provides classic agricultural events, pull contests, vendors and rides. You can also enjoy food, musical entertainment and a demolition derby.
The Cumberland Fair dates for 2023 are September 24-30.
Hours are 8 am-9 pm. Admission is $12. Ride tickets are $25. Seniors are $5 on Tuesday and Thursday. Military admission is $5 on Monday.
Maine's Fryeburg Fair
Billed as "Maine's Blue Ribbon Classic," the Fryeburg Fair is a large-scale traditional agricultural fair that traces its roots to 1851. In 2023, the Fryeburg Fair is October 1-8.
Covering more than 25 acres, events include livestock contests, pull contests as well as harness racing. The fair also has carnival rides, vendors, food, and musical entertainment (including the Marshall Tucker Band on 10/3).
Daily tickets are $15. A weeklong pass is $100. Seniors are free on Tuesday. Parking starts at $5.
After checking out the fair, take a short drive to one of Maine's covered bridges.
Freeport Fall Festival
The Freeport Fall Festival, happening October 6-8, 2023, centers around LL Bean's Discovery Park. There, you can enjoy live music on LL Bean's Discovery Stage along with the work of local artisans and food vendors at surrounding booths.
Discovery Park is also where you can enjoy the LL Bean Concerts in the Park and LL Bean Movies in the Park.
There are also children's activities, the fair is free and hours vary by day.
If someone in your group is not interested in fair activities, they can sign up for outdoor classes at LL Bean. Courses available this weekend include fly fishing, shooting sports and archery.
The cost of these courses varies and they can fill up, so it's best to plan ahead.
Harvestfest
Located at Short Sands Beach in York, Harvestfest festival features a juried artisan exhibition, food vendors and live music. It is free to attend and runs from 9 am to 4 pm.
Meters at the beach are free that day and overflow parking is at York's Wild Kingdom.
Harvest on the Harbor – October 26-28.
Harvest on the Harbor is October 26-28, 2023 in Portland. This food festival is designed to showcase the extraordinary restaurant scene in what has been dubbed "The foodiest small town in America."
Enjoy local brews and wines as well as fare from some of the region's most up and coming chefs. Ticket information will become available as the event approaches.
Day Trips Featuring the Maine Lobster Festival and Blueberry Festivals
Within a few hours of Portland, you can find a variety of fairs celebrating the region's agricultural roots as well as maritime heritage. Consider a day trip, or make it a full weekend to take in some great events including the Maine Lobster Festival and a pair of blueberry festivals.
The Waterford World's Fair
Located about 90 minutes northeast of Portland, the Waterford World's Fair's organizers describe their event as a "down home agricultural fair." It runs July 14-16, 2023.
Like most regional fairs, it features traditional agricultural displays and contests as well as live music and vendor booths. There are some kiddie rides but not carnival rides.
General admission tickets are as low as $6 per day. A three-day pass purchased in advance is $15. A three-day family pass (four people) is $60. Admissions for veterans is $3 on Sunday. Senior admission is $3 on Friday.
Paris Founders Day
If you're a classic car enthusiast, then Paris Founders Day festival on July 15 is well worth the hour drive from Portland.
It features the Bahre Collection of more than fifty vintage automobiles. Housed at the birthplace of Hannibal Hamlin (Lincoln's first vice president), the venue adds an historic backdrop to your trip.
Admission to the car exhibition is $10 for adults and $2 for children. If you are simply interested in visiting the craft and food vendors, then admission is free. The event runs from 9 am to 5 pm.
Union Fair: Maine's Wild Blueberry Festival
About 90 minutes northeast of Portland, the Union Fair offers food, vendors and carnival rides. You can see livestock as well as pulling contests or enjoy local musicians. The demolition derby will add a bang to your visit.
The fair runs July 26-30, 2023.
Admission is $20. There are $10 early bird specials. However, there are restrictions.
Maine Lobster Festival
The Maine Lobster Festival is an internationally acclaimed food extravaganza. This year it runs August 2-6, 2023.
Given the history of this fair–it began in 1947–and the beauty of Rockland, it might be worth planning to stay over versus just taking a day trip.
The International Great Crate Race (August 6 at 2 PM) is a must see. This event has daredevils racing across the harbor on a bridge of lobster crates. Visitors can also enjoy amazing food, vendors, music and children's events.
If you get bored at the festival, consider a visit to Farnsworth Collection, one of the best small fine art museums in the country. The harbor at nearby Camden provides a view of a quintissential Maine fishing village.
Admission to the festival is free. If you plan on attending "Steins and Vines," featuring local brews and wine, tickets are $40. You'll find free parking with a shuttle bus located at South Elementary School. Bus hours vary by day. Well-behaved dogs on short leashes are welcome at the festival.
Dexter Maine Red Hot Dog Festival
If you are a fan of old fashioned red hot dogs, then enjoy the two-hour drive from Portland to experience the Dexter Maine Red Hot Dog Festival on August 12. Events include a 5k race, music, a magician, craft vendors and, of course, a hot dog eating contest.
The festival runs from 10 am until 7 pm. Admission is free. It takes place in downtown Dexter (the directions below bring you to the town office on Main Street).
Skowhegan State Fair – August 10-19
Located about 90 minutes north of Portland, the Skowhegan State Fair is billed as the nation's oldest continuously running state fair. Along with agricultural displays and contests, live music, vendor booths and carnival rides, it features harness racing and a demolition derby.
Admission costs depend on the day and the level of admission (rides or no rides). Prices can be as low as $10, for a single day with no rides, to $125, for a season pass that includes parking, which, otherwise, is $5 per day.
The Skowhegan State Fair is August 10-19, 2023.
Machias Maine Wild Blueberry Festival
To be honest, at 3.5 hours from Portland, Machias as a destination is more of an overnight trip than a day trip. But if you are an enthusiast for one of Maine's signature treats, then it might just be worth making a weekend of it by visiting the Machias Maine Wild Blueberry Festival, August 18-20.
Events include a farm tour, musical entertainment, a 5K run, children's activities as well as food and craft vendors.
Events start at 9 am. Admission is free except for tickets for the musical comedy review show, which costs $6.25.
If you make the trip, check out the Thursday night free concert at the Bad Little Falls Park or pop over to the Bold Coast of Maine. The Bold Coast Scenic Byway offers views of the natural beauty of the rugged shoreline.
Fall Festival at Sunday River
If you are looking to get to the mountains to enjoy the fall foliage, take the scenic two-hour drive up to the free Fall Festival at Sunday River in Bethel, October 7-8, 2023.
The event feature Chondola lift rides (for a fee), an artisans fair, summer sales on ski equipment and live music.
For the competitor in you, join the 24th annual North American Wife (or partner) Carrying Championship. In this event the racer carries their wife or partner through a 278-yard obstacle course. The winner gets the wife/partner's weight in beer and five times their weight in cash.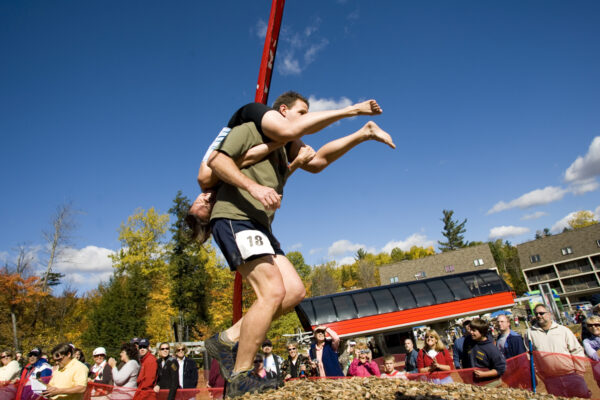 It's $35 to register. For those with calmer ambitions, sign up for the 9th Annual New England Corn Hole Championship ($34 per team).
If you want to pamper yourself, the Jordan Spa at Sunday River is open for normal fee-based services. It's best to book in advance.