If you want to avoid the hassle and expense of driving and parking on your trip to southern Maine, consider taking the Amtrak Downeaster. With five roundtrips per day, the train's schedule originates in Boston and makes stops in Maine between Wells and Brunswick.
The train from Boston to Portland is popular for day trippers. However, if you plan carefully, you can use the rail line as the backbone of a larger trip to Southern Maine.
Timing Your Train Excursion
If you're interested in the Downeaster, take advantage of Amtrak's Discover Maine Rail Pass. For $19 per person, allows you 10 one-way rides between any Maine stations over seven consecutive days. There is plenty to fill seven days, but if have less time, just two or three days can make an enjoyable visit.
Here are the stops along the Amtrak Downeaster line in Maine:
Wells
Saco
Old Orchard Beach
Portland
Freeport
Brunswick
If you can find the time midweek, hotels will be less expensive. Similarly, after Labor Day prices go down. In early-to-mid-September water temperatures are similar to those of late August, so going to the beach is a possibility. If it's still warm, you get the benefit of a world-class beach steps away from the train station without the crowds.
Plus, there are many dog-friendly beaches along the Southern Maine seacoast. And, according to Amtrak, "Small dogs and cats (20lbs or less) are permitted on Downeaster Trains in a pet carrier."
The later in September you go, the less likely a beach trip will make sense. If that is the case, we recommend that you don't stop at Old Orchard Beach. By mid-September, many of the rides and attractions close down.
Make Portland, Freeport or Brunswick the Hub for Your Maine Downeaster Trip
Portland, Freeport and Brunswick all have nice accommodations within an easy walk of the train stations, so any of them would work as your hub. In both Freeport and Brunswick, the train stations are in the center of town with plenty to do within walking distance of the nearby hotels. In Portland, you must travel a bit to get to get the most of the city.
Ultimately, how you typically spend your evenings might dictate your choice for a home base. Portland offers substantial nightlife. Freeport and Brunswick are more staid. If you travel light you could easily plan your trip with a couple of overnight stops.
If your focus is on the beach, in season you could consider Old Orchard Beach as your hub. However, at that time, the hotels there ofter require multi-night stays which may not work for a short trip. Saco and Wells, unfortunately, do not offer hotels within an easy walk of the train.
Of course, if you're using the train to have a staycation in Maine, that's a great idea, too. Here are additional staycation tips.
Portland as Your Hub
Portland is in the middle of the Maine Downeaster route. Every stop in Maine is under an hour away, which makes it an ideal hub.
Still its accommodations tend to be the priciest. There are hotels near the Transit Center that are less expensive than those in Old Port (one of the places where we found the best lobster rolls in Portland, Maine).
However, if you choose one of them, you will have to grab a cab or an Uber from your hotel to Old Port (about $10-$12 each way). You can save and take the local bus from the Transit Center (the #1 route) towards Munjoy Hill. Hop off at Congress and Exchange Streets (about a 10 minute ride) and walk for about five minutes to Old Port. The bus costs $2 each way.
Of course, you can head to Old Port and stay in one of the pricier hotels there. If you plan on staying in Portland for a day or two and would likely Uber several times a day, the Old Port hotel might be wiser than one of the places near the Transit Center. It would also provide a lot more ambiance and easier access to activities.
Freeport as Your Hub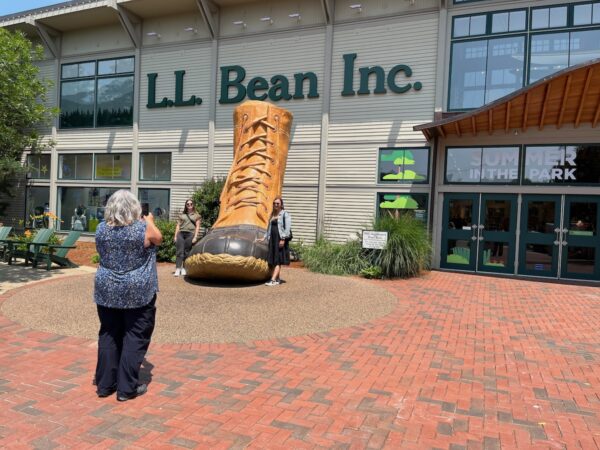 If you want to visit the LL Bean flagship store in the middle of the night (it's open 24 hours per day, 365 days per year) then Freeport is a must. Pick Freeport if you're into shopping (especially the Freeport outlets), want to take an outdoors course at Bean or would prefer a small inn to a chain hotel.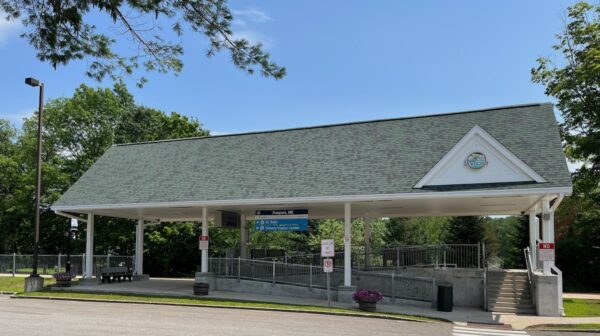 Brunswick as a Hub
Brunswick offers nice accommodations and some great small museums all within an easy walk of the Downeaster station. It also offers many great restaurants to visit after a day of tourist activities. The downside of using Brunswick as your hub is that it as at the northern end of line, meaning some train trips will be longer than if you chose Portland or Freeport.
Plan Your Stops Based on your Interests and the Weather
There's no rule that says you have to work from South to North, but since most visitors will likely travel that way, that is how we organized our discussion of places to see. Also, you don't have to do everything sequentially.
For example, you might start your trip a Saco, but make your first exploration stop Portland and then head north to Freeport or Brunswick. This would save the beach and Saco for the last stops on your way home, so that you can enjoy a day outdoors and then one of the area's great restaurants before driving home.
Wells
If you are starting your journey on the train somewhere between Boston and Wells, we would recommend that you skip Wells. There is nothing near the Downeaster train station. Plus, while the Wells beaches are some of the best in Maine, getting to them from the station is a hassle.
However, if you plan on driving and starting your rail adventure in Maine, consider spending a day or two in Wells and/or nearby York, Ogunquit or Kennebunk/Kennbunkport. All have something to offer. Wells has expansive beaches; Ogunquit is known for its dining and shopping as well as a great beach.
If you have the time, take a walk on Oqunquit's oceanfront Marginal Way. In York, you will find a quaint seaside village next to the lovely Short Sands Beach as well as the Nubble Lighthouse. If you visit the Nubble stop in at Fox's restaurant for fresh seafood.
In the Kennebunks, you will find fine dining, beaches and great local shopping. Around the the holidays, Kennebunkport's Prelude celebration and Oqunquit's Christmas by the Sea are must sees.
After a day or two in the Wells area, either hop on the train in Wells, or drive about a half hour north and begin your Maine Downeaster trip in Saco. There is free parking at the Wells and Saco stations.
Saco
Saco and it's sister community of Biddeford have resurgent dining scenes. Located on the Saco River, both communities were once thriving mill towns that fell on hard times as industry shut down.
Today, the old mills and waterfronts are being revitalized. Arrive early and take a stroll on the river walk, which is mostly on the Saco side of the river.
If you want to grab breakfast, we love the Golden Rooster in Saco. And, Rover Bagel in Biddeford bakes some of the best bagels outside of NYC.
Get there early; they sell out. Also, this is a grab and go place, so plan on finding a bench along the river to eat or order your bagel online before they run out and pick it up on your way to the station.
Both places are walkable from the Downeaster station's free parking.
Old Orchard Beach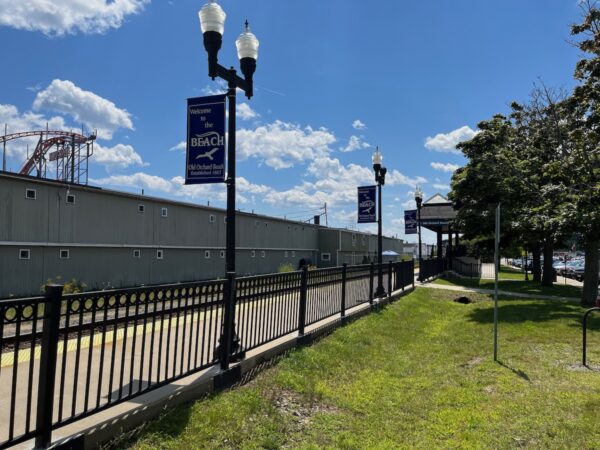 If you want to visit the beach, Old Orchard Beach is your best bet along the Downeaster route. You can see the ocean from the station. There's also an amusement park next to the station. For those with mobility issues, Old Orchard Beach loans beach wheelchairs (call (207) 934-0860).
Near the beach you will find vendors where you can eat, hit the arcades or shop. Jungle Adventure is an indoor blacklight mini golf course. It's mini golf with the feel of a laser tag.
After the beach, rinse off to make the rest of your journey more pleasant. There is a rinsing station at the beach.
Or, you can head over to George's Parking on Milliken Street, about two blocks from the beach. George's has showers and restrooms for parking patrons. We asked if they would let others use the showers for a fee. We were told yes, "for a couple of bucks."
Old Orchard Beach is crowded in the summer. If you want a quieter meal, head down East Grand Street. We love Poloma's, a Latin fusion place. Paloma's omelette (eggs, plantains and queso fresco) is a standout. The combo of sweet and savory is outstanding.
Portland
Portland is a great small city. What you do here really depends on how long you have and the weather.
Assuming it's pleasant enough to walk outside, make Old Port your first destination. The shopping and the restaurants could easily fill a day or two. From Old Port, you can also take a ferry to Portland's Casco Bay island communities. Peak's Island and Great Diamond Island are popular. Both can be reached for under $10 per person, round trip.
You may also want to check out Portland's music scene. In season, Thompson's point, a popular outdoor concert spot is a must-visit for those looking for live music. It is near the Portland Transit Center.
If the weather is not good for outdoor activities, consider a trip to the Portland Art Museum or the Southworth Planetarium.
During the holiday season, Portland's Polar Express is a great time.
Freeport
Freeport is a shopping destination and the Downeaster drops you right in the shopping district.
The lovely downtown is dominated by the LL Bean flagship store. Still, there are dozens of other shops as well as an outlet mall in town. Be sure to check out the free events at Discovery Park on the Bean campus.
Freeport is host to many great restaurants and small inns. There is also a Hilton Garden Inn that is a short walk from the train station.
Brunswick
The Brunswick train station is around the corner from the historic campus of Bowdoin College. The college is home to two museums. The Bowdoin College Museum houses an eclectic collection of American and International works ranging from ancient to contemporary pieces.
As its name suggests, the Peary-Macmillan Arctic Museum explores all things arctic. These museums are closed on Mondays and are free of charge.
Nearby is also the Joshua Lawrence Chamberlin Museum (226 Maine St). Chamberlain, a hero of Gettysburg, was a Bowdoin professor and its president. There is also the Skolfield -Whittier House, a restored 19th century residence. Tickets are $20 to visit both sites. Tours can be booked in advance. The museums are closed on Monday.
The closest hotel to the train station is the Brunswick Hotel at 4 Noble Street. In good weather, take a walk through the nearby Federal Street Historic District, the area just to the east of the Town Mall. Harriet Beecher Stowe's house is at 63 Federal Street. The mall is often lined with food trucks if you want to grab a snack for your walk.
Booking the Amtrak Downeaster
Your best bet is to buy tickets online. Here is a link to the Amtrak Downeaster website.