While Old Port offers some of the best lobster rolls in Portland, Maine, there are plenty of great rolls in other parts of the city and the surrounding communities. We moved beyond the Portland waterfront and checked out street carts, bona fide lobster shacks as well as sit down restaurants.
Generally speaking, lobster rolls come in two varieties. Maine rolls come covered in mayonnaise. Connecticut rolls use butter.
Lobster Shacks in Greater Portland
Lobster joints across the region often offer great views and outdoor seating. Others are destinations in their own right. One is even a renovated Airstream trailer. If your favorite roll place is not on our list, drop us a note and we'll check it out. We're always up for sampling about a new roll.
Outdoor venues are typically dog friendly, but be sure to call before strapping Rover into your back seat.
Prices
Like with our roundup of the Old Port, we're using our Cheeseburger Scale, which indicates the price of a basic cheeseburger and fries or chips at the location.
Since seafood prices are listed on many menus at market rate, without a specific price, this scale will give you a sense of the overall expense of the restaurant.
🍔🍔🍔🍔 – $20+
🍔🍔🍔 $16 – $19.99
🍔🍔 $12-15.99
🍔 Under $12
Bite into Maine
Food truck at Allagash Brewing, 50 Industrial Way, Portland, 207.289.6142, (the phone is at their Scarborough Location), 🍔.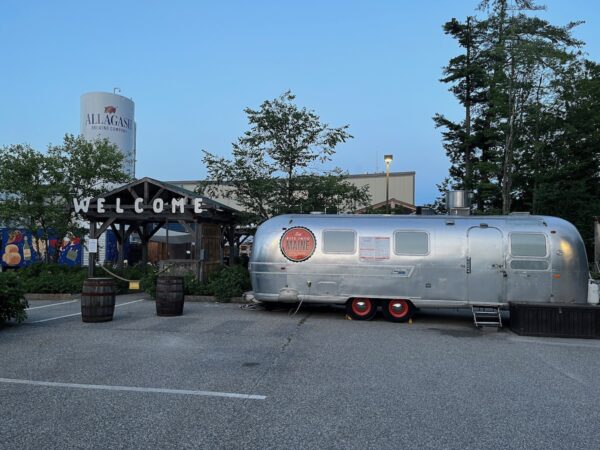 Bite into Maine has three locations in the region. See Cape Elizabeth and Scarborough for the other locations.
The key reason to visit this location at the northwestern edge of Portland (the view at their Cape Elizabeth location is much, much better) is its proximity to beer. It sits in the parking lot of the Allagash Brewing Company in a renovated Airstream trailer. Down the block are about a half dozen more brewers.
BREAKING NEWS: Bite into Maine has recently opened its second brick-and-mortar location at 31 Diamond Street in Portland. We haven't been there yet, but will report back when we have.
Bite into Maine menu
Combine your suds with a solid roll. The Bite into Maine menu features the traditional Maine and Connecticut rolls. You can also find their very own picnic roll (with butter, slaw and celery salt) as well as wasabi, chipotle and curry flavored rolls. A basic roll is on the menu for $29.50.
The Portland location is outdoors. Parking is free and the lot includes two EV charging stations.
Susan's Fish-n-Chips
1135 Forest Avenue, Portland, 207.878.3240, 🍔.
At $19.99, Susan's may offer the most reasonably priced lobster roll in Portland. Their cheeseburgers are $5.50, add $2.50 for a side of fries. Susan's Fish-n-Chips menu offers virtually anything from the sea fried to perfection.
The restaurant itself is about a mile from anything touristy and is not much to look at. It's several picnic tables set up in a former garage. However, it does have a back deck for nice-weather days.
If you like to fish, bring in your cleaned catch and they'll fry up to two pounds for $5.
Freeport Lobster Shacks
You can get a tasty roll in virtually every restaurant on and around Main Street in Freeport and at the food carts that scatter the perimeter of the LL Bean campus in the summer. That's where we picked up lobster rolls the day we were in Freeport do go outlet shopping.
It's tough, however, to find a downtown restaurant that distinguishes itself based on price or atmosphere. It's not that their rolls aren't good; they are. Still, none is distinct enough for us to recommend one over the other.
Therefore, we recommend that you drive ten minutes out of town for our pick, which will give you a reasonable market-priced roll on a working waterfront.
Harraseeket Lunch and Lobster
36 Main Street South Freeport, 207.865.4888, 🍔🍔.
The four-ounce roll is priced about the same as at the Main Street restaurants, so the distinctive factor is the view of the mouth of the Harraseeket River and its marina. If you go in good weather, try to get a seat at the outdoor counter that overlooks the water. The Harraseeket Lunch and Lobster menu offers lots of typical seafood fare. You can purchase live lobsters to go as well.
After lunch, if time permits, consider taking the ferry to Bustin's Island. It's a beautiful boat ride and at $20 roundtrip ($12 for those 12 and under and $2 for Fido) it is a relatively inexpensive way to cruise a section of Casco Bay.
The ferry ride is about 40 minutes one way. You can disembark and walk around the island (the loop road is about two miles), but the island has few public places. There is a post office, library and historical museum, but their hours are limited and subject to change. The island has a handful of public outhouses. That's not a typo — they are outhouses, not bathrooms with running water.
Cape Elizabeth and Scarborough
If the weather is good, stick to Cape Elizabeth. The view is worth the price of the roll. Moreover, both vendors make some of the best rolls in the region, so you can't go wrong gastronomically with either.
Bite into Maine
185 US Route 1 Scarborough, 207.289.6142, 🍔.
Bite into Maine has three locations in the region. See Portland for the other location. Located in a strip mall about 15 minutes from Old Port, The Scarborough location lacks the ambiance of the other Bite into Maine locations. However, its location along Route 1 makes it more convenient for many travelers.
Parking at the Scarborough location is free. This restaurant is indoors, so if you want to bring the pups, order your food to go and take the four minute drive to the picnic tables at Memorial Park (5 Durant Drive).
Bite into Maine Food Truck
Food truck at Fort Williams Park, 1000 Shore Road, Cape Elizabeth, 207.289.6142 (the phone is at the Scarborough Location),🍔.
About 20 minutes from the Old Port, the views from Fort Williams park would make this trip worth it even if there were no lobster rolls. The park is home to the iconic Portland Head Light, the region's quintessential lighthouse. It also houses remenants of the battery that protected Portland from soon after the revolution until after World War II.
The Bite into Maine menu features the traditional Maine and Connecticut rolls. You can also find their very own picnic roll (with butter, slaw and celery salt) as well as wasabi, chipotle and curry flavored rolls. A basic roll is on the menu for $29.50.
We sampled the picnic roll and the wasabi roll. Both were good, but the wasabi stood out. We were afraid that the strong wasabi flavor would overpower the lobster, but it didn't. There was just enough there for it to enhance the lobster without drowning it out.
Fort Williams Park is dog friendly, so Rover is welcome there. There is a charge for parking at the park ($5 for two hours), but the park's overflow lot (near the children's garden) is always free. There are EV charging stations in the central parking lot near the lighthouse.
If you go for lunch, the lighthouse museum and shop is open weekdays from 10-2, weekends from 10-4. It costs $2 for adults and $1 for kids 6-18.
Cousins Maine Lobster
Food truck at Fort Williams Park, 1000 Shore Road, Cape Elizabeth, 207-805-8800,🍔🍔.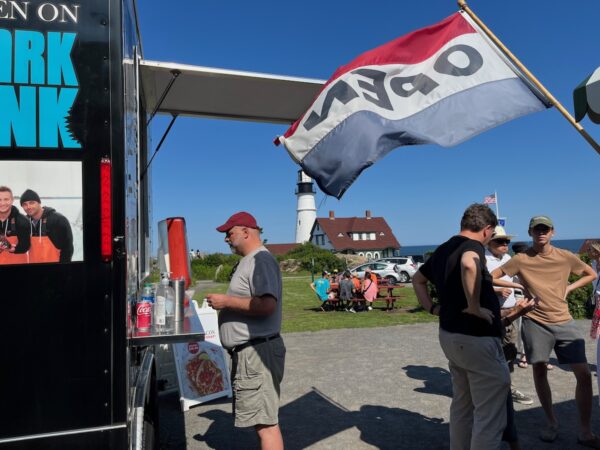 Thanks to reader Nicole for reminding us about Cousins.
You might remember Cousins from their segment on Shark Tank. From humble beginnings in a single truck, Cousins now has outlets in more than 20 states and DC. The Cousins menu doesn't have a burger on the menu, so the hamburger rating is our best guess.
Cousins offers both Maine and Connecticut rolls for $23.99. The Maine roll we sampled had just the right mayo to meat ratio. The truck is located right next to the lighthouse. So, the views are outstanding. See the entry for Bite into Maine entry earlier in this post for details on the park and parking.
Cousins Maine Lobster menu
We were lucky enough to capture this photo of the Cousins Maine Lobster menu at the food truck in Fort Williams Park.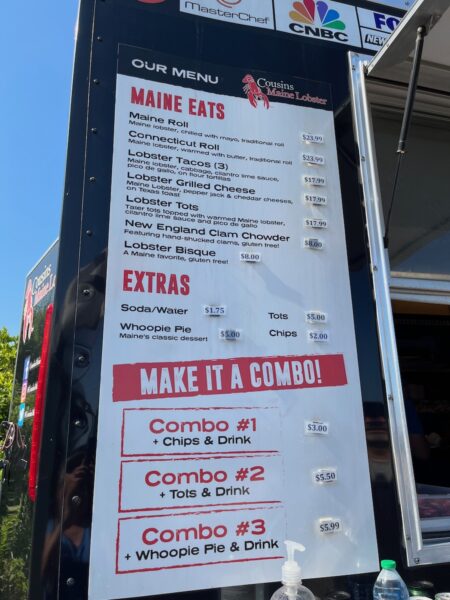 As you know, lobster prices can vary from day to day, based on the market. On the day we ate at the Cousins food truck, they had their prices posted right on the menu. Here's what they were for main courses:
Maine lobster roll: $23.99
Connecticut lobster roll: $23.99
Lobster tacos: $17.99
Lobster grilled cheese: $17.99
Lobster tots: $17.99
New England clam chowder: $8
Lobster bisque: $8
The Lobster Shack at Two Lights
225 Two Lights Rd, Cape Elizabeth, 207.799.1677, 🍔.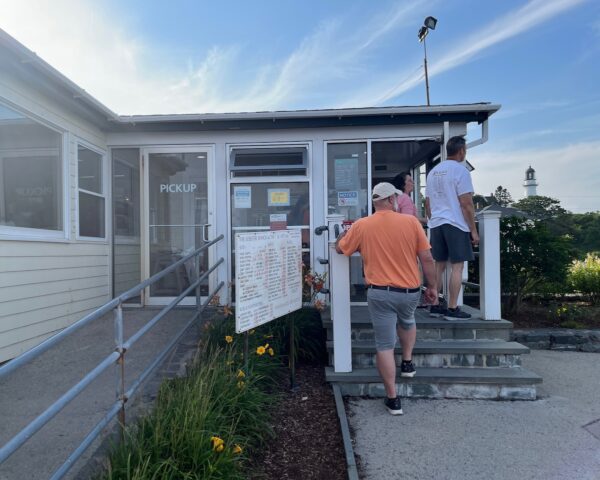 The Lobster Shack has a walk up counter where you order and pick up your food. There is a small inside dining room, but it would be a shame for you to eat in there. Wait for a nice day and sit at the outdoor picnic tables and take in the waves crashing on the rocks below.
You can also see the eastern tower of the point's "two lights" (the western tower is no longer an active lighthouse). Over the centuries, these seas, with their rocky shoals, were treacherous for mariners, which is why there are so many lighthouses in the region to guide them. As you enjoy your meal, imagine masted schooners trying to navigate the challenging waters.
The Lobster Shack at Two Lights menu offers traditional seafood shack fare. Its prices are reasonable and the rolls are very good, but the real reason to go is the view. The Maine style rolls are served with a generous dollop of mayo that you spread yourself, allowing you to choose your perfect mayo-to-meat ratio. The Connecticut style is served cold with warm butter. Both are very good.
If you're still hungry, go for the classic Maine whoopie pie ($5). They are nicely sized and tasty.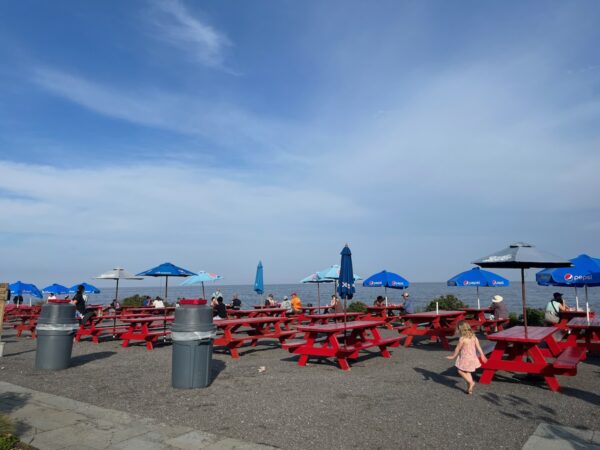 Bridgton
Mack's Place
64 Portland Road, Bridgton, 207.647.4611, 🍔🍔.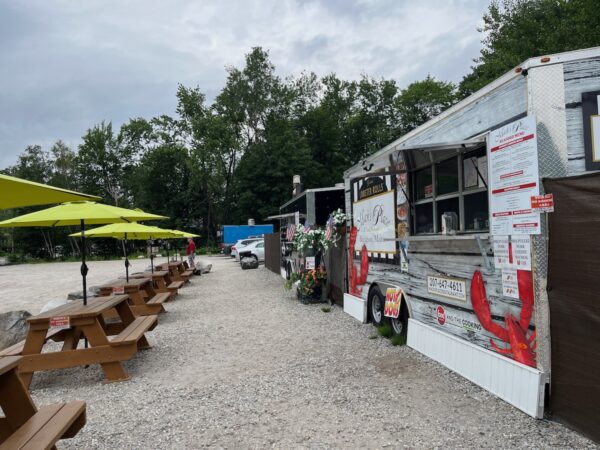 Mack's is a seafood and pizza food truck located in the Bridgton Food Truck Park, so there will be something in most price ranges to please those in your group who aren't looking for lobster. It's about an hour north of Old Port, maybe more, depending on weekend traffic.
Mack's Place's menu has no burger on it, so the rating is our best guess based on the pizza and roll prices. Mack's has been featured on the Food Network and offers six types of rolls — from the classic Maine and Connecticut style rolls to variations that include sriracha, garlic, and ginger.
At $28, the rolls aren't inexpensive. So, you might want to go with a group, get a roll to sample alongside a pizza. The poutine pizza sounds odd, but if you like poutine, it really works.
Mack's appears in our roundup of food truck parks in Southern Maine.
Kennebunkport, Ogunquit and Other Points South
As with other communities, virtually any seafood restaurant from Kennebunkport to Ogunquit to York or Kittery will serve a solid roll. The restaurants listed here either offer a specific value or are on many people's "must visit" list.
If you choose to go to the Kennebunks or Ogunquit, be sure to reserve some time to wander downtown and visit the local shops. In Kittery, the outlets are a must.
Bob's Clam Hut
315 US Route 1 Kittery, 207.439.4233, 🍔.
Bob's Clam Hut's menu includes the standard seafood hut fare. Rolls are listed at Market Price and served both Maine and Connecticut style. In business since 1956, Bob's is nothing special to look at, but it is considered by locals to be a standard bearer for the lobster roll. It has been featured on Diners, Drive-ins and Dives.
Seating is outside the hut. A senior discount is available — 15% off on Tuesdays for folks 60 and over.
The Bull and Claw
2270 Post Road, Wells, 207.646.8467, 🍔🍔.
At about 40 minutes south of Old Port, Wells is a summer beachgoer's tourist destination. The restaurant is quaint, if a little dated. Still, the Maine Style lobster rolls at the Bull and Claw are just $19.99. The main attraction, however, is the two-foot roll for $44. Bring a bunch of friends and share this massive sandwich.
The Bull and Claw menu is huge and its portions are generous. So, it should have something for even the pickiest diner in your group. And with most entrees less than $20, this is a sit-down restaurant that won't crush your budget.
Cape Pier Chowder House
79 Pier Road, Cape Porpoise, 207.267.0123, 🍔🍔.
The eastern end of Kennebunkport is called Cape Porpoise. It is home to a working marina.
Enjoy the morning's catch and all of the other seafood delights that are on the Cape Pier Chowder House menu. A roll with no sides costs $26.99. Add fries for an additional $3.99. Unlike many other Maine lobster shacks, this one offers some grilled options as well.
The Chowder House is on the water and is open seasonally. You can sit inside or outside.
The Clam Shack
2 Western Ave, Kennebunk, 207.967.3321, 🍔🍔.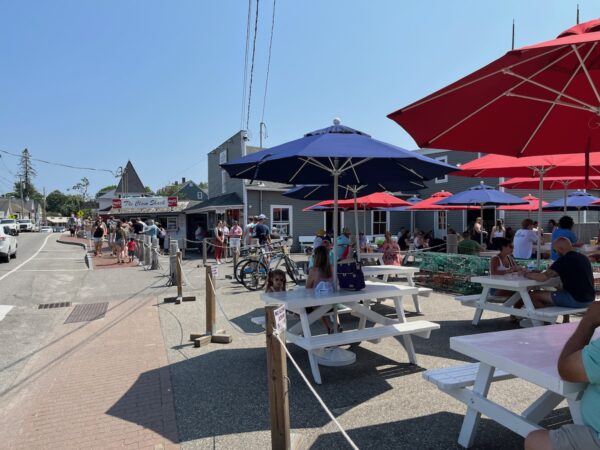 At $33.95 this roll, which is one of the region's best, is not a bargain. You are paying for the location and quality, especially freshness.
When we say fresh we mean it. Typically, the lobster in your roll was swimming that morning. The roll is served on a locally sourced bun that resembles a burger bun, not a hot dog bun. It comes with either butter or mayo, or both.
The Clam Shack is an old fashioned seafood and lobster shack located on the water where Kennebunk and Kennebunkport meet. Plan your visit midday and take in all the shops in Kennebunk's Lower Village and Kennebunkport's Dock Square.
Along with lobster rolls, the Clam Shack menu lists the standard seafood fare. Given the name, consider sampling the clams as well.
Footbridge Lobster
108 Perkins Cove Road, Ogunquit, 207. 251.4217, 🍔🍔.
You can get to Perkins Cove by car or, better yet, park in downtown Ogunquit and walk down Shore Road to the little red building near the footbridge. You can also take the seasonal Ogunquit trolley. Check out the takeout menu for Footbridge Lobster to find out today's market price. Lobster rolls here come with butter, mayo or both.
Chris, Footbridge's owner, is a lobsterman who brings his catch to the seafood shack each day. He's often there in the afternoon to answer any questions. Not surprisingly, given the location, this lobster shack has outdoor, waterfront seating.
Fox's Lobster House
8 Sohier Park Road, York Beach, 207.363.2643, 🍔🍔🍔.
In the shadow of the Nubble Light on Cape Neddick, Fox's offers a full sit-down menu with both indoor and outdoor (pet friendly) seating. A lobster roll cost's $29.95. We had a cold roll. It's a solid take on the classic Maine version. We also opted for the havarti lobster grilled cheese. This tasty sandwich includes lobster roll meat along with havarti cheese on thickly sliced bread. The mild cheese complemented the meat perfectly.
Fox's also offers a limited walk up menu with picnic tables for those who want to dine less formally, while cutting out the cost of the server gratuity. The lobster rolls at the window are two dollars less expensive than those at the sit down section.
After dinner take a moment to enjoy the great views of the lighthouse.
The Maine Diner
2265 Post Road, Wells, 207.646.4441, 🍔🍔.
The Maine Diner has been featured on Diners, Drive-ins and Dives. It is a bit kitschy, but not outlandishly priced for a place that has become a tourist destination. It's right on Route 1 in Wells, as you turn off Route 9 from Kennebunk/Kennebunkport.
The Maine Diner menu is huge and has typical diner fare. Lobster rolls come in both Maine and Connecticut varieties and are listed at market price. There are plenty of entrees for under $15 and several under $10. So, if your group orders a roll to taste along with less pricey fare, you won't break the bank.
There is both indoor and outdoor seating. However, Old Post Road, which is Route 1 through Wells, is nothing special to look at, so we suggest indoor seating unless the weather outside is perfect.
The Ocean Roll
70 Portland Rd. Kennebunk, 207.450.0332, 🍔🍔.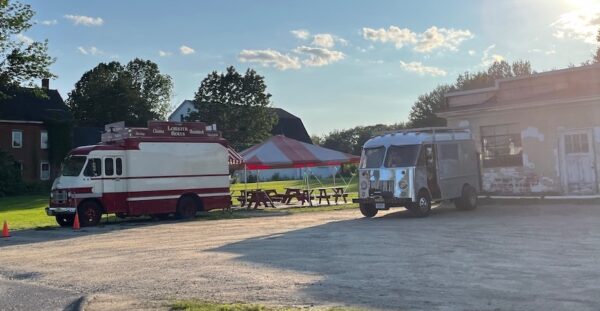 If you go to the Ocean Roll, you will experience what the owners claim is the oldest food truck in America. The Ocean Roll's menu online is a bit out of date. It lists lobster rolls for $15. When we visited, they were $18. Still a great price for a solid roll.
The truck offers picnic tables under a tent. It sits along Route 1, in a dirt parking lot, so there isn't much of a view. A visit here is for a good roll at a great price and that's it. After lunch head across Ross Road to Aroma Joe's for a cup of coffee.
Amato's
Various Southern Maine Locations, 🍔.
Amato's is a local pizza chain with a dozen Maine locations. It doesn't have a cheeseburger on its menu. However, their small Angus steak and cheese sandwich, which was used for our price comparison, is $9.97. A 16-inch cheese pizza is $19.95. Their pizza is typical of a chain restaurant.
If you are in the Kennebunk/Wells/Ogunquit area looking for a pie, Seacoast Pizza is our top choice for pizza. An outstanding 18-inch pie is $16.75. It's made by former New Yorkers so if you like New York pizza, you'll love Seacoast.
Here is a roundup of some of the best pizza in Portland.
Amato's lobster roll is probably more accurately described as a mayonnaise-based lobster salad on a hot dog bun. The meat is less chunky, which may be a plus for those who don't love the texture of seafood. Despite its nontraditional look and feel, it is a surprisingly tasty and filling sandwich. And, at $19.99, it is relatively cheap.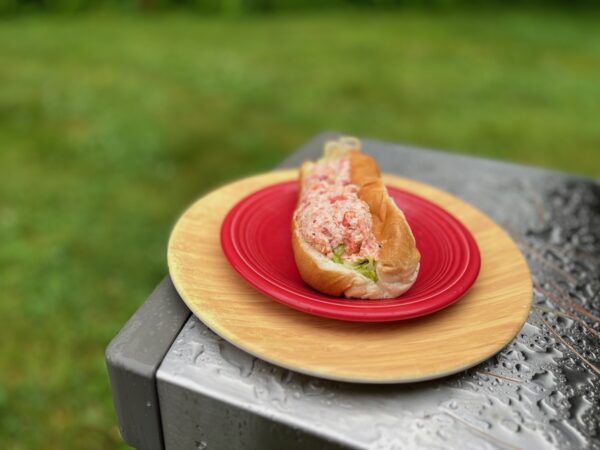 Your Local House of Pizza
Virtually every southern Maine town has its own independently owned House of Pizza. Look one up near you, and give them a call to see if they make a roll.
For example, the Sacopee Valley House of Pizza in Cornish (about an hour northwest of Portland) offers a very tasty Maine-style roll for under $10. And, their lasagna is great too!