Food trucks have become a staple of the Southern Maine dining scene. In fact, we mentioned some of the best in our lobster roll round ups article.
Food truck parks in Southern Maine
In this piece we are focusing on food truck parks, where you can find multiple trucks in a cluster, allowing everyone in your group to find what they want. Down the road we hope to get to individual trucks, but today it's all about the food truck parks in Southern Maine.
Most parks are seasonal; check with the individual park for specific dates.
Besides the food parks listed below you can often find clusters of food trucks in the following areas:
Brunswick Town Mall – especially when the farmer's market is there
The Eastern Promenade in Portland – with great views
Industrial Way in Portland – near the breweries. One truck found here, Bite into Maine, was featured in our lobster roll round up
Bridge StrEAT Food Park
426 Bridge Street, Westbrook, (207) 854-0676. Hours: 4-8 on Wednesdays.
As part of the Westbrook Community Center's Westbrook on Wednesdays summer program, the Bridge StrEAT Food Park offers about 10 trucks each week. You'll also find some vendor tables as well as live music.
Offerings rotate, so it's best to check their Facebook page to see what's available when you plan to go.
Bridgton Food Park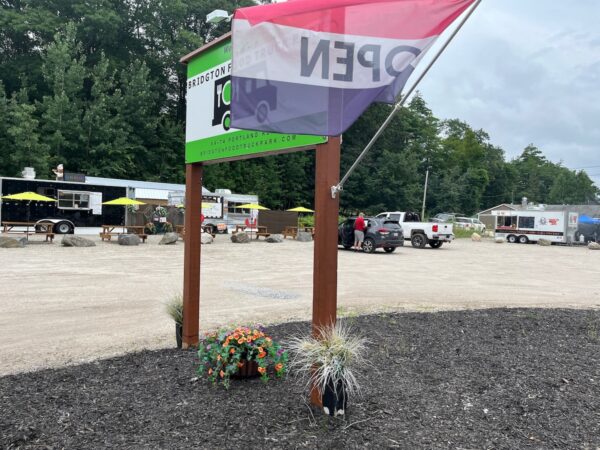 64-74 Portland Rd (Route 302) in Bridgton, Hours: 11-9 seven days a week (some vendors keep slightly different hours).
One of the anchor trucks here is Mack's, whose lobster roll was featured on the food network and in our lobster roll round up.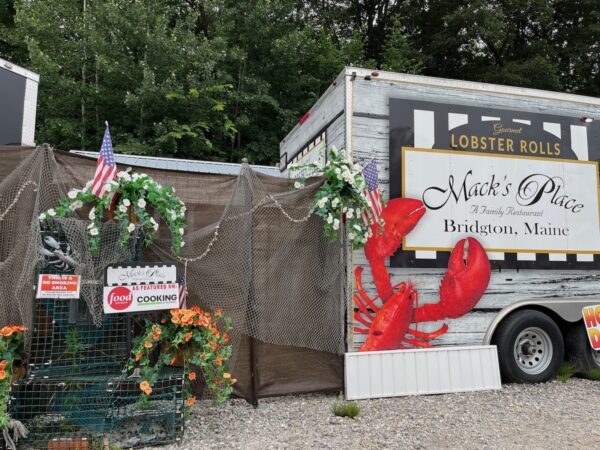 On the day we visited there were three trucks with fare including seafood, pizza and barbecue. There seemed to be room for two more trucks. With careful menu selections, you can feed your family for about $10 per person, even less if some folks split a pizza.
Smokin's J's wicked barbecue's mac and cheese with pulled pork was quite flavorful.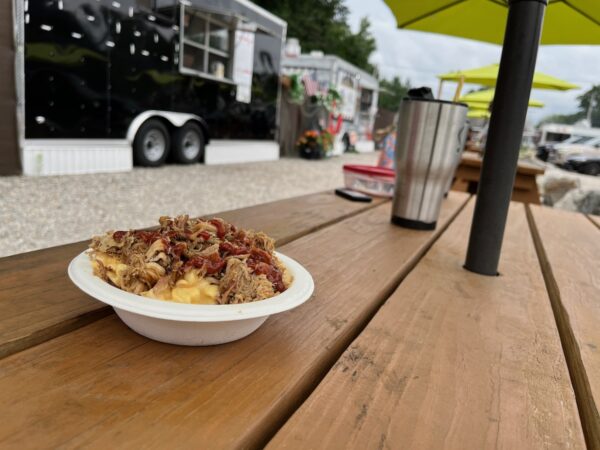 At Mack's Pizza truck we found ourselves oddly drawn to the poutine pizza. We were pleasantly surprised with how enjoyable it was. It is nothing like traditional pizza, but if you like poutine, give it a try.
Congdon's After Dark
1100 Post Rd, Wells, 207.646.4219. Hours 4-8 every day, with at least one truck open until 9 or 10.
Congdon's is famous for its donuts. Since 2017, it has offered much more.
Located in the lot next to the donut shop, Congdon's After Dark features up to 10 trucks and a beer garden. There's live music most nights and a car show on Tuesdays. Also on Tuesdays, 10 percent of proceeds go to a local charity.
The selection of trucks rotates. Check their Facebook page for last-minute changes and weather updates. You'll find both indoor and outdoor seating, along with indoor restroom, not the port-a-potties you find near most food trucks. Many trucks accept credit cards but there's an ATM on site if needed.
Leashed pets are welcome. Yeah, another dog-friendly place to enjoy a meal with our pups.
There are typically gluten free and vegetarian options available each day. Knew Potato Caboose is usually there and is always gluten free.
On the day we visited there were about 10 trucks with fare including barbecue, pizza, seafood, potatoes and empanadas. We loved the empanadas. With careful menu selections, you can feed your family for about $10 per person, even less if some folks split a pizza.
Chad's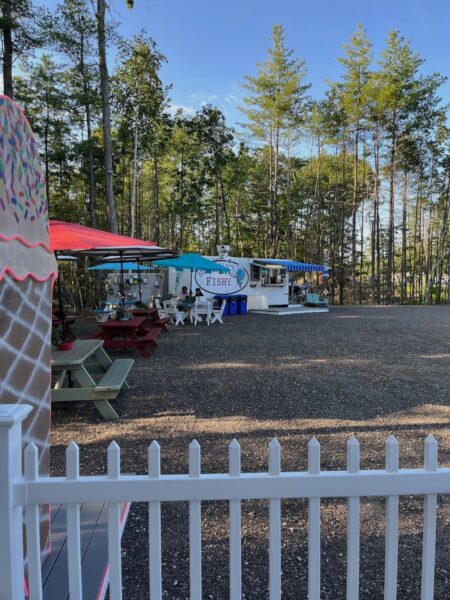 1632 Portland Road, Arundel Hours: 3-8 Sun-Thurs (Closed Monday), 11:30-8 Fri & Sat.
This small park across from Bentley's Saloon includes 3 trucks, BBQ, seafood and ice cream. As with most parks, the offerings can change, but regulars are typically:
Somethin's Fishy – A fish truck with plenty of filling meals for $20 or less. Stop by and check out the rotating specials. According to their own advertising, they've sold 5,000+ clamcakes this year.
Sprinkles — An ice cream shop.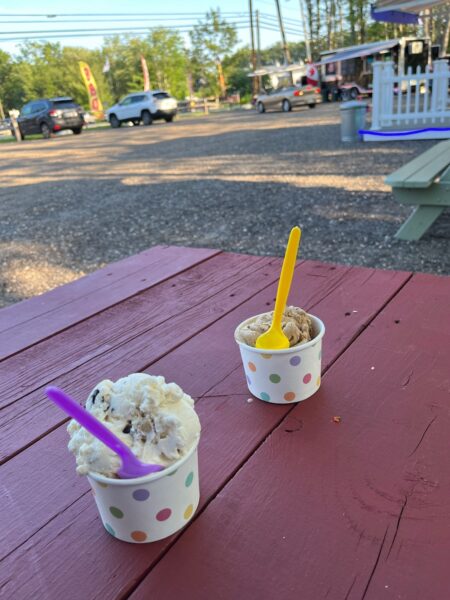 Mr. T's Smoke Shack – Great barbecue at a reasonable price.