Before we get into the nitty gritty of the best lobster roll in Portland Maine, there's something you need to know.
There are two key types of roll — The Maine and the Connecticut — each with its own storied history.
How do you tell them apart? Maine rolls are served with mayonnaise; Connecticut lobster rolls come with butter.
However, in our quest to find the best lobster roll in Portland Maine, we discovered that Maine restaurants are quite accommodating. That is, most serve both kinds of lobster roll — for the Mainers and those from away.
Anyway, you might say that our lobster roll quest was comparable only to the search for the Holy Grail. And there are hundreds of variations crafted by local chefs.
Some of the best rolls in the region are found in Old Port. Outside of Portland's Old Port, you can find great lobster rolls at these Maine lobster shacks.
Basics on lobster rolls in Portland, Maine area
When it comes to where you'll eat your lobster roll, keep in mind that ambience varies. That's definitely part of the experience–and in a good way.
So, while we have our favorites, you'll just have to pick the best spot for yourself. Still, we had a great time putting together this round up of southern Maine favorites. We've divided the port into two regions. The Wharf and a bit inland. Then, we've listed restaurants alphabetically.
Maine lobster roll prices
Let's be frank, lobster is never cheap. So this article focuses more on getting the best experience out of your splurge while finding the occasional value. At the time of this writing (July 2023), lobster roll prices ranged from about $25-$35.
However, in all of the places we visited, only a few actually listed the price — many menus said "Market price," which meant you had to ask. So, when lobster roll prices are listed in the menu, we will share them.
What do you get for your money? Well, most rolls contain 4-6 ounces of meat on a top split New England hot dog bun. In case you don't know what a New England hot dog bun is, it's the kind that opens at the top with a flat bottom. Truth is, we liked them so much that we're going to use them for hot dogs in the future.
In general, restaurants that offer outdoor seating are dog friendly at those tables, but it's best to call ahead to confirm. And some places get crowded, so make sure your pup can handle the bustle.
We've included our Cheeseburger Scale, which indicates the price of a basic cheeseburger and fries or chips at the location. Since seafood prices are listed on many menus at market rate, without a specific price, this scale will give you a sense of the overall expense of the restaurant.
If your favorite roll place is not on our list, drop us a note and we'll check it out. It's tough work, but someone has to do it!
🍔🍔🍔🍔 – $20+
🍔🍔🍔 $16 – $19.99
🍔🍔 $12-15.99
🍔 Under $12
Portland's Old Port – Along the Wharfs
The area is hopping at night, especially on weekends. Think vibrant music and crowded bars, especially along Custom House Wharf. If you really dislike large crowds avoid cruise ship days.
Parking along the wharfs is expensive. Municipal spots are $24 for the first two hours and $7 per hour thereafter. If you are okay with a five-minute walk, park a little off the wharf.
For example, Simba's parking (across from the Hampton Inn at 209 Fore Street) is $20 for the day. So arrive early, walk the shops throughout Old Port and enjoy a meal with parking that costs less than the cost of a couple of hours along the wharf.
Now onto the best lobster rolls in Portland's Old Port.
Andy's Old Town Pub
94 Commercial Street, Portland, 207.874.2639, 🍔🍔🍔.
Andy's is a classic bar along the Old Port's main drag — Commercial Street. Most nights features different local musicians.
Andy's Old Town Pub menu includes not only a lobster roll, but also a lobster BLT — you guessed it, a lobster roll with bacon. Everything is better with bacon! A lobster roll is on the menu for $30. Add two dollars for the bacon.
Becky's Diner
390 Commercial Street, 207.773.7070, 🍔.
Located on Hobson's Wharf, just before the super touristy part of Old Port, Becky's is a true diner, open in the wee hours of the morning until 10 pm.
Becky's Diner menu (prices online are a bit out of date, but the selection is about the same) is mostly diner fare. Breakfast is served until 4. The lunch and dinner menu starts at 11.
Be sure to check the board for daily soups and specials. Lobster rolls are currently listed as market price.
Parking is free, but limited. And, whatever you do, do not park in the parking lot on the right side (facing the water). You will be ticketed and towed.
Boone's Fish House and Oyster Room
86 Commercial Street, Portland, 207.774.5725, 🍔🍔🍔+
Boone's is a bit on the pricey side. Cheeseburgers push the three-cheeseburger rating at $19 and entrees can easily reach the mid-$30 range. Lobster rolls are listed at market price.
With two outdoor decks overlooking Portland Bay, the views are magnificent.
DiMillos
25 Long Wharf, Portland, 207.772.2216, 🍔🍔🍔.
Many of the Old Port restaurants the we discuss are along the waterfront. Dimillo's is the only one that's actually in the water. This converted ferry is a truly unique dining option in Portland.
The Dimillo's menu is also unique in that the lobster roll, at $30, is actually one of the relatively inexpensive items on it. So, as with a few other places on our list, you are not necessarily getting a bargain here. Instead, you are purchasing an experience. Still, if you buy one roll to share and stick with the sandwich menu (which comes with fries or slaw) you can feed the family for about $20 per person. Full entrees jump in the $40 range pretty quickly.
The DiMillo's roll is a hybrid Maine/Connecticut offering a brown butter aioli sauce.
Gilbert's Chowder House
92 Commercial Street, Portland, 207.871.5636, 🍔🍔.
There's nothing fancy about Gilbert's casual interior space. So, on a nice day, enjoy the waterfront outdoor seating on Custom House Wharf. In the evening the atmosphere is music-filled and vibrant.
As you might expect, Gilbert's Chowder House menu is highlighted by, er, chowder. In fact, the chowder's so good that you might actually choose to skip the roll. Even better, go hungry and get both. Or, bring a friend and share. Lobster rolls are on the menu for $24.95.
The Porthole Restaurant and Pub
20 Custom House Wharf, 207.773.4653, 🍔🍔🍔.
With live music and/or a DJ most nights, the Porthole, and especially its waterfront deck, is a go-to location for those looking for a party atmosphere.
The Porthole Restaurant and Pub menu is standard pub fare that is heavy on fish and seafood. Lobster rolls are listed as market price and are served both Maine and Connecticut style.
Portland Lobster Company
180 Commercial Street, 207.775.2112, 🍔🍔.
Located at Chandler's Wharf, this waterfront, indoor/outdoor venue has won numerous awards for its Connecticut-style roll, which includes the meat from an entire one-pound lobster. Often offering live music, the atmosphere is lively and fun.
The Portland Lobster Company's menu includes other traditional seafood fare. However, come here for the lobster. Let someone else order the haddock. Lobster rolls are listed as market price on the menu.
Luke's Lobster
60 Portland Pier, Portland, 207.274.6097, 🍔🍔🍔.
With locations around the world, the Luke's Lobster name might already be familiar to you. Offering rolls costing $25 for 4 ounces and $37 for 6 ounces, Luke's is in the middle of the pack from a price perspective.
Luke's Lobster menu includes rolls in the traditional Maine style or a spicy honey butter variation of the Connecticut style (one of our favorites, for a dollar more). We ordered both and barely left any scraps to treat our dogs, Oscar and Sadie, who joined us on Luke's outdoor deck on the water.
Luke's location on the end of Portland Pier offers delightful views of windjammer cruises and working lobster boats coming in and out of the harbor. There is outdoor and indoor seating.
J's Oyster
5 Portland Pier, Portland, 207.7724828, 🍔🍔.
Sitting at the top of the Portland Pier, J's boasts an excellent view of the marina, especially from its covered outdoor seating. As you might imagine, the J's Oyster menu highlights this rough-shelled delicacy. Try the sampler for $20 to see if oysters are your thing.
J's serves a Maine-style roll listed at market price. For the less adventurous, a tuna roll is $11.
Scales
60 Commercial Street, Portland, 207.805.0444, 🍔🍔🍔+
Located on the Maine Wharf, Scales might be more aptly named UpScales. While it only ranks three cheeseburgers in our system, it is pricier than its cheeseburger lets on.
Scales' menu items can easily exceed $40. Grilled swordfish and seared scallops are each $42. Lobster rolls are listed at market price.
Scales' roll is a novel blend of Maine and Connecticut styles, served warm with butter but including mayo on the side. The portions are generous.
So, while this may not be the best choice for feeding the whole family, it might be worth the splurge for a night out with someone special — especially if you can get a table on the covered patio. How romantic.
Portland's Old Port – Inland from the Wharf
Just by moving in one or two streets from Commercial Street and you'll discover a whole different Old Port vibe. It's slightly quieter, but not at all boring. Also, with cobblestone streets and older buildings, you might feel like you're suddenly in a small European city.
Sure, the restaurants here don't have the waterfront views. However, they serve equally amazing seafood. Plus, this is where you'll find value. In fact, we found one restaurant with half-price lobster rolls during happy hour.
Bonus: most restaurants are nestled between quaint shops to plan on doing more than just eating.
The East Ender
47 Middle St. Portland Maine, 207.879.7669, 🍔🍔🍔.
While it's located a couple of blocks outside of the busier areas of Old Port, the lobster roll deal here is too good not to include. The 4-ounce roll is quite pricey at $32, but from 3-5 every afternoon it is half price. Sixteen bucks is the best lobster roll price we've found anywhere in or near Portland, Maine.
What's also great is that the Easter Ender menu has plenty of entree options for $22 or less. So have a late lunch or a very early dinner. The place is small, but doesn't make you feel claustrophobic. There are a couple of sidewalk tables as well.
Eventide Oyster Company
86 Middle Street, Portland, 207.774.8538, 🍔🍔🍔.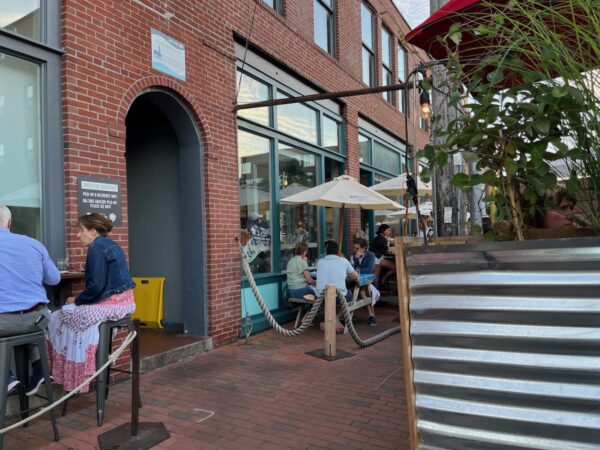 Technically it's a block outside of the Old Port neighborhood, but Eventide's lobster roll is a perpetual fan favorite. It's a Connecticut style roll with brown butter which adds amazing richness and texture.
As you might expect given the name, Eventide Oyster Company's menu lists a lot of shellfish other than lobster. The lobster roll is a little on the small size and served on a steamed bun, not the tradition top-split hot dog bun. Still, at $19, this nontraditional riff on the classic is worth the trip. It is one of the tastiest rolls that we have experienced.
We each wanted more than just a roll, so we split the hearty tomato salad with trout roe. The food cost us $30 per person, which is a reasonable market price for one of the best rolls in the city and a wonderful healthy side dish. We also sampled the tuna pastrami and tuna tartare. Both were outstanding.
There is often a wait, but trust us, it is worth it. Give the host your cell phone number and walk the port. They will text you when your seats are ready. We sat at the bar near the oyster shuckers. They were mesmerizing to watch.
If you are bringing the pups along, Eventide offers outdoor seating.
High Roller Lobster
104 Exchange Street, Portland, 207.536.1623, 🍔🍔.
With its bright red and white striped awning and umbrellas on its sidewalk tables, High Roller perks up its section of Exchange Street, making it feel more like the beach than a city block.
The lobster rolls on High Roller Lobster's menu are unconventional. Mayo-based sauces include lime, jalapeno, roasted garlic, roasted red pepper and charred pineapple. Butter includes traditional drawn butter and lobster ghee, butter infused with lobster flavors.
The rolls are served in a fresh-baked brioche (a fancy oblong bun). You can also try lobster roll filling in a crisp cheese taco shell.
A traditional 4-ounce roll is $28
Two-ounce roll is $16
A flight of three small rolls is $45 and a great way to share and/or sample multiple sauces
The taco is $30.
Miyaki
468 Fore Street, Portland, 215.871.9170, 🍔🍔🍔.
Okay so this Asian restaurant actually doesn't offer a cheeseburger on its menu, but based on the $29 price tag for a large lobster roll, our guess is that a cheeseburger here would cost about $18, if they had one.
The Miyaki menu is an impressive array of Asian barbecue, sushi and sashimi. Apropos to the venue, the Miyaki lobster roll has a distinctly Asian flair. It's served on sesame soy paper and topped with Japanese kewpie mayo, togarashi (a seven spice bend that is as common as salt and pepper on a Japanese table) and tobiko (fish roe). A small roll is $26.
For similar fare, consider visiting Miyaki's sister restaurant, Pai Men on State Street.