When visiting my grandparents on Long Pond in Parsonfield, I quickly learned that lakes in Maine, including Southern Maine, were often referred to as ponds.
What determines if a body is water is called a pond or a lake? Well, for starters, the Maine Department of Environmental Protection says that lakes are large and deep whereas ponds are smaller and shallow.
Additionally, the Maine DEP has this to say:
"One classic distinction is that sunlight penetrates to the bottom of all areas of a pond in contrast to lakes, which have deep waters that receive no sunlight at all. Another is that ponds generally have small surface areas and lakes have large surfaces."

Maine Department of Environmental Protection
That being said, there are definitely ponds that could be considered lakes. Such as Long Pond where I spent many of my childhood vacations. At a mile across, it seemed like a lake to us.
In fact, it is likely a great pond, which the Maine DEP defines as a body of water that is great than 10 acres. According to a Maine state survey, Long Pond encompasses 275 acres, so definitely a great pond.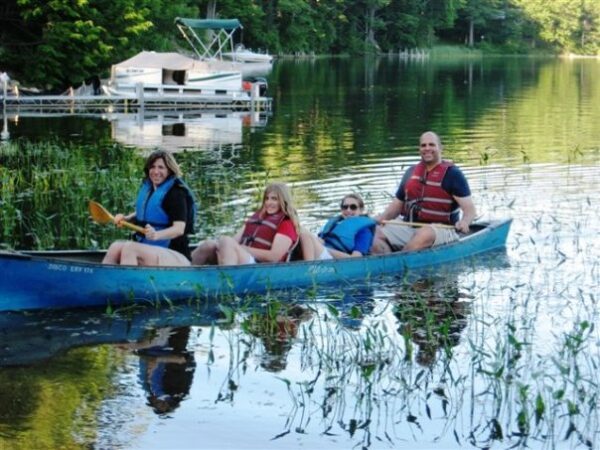 List of lakes and ponds in Southern Maine
There are hundreds of lakes and ponds in Southern Maine. Since I mostly focus on locations in York and Cumberland counties, I've included a list of lakes in both places and only those counties.
These are listed in alphabetical order by name of the body of water. Then, I've included the town where they're located.
Also, if there is an alternate name for the lake or pond, I've included that, too. You'll see that alternate name in parentheses with aka–also known as–before the name.
The Maine Department of Inland Fisheries and Wildlife is the source of this information.
Cumberland County, Maine: List of Lakes and Ponds
Adams Pond, Bridgton
Alden's Pond, Gorham
Bay of Naples (aka Brandy Pond), Naples
Beaver Pond, Bridgton
Bonny Eagle Lake, Standish
Browns Pond, Sebago
Capisic Pond, Portland
Clark Pond, South Portland
Coffee Pond, Casco
Coffin Pond, Brunswick
Cold Rain Pond, Naples
Collins Pond, Windham
Crescent Lake, Raymond
Crystal Pond (aka Anonymous Pond), Harrison
Crystal Lake (aka Dry Pond), Gray
Duck Pond (Little), Windham
Dumpling Pond, Casco
Dundee Pond, Windham
Forest Lake, Windham
Gorham Pond (North), Windham
Great Pond, Cape Elizabeth
Hancock Pond, Sebago Lake
Highland Lake (aka Duck Lake), Falmouth
Highland Lake, Bridgton
Holt Pond, Bridgton
Ingalls Pond (aka Foster's Pond), Bridgton
Ingalls Pond, Baldwin
Impoundment Pond, Harpswell
Labrador Pond (Little), Sumner Twp.
Lily Pond, New Gloucester
Long Lake, Bridgton
Massacre Pond, Scarborough
Mild Pond (aka Mile Pond), Falmouth
Mud Pond (Lower), Windham
Mud Pond (Upper), Windham
Notched Pond, Raymond
Nubble Pond, Raymond
Otter Pond, Bridgton
Otter Ponds #1, #2,#3,#4, Standish
Owl Pond, Casco
Panther Pond, Raymond
Parker Pond, Casco
Peabody Pond, Sebago
Perley Pond, Sebago
Pettingill Pond, Windham
Pleasant Lake, Casco
Raymond Pond, Raymond
Rich Mill Pond (aka Richville Mill Pond), Standish
Sabbathday Lake, New Gloucester
Sand Pond, Baldwin
Sebago Lake, Sebago
Sebago Lake (Little), Windham
Thomas Pond, Casco
Trickey Pond, Naples Twp.
Watchic Pond, Standish
Watchic Pond (Little), Standish
Woods Pond, Bridgton
York County, Maine: List of Lakes and Ponds
Adams Pond (aka Rock Haven Pond), Newfield
Alewife Pond, Kennebunk
Balch & Stump Ponds, Newfield
Bartlett Pond, Waterboro
Bauneag Beg Lake, North Berwick
Beaver Dam Pond, Berwick
Black Pond, Porter Twp.
Boulter Pond, York
Boyd Pond, Limington
Boyd Pond (Little), Limington
Branch Pond (Middle), Waterboro
Brimstone Pond, Arundel
Bunganut Lake, Lyman
Chase Pond, York
Cider Mill Pond, North Berwick
Cox Pond, South Berwick
Deer Pond, Hollis
Deering Pond, Sanford
Doles Pond, Limington
Duck Pond, Buxton
Ell Pond (aka L Pond), Wells
Estes Lake, Sanford
Folly Pond, York
Great East Lake, Acton
Hanson Pond, Acton
Horn Pond, Acton
Horne Pond (aka Pequawket Pond), Limington
Isinglass Pond, Waterboro
Kennebunk Pond, Lyman
Killick Pond, Hollis
Knight Pond, South Berwick
Leigh's Mill Pond, South Berwick
Littlefield Pond, Sanford
Lone Pond, Waterboro
Long Pond, Parsonsfield
Loon Pond, Acton
Milliken Mills Pond, Old Orchard Beach
Moody Pond, Waterboro
Moose Pond, Acton
Mousam Lake, Acton
Mud Pond, Newfield
Murdock Pond (aka Hatfield Pond), Berwick
Northeast Pond, Lebanon
Northwest Pond, Waterboro
Ossipee Flowage (Little) (aka Lake Arrowhead or Arrowhead Lake), Waterboro
Ossipee Lake (Little), Waterboro
Parker (aka Barker Pond), Lyman
Passaconway Pond, York
Pickerel Pond, Limerick
Pinkham Pond (aka Hidden Lake), Newfield
Poverty Pond (Big) (aka Silver Lake), Newfield
Poverty Pond (Little), Shapleigh
Province Lake, Parsonfield
Roberts & Wadley Ponds, Lyman
Round Pond, Newfield
Round Pond, Lyman
Sand Pond, Limington
Scituate Pond, York
Shaker Pond, Alfred
Shapleigh Pond (North), Shapleigh
Smarts Pond, Newfield
Sokokis Lake (aka Holland Pond), Limerick
Spaulding Pond, Lebanon
Square Pond, Acton
Sunken Pond, Sanford
Swan Pond, Acton
Swan Pond, Lyman
Symmes Pond, Newfield
Town House & Milton Ponds, Lebanon
Turner Pond (aka Mirror Lake), Newfield
Unnamed Pond, Limington
Wards Pond, Limington
Warren Pond, South Berwick
Webster's Mill Pond, Limington
West Pond, Parsonfield
Wilcox Pond, Biddeford
Wilson Lake, Acton
York Pond, Eliot