I grew up on New York-made bagels. In fact, my husband cooked bagels in high school.
He still does. That's a batch below he made this past year. Yes, I married well!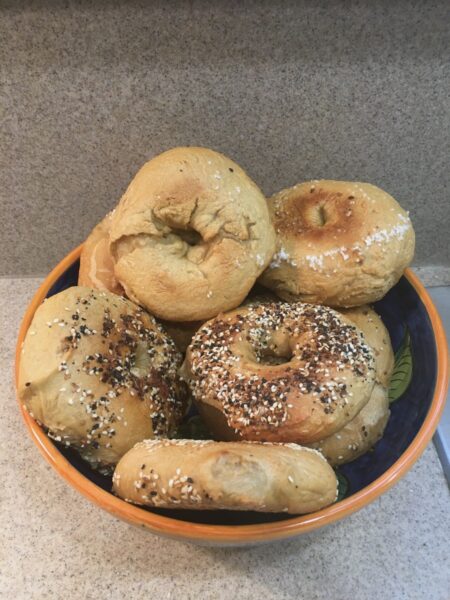 So, when it comes to bagels, our bar is pretty high.
Imagine how pleased we were when we moved to Kennebunk and discovered Christian's Cafe. More than just a bagel shop, it also advertises having wicked good coffee. It does.
However, Christian's is hardly the only bagel shop in the Kennebunks. In fact, I know another one will be opening in the Kennebunk Lower Village in 2023. It's called KPort Bagel. Can't wait to try them out.
Photo by Leah Ingram
Finally, the only bagel "chain" with Maine roots is Mr. Bagel. It started in Portland, not Kennebunk.
There are 11 Mr. Bagel locations in Southern Maine. I grabbed a bit of the Mr. Bagel biography from the store website:
"The first bagel bakery in the state of Maine was established by Rick and Gail Hartglass in 1977 on Forest Ave. in Portland. Originally from Brooklyn, New York, Rick saw a need to introduce Maine to the New York bagel. Through the years Mister Bagel has grown from a single neighborhood bakery to a thriving city bakery, offering wholesale and retail bagels."
National Bagel Day
With it being National Bagel Day on January 15, I wanted to share two things about bagels. One, free and cheap deals on bagels from businesses in Southern Maine.
And, two, a list of bagel shops in the area. You might be surprised at how many there are.
And I've yet to try them all. But I will. I'll be sure to bring my husband, too.
Deals for National Bagel Day
Dunkin'
In 2023 Dunkin' is giving Dunkin' Rewards Members a savory BOGO deal. You'll get one free bagel with a spread when you purchase any bagel.
Bagel stores in Southern Maine
Here is an alphabetical listing, by town, of the bagel stores I've made note of to visit. Once I do, I'll be sure to update this article with my thoughts on whether or not the bagels rose to the occasion or if my enthusiasm boiled over. (See what I did there?)
Finally, if I discover that any of these eateries have deals for National Bagel Day, I'll be sure to add that in the section above about deals for this national food day.
Keep in mind that many of these bagel shops are in "seasonal" towns like Old Orchard Beach and Wells. So they aren't open at all during winter months, when National Bagel Day happens.
Biddeford
Rover Bagel, 10 W Point Ln. STE 10-204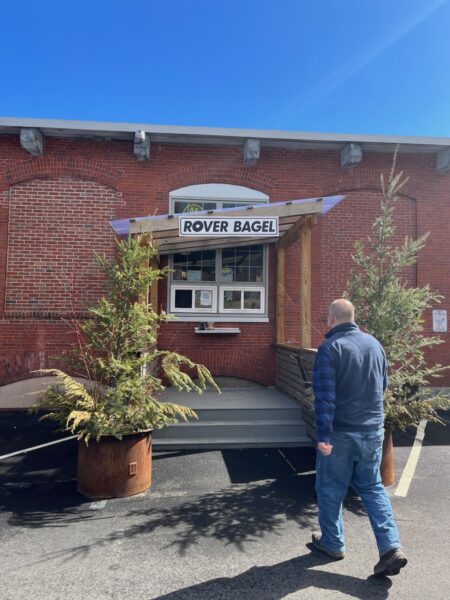 Brunswick
Mr. Bagel Brunswick, 161 Pleasant St.
Falmouth
Mr. Bagel Falmouth, 204 US-1
Gorham
Mr. Bagel Gorham, 13 New Portland Rd.
Kennebunk
Christian's Cafe, 41 Main St.
Kport Bagel, 2 Morning Walk Ln Cottage 6
Old Orchard Beach
Beach Bagel, 34 Old Orchard St.
Kittery
Bagel Caboose, 176 State Rd.
Portland
Mr. Bagel Forest Avenue, 599 Forest Ave.
Mr. Bagel Congress Street, 539 Congress St.
Rose Foods, 428 Forest Ave.
The Great American Bagel, Portland Jetport
Union Bagel Company, 147 Cumberland Ave.
Scarborough
The Maine Bagel, 172 US-1
South Portland
Mr. Bagel Mall Plaza, 220 Mall Plaza
Wells
Brewed Awakenings, 1846 Post Rd.
Westbrook
Mr. Bagel Westbrook, 609 Main St. #1
Windham
Mr. Bagel Windham, Don Rich Plaza
Yarmouth
Mr. Bagel Yarmouth, 431 US-1
York
Bagel Basket, 280 York St.
Here is a guide to national food holidays and free food days throughout the year.