Did you know that there will be a total solar eclipse in Maine in 2024?
In fact, it will cross Maine on April 8, 2024.
This is unlike the solar eclipse of October 14, 2023.
That is limited to the western portion of the United States.
However, Mainers might see a slight darkening of daylight that day.
On the other hand, the total solar eclipse in 2024 starts in Texas and ends its run in America over Northern Maine.
The last time I got to witness a solar eclipse was in August 2017.
I took the picture here (without looking at the sun, of course), and if you look in the top right corner of the image, you can see a reflection of the eclipse happening.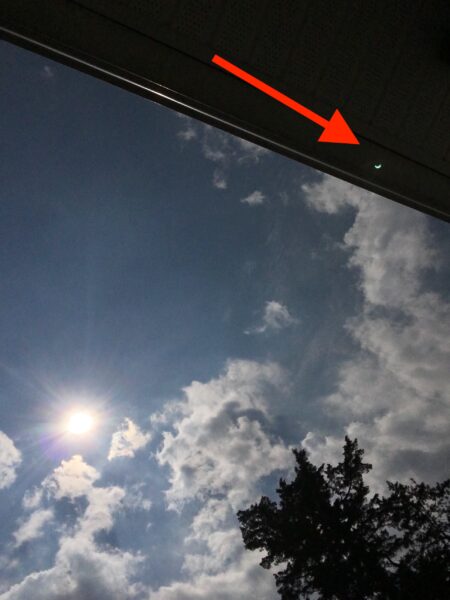 Photo by Leah Ingram
Where to see the 2024 solar eclipse in Maine
As I mentioned, the total solar eclipse will come across Maine on April 8, 2024.
According to NASA, which created the map below, Mainers will be able to witness the solar eclipse starting around 2:20 p.m. Eastern Time.
At around 3:30 p.m. Eastern Time, there will be a total eclipse of the sun.
By around 4:40 p.m., the sun will be back to normal.
Credit: NASA's Scientific Visualization Studio
I know it's hard to see in this map exactly where in Maine you will or will not be able to see that 2024 solar eclipse.
So, I found another image from NASA's Scientific Visualization Studio and did a zoomed-in screenshot that showed some of the cities and towns near or within the solar eclipse zone.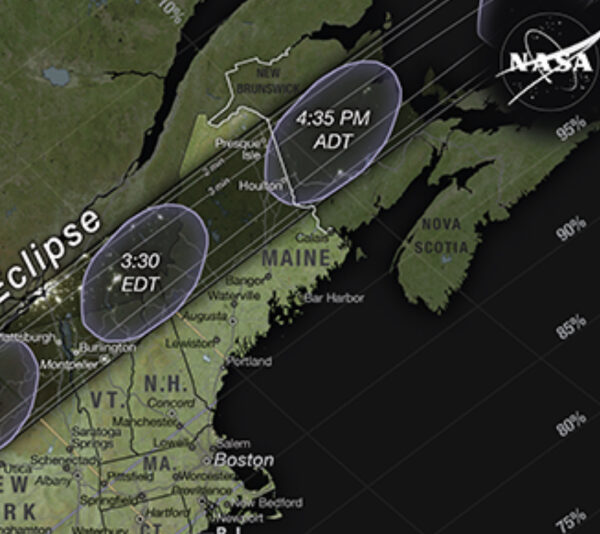 Credit: NASA's Scientific Visualization Studio
You can see that none of Southern Maine will have good viewing.
Neither will Augusta, Bangor, Calais or Waterville.
However, if you can take a day trip to Caribou or Houlton or Presque Isle, you should have a great view of the solar eclipse.
Where to learn all about solar eclipses
Before these solar eclipses occur in 2023 and 2024, you can learn more about this phenomenon as well as other astronomical topics.
For example, there is a planetarium associated with the University of Southern Maine.
That planetarium is in Portland.
Southworth Planetarium
Adobe Photos
The Southworth Planetarium is on the USM Portland Campus at 70 Falmouth Street Portland.
In addition to educational programs about planets, eclipses and more, the Southworth Planetarium offers a different kind of entertainment, too.
For example, recently they held a laser show set to the music of Pink Floyd's "The Wall."
I can remember going to this laser show as a teen in the 1980s.
The Planetarium also has shows about dinosaurs for youngsters.
In addition, children's programming includes information about solar eclipses, like the ones happening in 2023 and 2024.
Visiting the Southworth Planetarium is the perfect rainy day activity in Southern Maine, much like taking your kids bowling is.
Astronomical Society of Northern New England (ASNNE)
The Astronomical Society of Northern New England (ASNNE) is headquartered in Kennebunk, Maine.
There are two ways to participate in ASNNE events.
One, you can attend the monthly meetings, held at The New School on York Street in Kennebunk.
Or, two, you can head outdoors for stargazing at the ASNNE's Starfield Observatory, also in Kennebunk.
Located in a field off Alewive Road (Route 35), this Observatory has two gigantic telescopes.
Some of the programming includes:
teaching the basics of how to recognize the constellations
observing the stars and planets with telescopes of all sizes
presenting monthly discussions on a wide variety of astronomy-related topics
You can even organize a star-gazing party.
Here is a link to the ASNNE website for more information.
This article can help if you're interested in seeing the Northern Lights in Maine.