Long before there was Small Business Saturday, business owners got together and created Kennebunkport Prelude. The idea was to start a Christmas festival. That was back in 1982.
Fast forward to today, and Kennebunkport Prelude is also Kennebunk Prelude as this holiday festival spans both towns.
When is Kennebunkport Prelude
Since the idea of Prelude is to welcome the Christmas and holiday season in general, it's always some time between Thanksgiving and mid-December. For 2023, Kennebunkport Prelude is November 30 to December 10, 2023.
Because this is a holiday event, you can expect a tree lighting. Actually, there are multiple ones.
Christmas tree lightings at Kennebunkport Prelude
One tree lighting is in Cape Porpoise. There, they build a tree made from lobster traps. Then, they add lights to it.
The Cape Porpoise Lobster Trap Tree Lighting is Friday, December 1 at 4:30 p.m.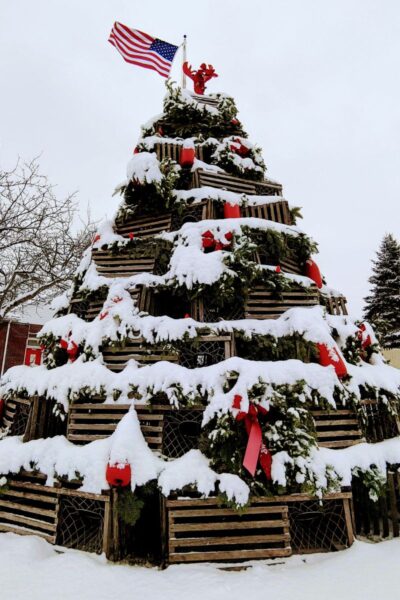 The other tree lighting is in Dock Square, in downtown Kennebunkport. Dock Square already has an evergreen tree in the middle of the square, which is the one they light up for Prelude.
In fact, according to the Prelude website, it appears there are two tree lightings in Dock Square.
The first Dock Square tree lighting ceremony in Kennebunkport's Dock Square is Friday, December 1 at 5:30 p.m. Christmas Caroling precedes it.
The second one is a week later, on Friday, December 8, at 5:30 p.m. Afterwards, you can enjoy fireworks over the Kennebunk River (best to leave pooches at home).
Prelude pooch parade
Feel free to dress your dogs up in ugly Christmas sweaters or other festive holiday attire for the annual Prelude pooch parade on Sunday, December 10. In 2023, it will be the 13th annual parading of the pooches and their humans.
The parade begins on School Street in Kennebunkport at 11 a.m. Then, it proceeds to Maine Street and finally onto Ocean Avenue — all in Kennebunkport.
More Kennebunkport Prelude happenings
You can expect lots of other events to pop up during the Prelude period. For example, last year restaurants had special menus and pricing.
Bars created signature cocktails for patrons to enjoy. And, there are always arts and crafts activities at River Tree Arts, 35 Western Ave, Kennebunk, 207-967-9120.
Sail the Harbor on a Prelude Boat Ride
The Nor'easter, an authentic Maine lobster boat, offers Christmas Prelude boat rides. They take place on Saturdays and Sundays from 10am-4pm during both Christmas Prelude weekends. Reservations are not required.
Rides depart every half hour from 10am-4pm from the dock behind The Pilot House restaurant in Dock Square or at the dock behind The Nonantum Resort on Ocean Avenue. The cost is $10 per person for a round trip ride.
Get Aboard for a Holiday-Themed Trolley Ride
The Seashore Trolley Museum offers a fun winter treat. You can ride in heated trolleys decked out in live holiday greens on their private heritage railroad. The cost $12 per person; children two and under ride for free if they are sitting on an adult's lap. The museum is located at 195 Log Cabin Road, Kennebunkport, 207-967-2800.
Enjoy Holiday Entertainment at Vinegar Hill
Vinegar Hill, a rustic-themed, but completely modern, music venue, hosts festive events throughout Prelude. In the past, events have included: Music & Makers Fair, Home for The Holidays Fundraiser for the Kennebunkport Heritage Housing Trust, Holiday Classic Movies and the Spirit of Prelude Concert. Vinegar Hill is located at 53 Old Post Road, Arundel, 207-985-5553.
Keep an Eye one the Prelude Facebook Page
The Kennebunkport Prelude Facebook page is regularly updated. Check there for any new information about events.
Also, this article can help you, overall, with things to do in Kennebunkport, Maine.
Kennebunkport Prelude is a family-friendly activity to get your ready for the holidays. It's great for families with young children as well as teens. In fact, if you're world travelers and you've enjoyed European Christmas markets for teens, I'm confident they'll also love checking out the Christmas markets in Kennebunk and Kennebunkport during Prelude.