Maine's state dessert is the blueberry pie, but its state treat is the whoopie pie. I'll leave it to the great minds in Augusta to differentiate between a dessert and a treat. In the meantime, I'll just enjoy them both.
I've lived in five states and have traveled to many more. And, even though the wild blueberry is Maine's state fruit, you could get a good slice of blueberry pie in any of them. However, throughout my travels, I've never found a true whoopie pie anywhere but in the Pine Tree State.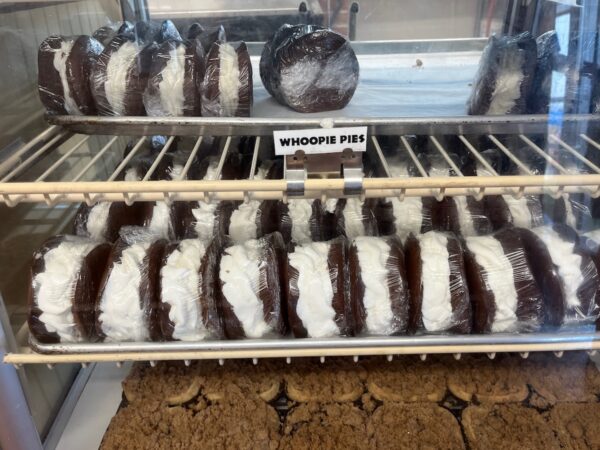 The Basic Maine Whoopie Pie
Legend has it that the whoopie pie originated as a way for bakers to use up spare cake batter. They'd make little cookie-shaped cakes and create an icing or cream-filled sandwich.
The "modern" whoopie pie, however, originated at Labadie's Bakery in Lewiston in 1925. It is a classic chocolate cake and white cream sandwich. Today, Labadie's sells a vanilla pie (cream with vanilla cake) as well as a cream roll (whoopie pie cream in a rolled puff pastry).
My wife's grandmother always had homemade whoopie pies on hand. However, she never shared the recipe. All I know is they were delicious.
The Great Cream Debate
What cream should go in a whoopie pie? Since the earliest pies were a way to use up leftover batter and icing, early pies were mostly filled with variations on today's white cream cheese or buttermilk icings —whatever was left at the end of the day.
Some bakers continue this tradition. Others have shifted to a vanilla and marshmallow combination. This requires Marshmallow Fluff as an ingredient.
Which filling is better? Just like some lobster roll connoisseurs swear by butter, while others go for mayonnaise, Maine whoopie pie lovers each have their favorite. Personally, I'm partial to the marshmallow-tinged filling.
Other variations on Maine Whoopie Pies
Today you can find whoopie pies in countless variations. Some of the ones we've seen include:
Red velvet cake with cream cheese icing
Pumpkin filling in the fall
Lemon cakes or chocolate cake with a fruit-infused cream
Really, your imagination is all that limits what you can do with a whoopie pie. Two Fat Cats bakery in Portland offers a seasonally rotating menu that includes chocolate with Irish coffee filling, pumpkin with maple filling or lemon zucchini with wild Maine blueberry filling.
Finally, there is even a commercial version of the Maine whoopie pie in the Oreo Cakester. Or, if you're old enough to remember Suzie Q snacks, they are a close cousin. Also, I'm told that in the Pittsburgh area of Pennsylvania, you can find something called "Gobs" that tastes just like the whoopie pie.
Speaking of Pennsylvania, legend has it that Amish women would pack these pies in their husband's lunch pails. And when they discovered the dessert waiting for them, they'd exclaim, "Whoopie."
Whoopie pie bakeries
Whoopie pies are so popular in Maine that there are bakeries devoted entirely to them. We shopped at one in Bangor during a recent daytrip from Southern Maine.
Closer to home, there is Cape Whoopies in South Portland. There, you can get Whoopie Pies flavored with salted caramel, granny smith apples or maple.
Wicked Whoopies in Freeport adds choclate chips, peanut butter and banana cream to the mix.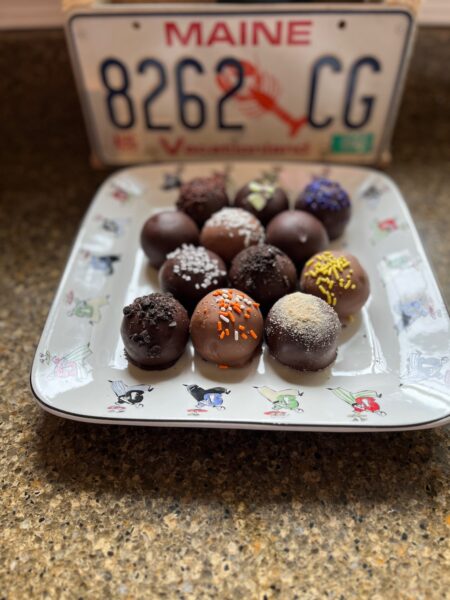 In Kennebunk's Lower Village, Auntie's House offers the whoopie ball — think chocolate covered whoopie pie munchkin. Or a Maine bon bon with a whoopie cake and filling inside.
Trust me — you can't eat just one. Or at least that was the case with my wife and me.
If you look hard enough, you can find Maine whoopie pies in almost any variety. If we've missed any of your favorites, let us know and we'll be sure to go check them out.