Have you shopped yet at the ReStore thrift store?
If not, you're missing out.
We were able to furnish nearly most of our Kennebunk house with furniture and decor we bought at ReStore.
This includes a kitchen table with eight chairs for which we paid $80.
In addition, we've secured original artwork, power tools, including a still-in-the-package small chainsaw, and brand-new area rugs, among other household items.
What is ReStore Thrift Store
So, what is the ReStore store?
Well, it's the retail location, if you will, for Habitat for Humanity.
That is, when people make donations to Habitat, they often end up on the sales floor of the ReStore.
When I first learned about ReStore, it was because contractors I knew were using ReStore as a place to offload construction and home improvement supplies they no longer needed.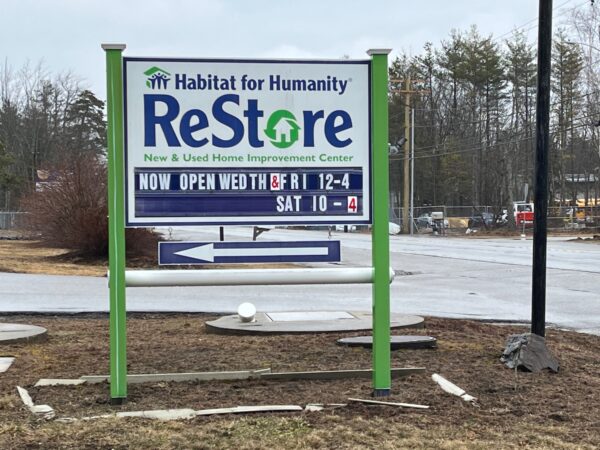 In return, they could get a tax writeoff for their donation.
So, it's no surprise when I visit the ReStore near me that I'll see an entire kitchen's worth of cabinets or bathtubs or boxes upon boxes of ceramic tiles.
Here is how Habitat for Humanity describes the store:
"Habitat ReStores are independently owned reuse stores operated by local Habitat for Humanity organizations. ReStores accept donations and sell a constantly changing inventory of diverse, high-quality merchandise to the public at a fraction of the retail price, while diverting reusable household items and building materials from area landfills."
Proceeds from ReStore purchases help support the good work that Habitat for Humanity does in building houses.
What can you buy at ReStore
Like any thrift store, you'll never know what you'll find at ReStore.
Recently, we needed a new light fixture for our bathroom.
We figured we could find something affordable at ReStore.
We were right.
This is the one we bought at ReStore for $15.
Also, we were able to buy cheap window air conditioners at ReStore for $25 each.
ReStore locations in Southern Maine
There are three ReStore thrift stores in Southern Maine.
They are:
Kennebunk
Portland
Topsham
Kennebunk ReStore
The Kennebunk ReStore is located at 4 Industrial Drive, Kennebunk 123 York Street in Kennebunk. The store moved to a new location in 2023.
It is part of Habitat for Humanity of York County.
Currently, store hours are:
Wednesday: 12:00-4:00
Thursday: 12:00-4:00
Friday: 12:00-4:00
Saturday: 10:00-4:00
ReStore Greater Portland
The ReStore for the Greater Portland, Maine, area is located at 659 Warren Avenue, Portland.
It is part of Habitat for Humanity of Greater Portland.
Currently, store hours are Wednesday through Saturday, 10:00-5:00.
ReStore Topsham
The ReStore in Topsham is located at 126 Main St., Topsham.
It is part of Habitat for Humanity/7 Rivers Maine.
Currently, store hours are Tuesday-Saturday, 10:00-5:00.
Additional thoughts on ReStore thrift stores
There's also a ReStore near the Maine border in New Hampshire, set in a former roller rink. So, it's quite large.
However, we most often shop at the Kennebunk, Maine ReStore.
In fact, because our ReStore is only open Wednesday through Saturday–and sometimes for just four or six hours a day–we tend to go weekly.
Sometimes we'll leave empty handed.
Other times we'll find something perfect, such as that aforementioned light fixture for our bathroom.
In addition to Goodwill Stores, ReStore is one of my favorite places to go thrifting.