Even though this blog focuses on things to do in Southern Maine, it's possible that you might be interested in taking day trips from Maine.
For example, whenever we visited my grandparents in Parsonsfield (then Kezar Falls), we would always take a few day trips. This included heading to nearby North Conway, New Hampshire for outlet shopping or taking the kids to Storyland.
Also nearby: Mount Washington, the highest peak in the Northeast. On a clear day you can see its snow-capped peak from Maine–yes, snow sometimes in summer.
Another day trip was to Portsmouth, New Hampshire. It's an adorable, historical, waterside town that reminds me a lot of Old City, Philadelphia. Also, Portsmouth has many of the stores that are few and far between in Maine–or not here at all.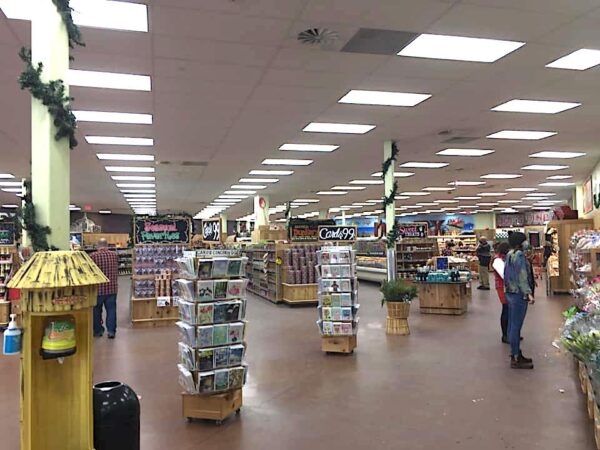 Trader Joe's, Portsmouth, NH. Photo credit: Leah Ingram.
I'm talking about Trader Joe's (the only one in Maine is in Portland) and Aldi (no store locations in Maine). The Trader Joe's in Portsmouth, New Hampshire is the biggest one I've ever been to.
In fact, when I check new stores opening soon, which include Aldi, there are no new ones planned for Maine as far as I can tell. So, if you want to shop at Aldi, you're going to have to make a day trip from Southern Maine to New Hampshire to do so.
Day trips from Southern Maine
Anyway, the whole purpose of writing this article is to introduce a new feature I'll be including on Southern Maine on the Cheap. And that is the occasional article on day trips from Maine.
I'll be writing about day trips that take you outside of Maine but also day trips within Maine but out of the Southern Maine region. For example, I've already got the first article planned–camping near Acadia National Park. Acadia is about a three-hour drive from Portland.
Also, did you know that Maine has more coastline than any other place in the United States? This includes more than Alaska and California.
That's because there are more than 2,000 islands off the coast of Maine, which are included in the total. That's according to the Maine government.
Plus, the Maine Seacoast runs from Kittery in the south all the way up to Lubec in Downeast Maine, which adds to the total 3,500 miles of coastline.
However, there is plenty of Maine beyond that if you head north into Aroostook County. In fact, Aroostook County, Maine is so big that you could fit Rhode Island, Delaware and Connecticut inside of it.
We're planning a day trip to Calais, Maine, next month, which is on the border with New Brunswick, Canada. From there, we could easily take a day trip to Nova Scotia. If so, I'll definitely consult this guide of things to do in Halifax. The last time we visited Halifax was when we took a cruise out of New York City. But I'm getting off topic.
However, if we wanted to take a longer trip, I'd definitely consider visiting Newfoundland, Canada. Ever since seeing the Broadway show "Come From Away," I've wanted to go.
Anyway, that's a long way of explaining all of the day trips you could take from Southern Maine. I look forward to bringing this content to you.
Finally, if you're looking to explore beyond the Maine borders — and I mean really beyond — then you must check out this roundup of the best US road trips.