During a recent stint of bad weather I joined my neighbor, Tom, on a trip to the Maine Classic Car Museum in Arundel. Tom is a self-described "car guy." I'm not.
But, I figured I needed something to do near me on a rainy afternoon, so I went to check it out. I was pleasantly surprised.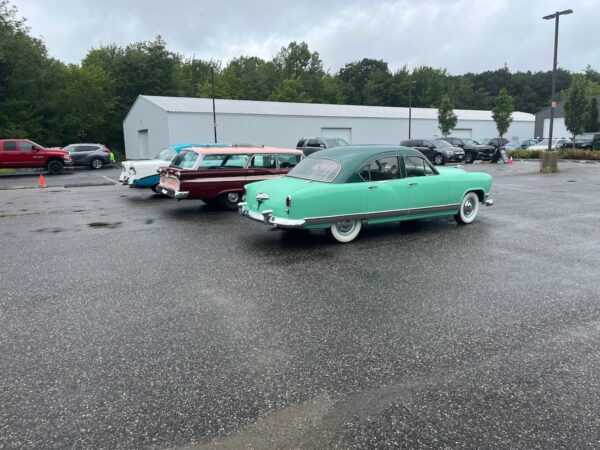 The Maine Classic Car Museum is Bigger than it Looks
As you pull off of Route 1 in Arundel and into the Maine Classic Car Museum parking lot, you may be tempted to turn around. Why? Because the front of the building is unimpressive.
Don't let that fool you. The museum is in a massive showcase gallery behind the building and is not easily visible from the street. Pull in and park your car. It's worth the $12 price of admission.
Kids under seven are free. However, it may be best to leave them at home because there is a "no touch" rule at the museum.
It's a rotating stock at the Classic Car Museum, but there are generally about 50 cars on display at a time.
I took plenty of photos of these classic cars. In fact, I took more than could fit in this article.
Check out what's Under the Hood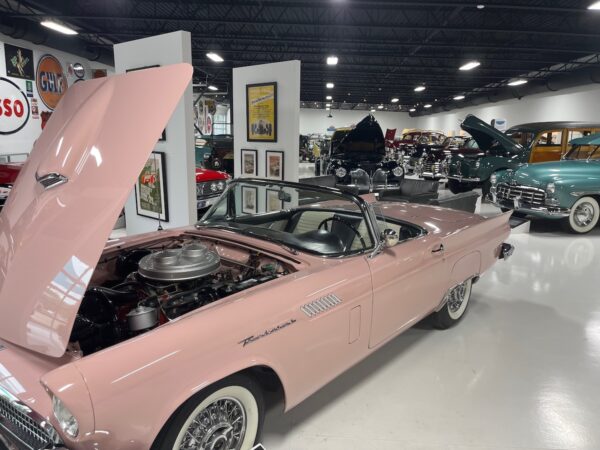 Certainly some folks go to the museum to see the engines and admire the mechanics. If that's your thing, you won't be disappointed. The staff seemed happy to open any hood that was closed.
For me, the attraction was the history and the design. Some of these cars are simply rolling works of art.
From a history perspective, you can't beat the Tucker (yes, the same Tucker from the movie starring Jeff Bridges). While it was an extraordinary feat of engineering, politics and accusations of fraud drove the company out of business.
Only 51 Tuckers were built. You get to stand next to one of them at the museum.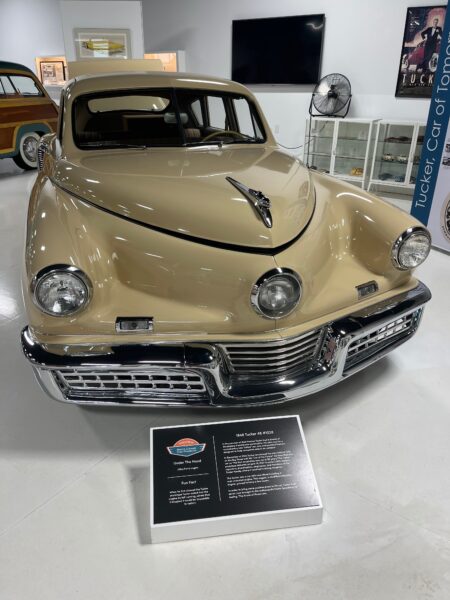 There's also a one-of-a-kind 1957 Chrysler Ghia Super Dart 400 prototype (complete with record player in the dash).
Another cool car was a really tiny one. It was built by Messerschmidt and, the cockpit opening makes it feel more like a WWII fighter jet than a car.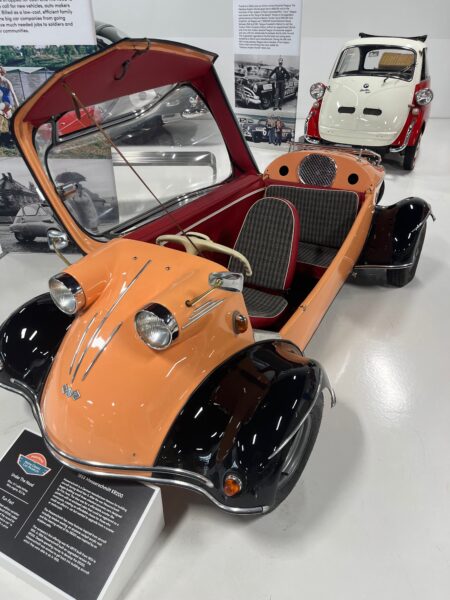 For fans of more modern cars, there ae more recent muscle cars, a DeLorean as well as Michael Schumacher's Formula 1 car.
My personal favorite was an iridescent purple 1949 Delahaye 135M Cabriolet, produced in France. I could picture this majestic vehicle driving, top down, along the Riviera.
Finally, each of these classic cars includes, at the very least, its written history. However, with some of the cars, such as the cherry red Formula 1 car, there are pictures of it from its races.
Classic Cars for Sale
In the lot outside of the classic car museum is Motorland. This is a classic car sales lot.
On the day I visited, the selection included:
'56 Chevy ($32.5K)
'59 Edsel Wagon ($45K)
'37 Plymouth Pickup ($29.5K)
To see current offerings, visit Motorland's webpage.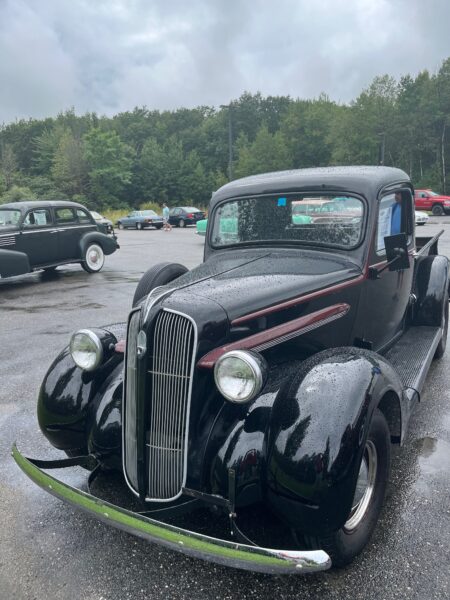 Take home a souvenir
If you can't afford to take home an actual classic car — those prices are a bit too rich for my bank account — be sure to check out the museum's gift shop. There you'll find automobile-themed home goods (placemats, mugs), clothing, toys and games.