When we told people that we were moving to Kennebunk, they always replied, "Oh, Kennebunkport Maine? Isn't that where the Bushes live?"
Well, yes the Bush family has a compound called Walker's Point–driving by it is one of the free things you can do in Southern Maine. However, Kennebunk and Kennebunkport are very different places.
I mean, they're sister towns in that they border one another. Also, families living in Kennebunk and Kennebunkport (and nearby Arundel) all send their children to the same school district, RSU 21.
However, when it comes to vacationing in the Kennebunks (that's what locals call the towns all together), what you get to see and do in Kennebunkport is quite different from the experience in Kennebunk.
Things to do in Kennebunkport, Maine
We happened to raise our children in New Hope, Pennsylvania. This little river town in Bucks County on the Delaware was a fun place to take visitors and also to live full time.
Whenever we go to Kennebunkport, I feel a similar vibe to New Hope, minus the head shops. Like New Hope, Kennebunkport is a walkable tourist town with lots of different shops to poke in and out of and great places to eat, too.
In fact, one of the best lobster shacks in Maine is on the border of Kennebunk and Kennebunkport. Literally almost on the bridge over the Kennebunk River, which divides the two towns.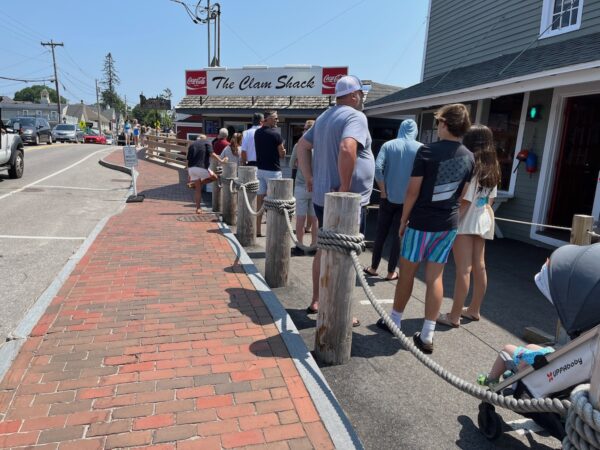 The heart of Kennebunkport, if you will, is Dock Square. You can't miss it when you walk or drive over the bridge from Kennebunk–it's the one with the big Christmas tree in the middle.
Well, during the year it's just a big evergreen. However, during the Christmas season–and the Kennebunkport Prelude celebration–it's lit up for the holidays.
I mention Dock Square because it's a point of reference that makes the most sense when navigating Kennebunkport and your options for spending the day here:
Shopping
Dining
Sightseeing
Shopping in Kennebunkport Maine
Like most tourist towns, you're going to find a mix of shopping opportunities in Kennebunkport. Most of them are centered squarely in Dock Square or close to it.
Some of these Kport (that's the short way that people refer to the town) shops are dog-friendly stores, such as Scalawags Pet Boutique (3 Dock Square). If you like to dress your dog up in human clothes or spoil them with treats and new toys (guilty on the last two things), then Scalawags will make you feel like the proverbial kid in a candy store. You're welcome to shop with or without your pup.
We've found some of our favorite stores a wee bit off the beaten path aka away from Dock Square, but not that far.
Stores right off Dock Square
For instance, did you forget to pick up a beach read? Check out Fine Print Booksellers (Port Walk, just off Dock Square). It's a tiny shop but that means you'll get personalized attention. In fact, on our last stop, we told the owner what books we liked to read, and they made a great recommendation–the latest Colleen Hoover book.
Just up the lane from the bookstore is Go Fish (30 Dock Square, though it's on Port Walk), which has kitschy housewares with a nautical theme. Just looking at the colorful outside of the store tells you how much fun you'll have shopping inside.
I love the lobster buoys–they're everywhere in Maine decor–and the painted dory boats as planters.
Go Fish is open in Kennebunkport April through December only. If you want to shop them year round and in person, head to their store in Portland's Old Port (221 Commercial Street).
Next door to Go Fish is the Lobstore: A Clawfully Good Gift Shop. It's exactly as it sounds–lobster and beach-themed knick knacks, perfect for bringing home souvenirs for friends and family. On the plus side: because it's slightly off the beaten Dock Square path, you may find it to be less crowded and easier to navigate.
Where to eat in Kennebunkport
If you want a meal with a view, in my opinion, there is one place to go in Kennebunkport: The Boathouse (21 Ocean Avenue, Kennebunkport). This restaurant has outdoor seating on two sides, overlooking the Kennebunk River. And, even if you can't get seating outside, most of the spots inside are in front of floor-to-ceiling windows. This was our view on our last trip there.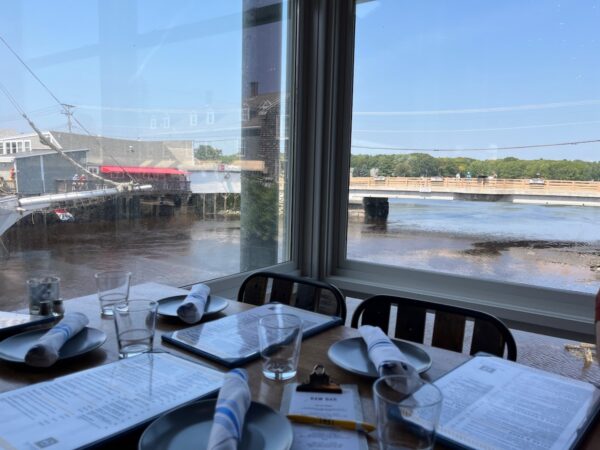 Menu at The Boathouse
Not surprisingly, the waterfront Boathouse has a heavy seafood menu. In fact, we sat opposite the raw oyster bar, if that's your jam.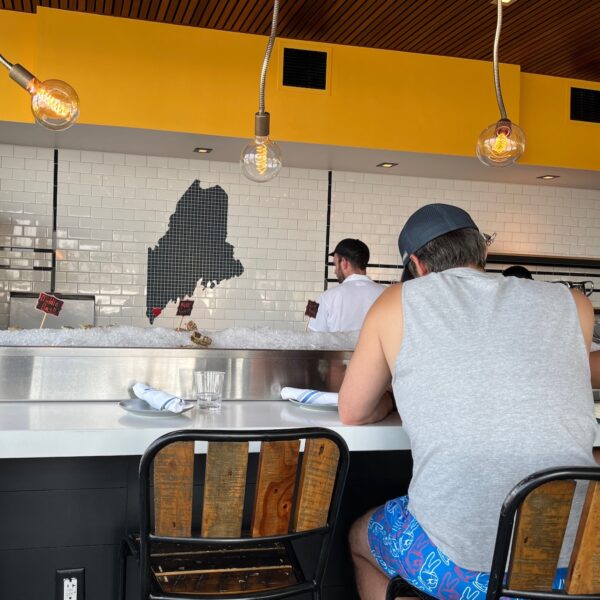 However, you can order tons of non-seafood dishes, too. They range from quinoa salad to the quintessentially American cheeseburger. Prices are reasonable, too, given its prime Kennebunkport location.
I would recommend eating lunch at The Boathouse and on the early side, too. The Boathouse does not take reservations, so it's walk-in only. Our last meal there was on a Friday. We arrived at 11:45 to meet our friends at 12 noon. They arrived a few minutes later. In that short span of time, all of the outside tables filled. By the time we left after our meal (after 1:00), every table in the place was filled and there was a line out the door.
Pro tip: if you're driving to The Boathouse for lunch, let the valet park your car for $5. After lunch, you're welcome to leave your car there and walk around town. Trust me–you'll pay a lot more than $5 in the paid public parking lots.
Finally, from July 15-30, 2023, The Boathouse has a special going on with its Maine lobster rolls to support Maine lobstermen and women.
Here's how The Boathouse website describes the initiative:
"We are partnering with the Maine Lobster Marketing Collaborative in support of our local lobstermen, processors, & restaurateurs. To show our appreciation, we will be donating $1 of every lobster roll sold to Maine Lobstermen's Community Alliance for its fishery research."

The Boathouse, Kennebunkport, Maine
Other Kennebunkport restaurants
If you're looking for easy take out food and are craving pizza, I've got the cure: Head over to Roma Pizza (5 Union Street). There you can get oversized slices (think Jersey Shore Mack and Manco pizza sizes) or a whole pie.
Pro tip: if you're ordering a pie, call ahead. Roma takes its time creating their pizzas, and it will be well worth the wait.
Finally, Allison's Restaurant (11 Dock Square) is a Kennebunkport institution and has been for more than 45 years. As you cross over the bridge from Kennebunk, Allisons will be on your left. Paid public parking is behind the building. Similar to The Boathouse, Allisons does not take reservations; it's walk-in only.
Like so many Maine restaurants, you can get lobster rolls here. However, Allison's is more a bar and pub so you can order traditional pub food, too. If you're visiting during colder months, we recommend ordering the clam chowder or chowdah.
Another option: sit at the bar with a cold beer and watch whatever sporting event they happen to have on the TVs.
Allisons is one of the go-to places for trivia nights in the Kennebunk area. Trivia is every Thursday at 7 p.m.
Sightseeing in Kennebunkport
There are two ways to go sightseeing in Kennebunkport. One, on foot. And, two, in your car.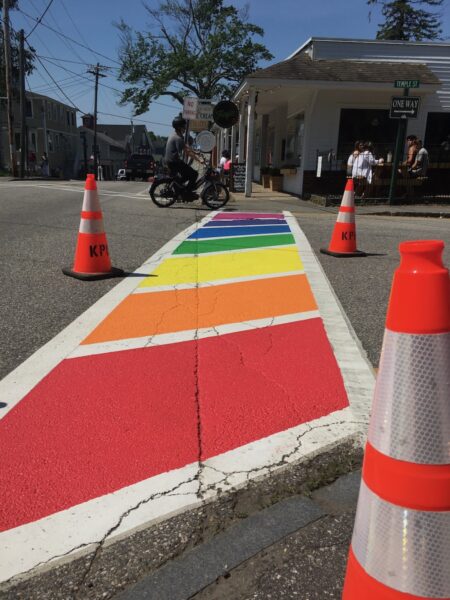 Downtown Kennebunkport is entirely walkable, so this would be my first choice. If you're a history lover, walk out of Dock Square until you hit Maine Street–the main street in Kennebunkport. Yes, it's spelled like the state. Turn right and go two blocks to the Louis T. Graves Memorial Public Library (18 Maine Street). It's the town's public library but also a National Registry of Historic Places building.
For a slice of presidential history, head the other way on Maine Street to the Bush Exhibit (12 Maine Street). It's devoted to Bush 41–George H.W. Bush, our 41st president.
In case you didn't know, the Bush family has been a presence in Kennebunkport for decades. That's why if you decide to do your sightseeing in the car, you'll definitely want to drive out of town towards Ocean Avenue. About two miles from Dock Square is Walker's Point aka the Bush compound.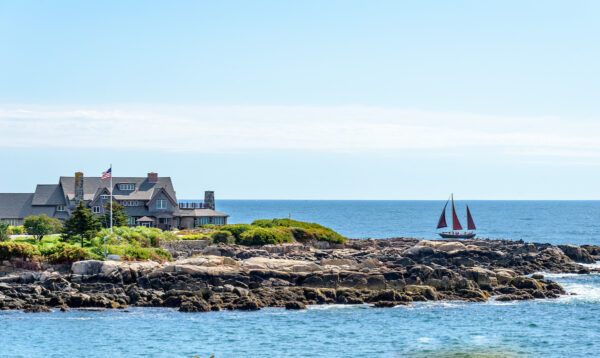 Here's how you'll know that members of the president's family are in town. One, you'll see heavy security at the gate. Wave to them; they'll wave back. And, two, the flags are flying.
Fun fact: George W. Bush (Bush 43) marches every year in the Kennebunkport Memorial Day parade.
Along the way, other pretty sights include St. Ann's by the Sea Episcopal Church (167 Ocean Avenue) and, after Ocean Avenue becomes Shore Road, taking Wildes District Road into Cape Porpoise, a lovely little seaside village.