Recently, while driving to the Target in Biddeford, I discovered the lowest gas prices I'd seen in my area of Maine. Just about 10 minutes outside of Kennebunk was a lone gas station.
It first caught my eye because of the line. Of course, that reminds me of the gas lines I remember my parents waiting in during the 1970s.
Anyway, I wondered what was going on there.
Was there a high school car wash to raise money?
Or, was there a Girl Scout cookie table set up there?
Nope. It was a really low gas price. Like we talking a good 40 cents cheaper than the Irving gas station in Kennebunk.
I made a mental note of the price, continued on to Target and then stopped on the way back.
Of course, 40 cents multiplied by the 15 or so gallons that my Subaru Forester gas tank holds, isn't life changing money. However, every penny counts, right?
How to find the lowest gas prices in Maine
Every week I get an update from Stacker.com on how gas prices have change in Maine in the past week. Stacker compiles statistics based on AAA data.
Having experienced that cheap gas in Biddeford, I figured it was time to write about this topic.
One, I wanted to share with you what's going on with gas prices in Maine.
And, two, I wanted to share tips on how you can get the lowest gas prices.
How gas prices have changed in Maine
Gas prices have largely held steady over the last several days.
This even as Maine records some of the lowest windchill temperatures on record and freezing weather and ice crushed Texas.
Despite the cold weather in some regions, demand for gas rose slightly.
On the other hand, supplies of gasoline are also on the rise. This has, "helped to limit pump price increases," according to AAA.
A gallon of gas was $3.49 on average this week, according to AAA gas price data.
Stacker compiled statistics on gas prices in Maine.
Gas prices are as of February 3.
The state gas tax data is from World Population Review.
Maine by the numbers
Gas current price: $3.50
Week change: +$0.01 (+0.3%)
Year change: +$0.06 (+1.7%)
Gas tax: $0.31 per gallon (#18 highest among all states)
Historical expensive gas price: $5.09 (6/16/22)
Diesel current price: $5.64
Week change: +$0.15 (+2.8%)
Year change: +$1.77 (+45.8%)
Historical expensive diesel price: $6.38 (5/18/22)
Maine metros with most expensive gas
Right now, you'll pay the most for gas in the following three Maine metro areas.
#1. Lewiston-Auburn: $3.60
#2. Portland: $3.56
#3. Bangor: $3.40
Unfortunately, that AAA data didn't tell me where you'll find the lowest gas prices in Southern Maine.
However, if you're driving along Route 1 in Biddeford, look for a gas station near the Biddeford industrial park to see if they still have the cheapest gas around.
How to save money on gas prices
One of the best ways to save money on gas prices is to join a rewards program. This could be through a store or business in Maine that also has a gas station.
I'm thinking Cumberland Farms or even the gas rewards you can earn as a Shaw's shopper. This latter program helps you save money on gas at Exxon and Mobil gas stations.
Warehouse club gas stations
Another option is joining a warehouse or wholesale club. They'll usually have a gas station on the premises.
Then, when you scan your membership card, you'll get a lower gas price.
For example, there are two BJ's Wholesale Clubs in Southern Maine. They are in Portland and Auburn. Both have gas stations.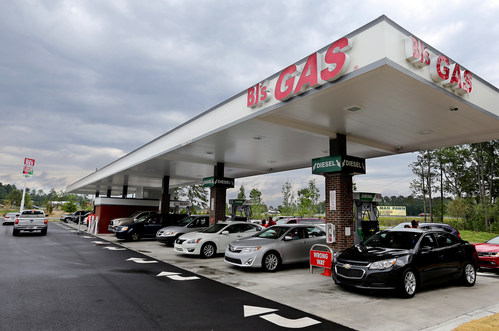 PR Newswire
Also, there is Sam's Club in Scarborough. It, too, has a gas station.
Finally, we know that Costco is coming to Maine in 2024.
All indicators say it will have a gas station as well.
Gas savings through your credit card
Or, it could be rewards you get through credit cards.
For example, from time to time the Discover Card will up your cashback percentage for gas purchases.
Therefore, I always make a note to bring my Discover Card with me when I fill up.
I realize that I'm not getting the lowest price on gas, per se, at that moment. However, I will earn more rewards that I can cash in at another time, like for gift cards.
Final thoughts on finding the lowest gas prices in Maine
I'm planning on writing a thorough round up on store rewards programs. This will include gas savings.
Once that article is finished, I'll be sure to link to it from this one.
Finally, if you have any tips to share on getting the lowest gas prices in Maine, please let me know.