While your kids and pets won't be able to go to PetSmart or Petco for free pictures with the Easter Bunny this year, they can definitely head over to the Cabela's in Scarborough for this springtime event.
This year Cabela's is opening a reservation system, because pictures with the Easter Bunny are so popular at Cabela's.
However, reservations are not required. They are strongly suggested.
Reservations for pictures with the Easter Bunny
Here's how that reservation system works.
One week before the Easter Bunny will be at Cabela's, reservation times open.
So, for example, the very first Easter Bunny day is Saturday, April 1, 2023.
Therefore, reservations for April 1st is March 25–and that's no joke.
After that, reservations for April 2nd is March 26.
And so on.
Hours for Easter Bunny pictures at Cabela's in Scarborough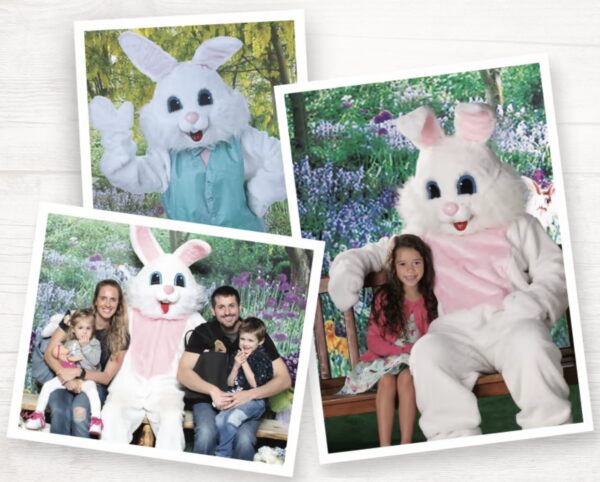 Saturday, April 1: 11 a.m. to 6 p.m.
Sunday, April 2: 11 a.m. to 4 p.m.
Monday, April 3: 5 to 8 p.m.
Tuesday, April 4: 5 to 8 p.m.
Wednesday, April 5: 5 to 8 p.m.
Thursday, April 6: 4 to 8 p.m.
Friday, April 7: 11 a.m. to 6 p.m.
Saturday, April 8: 11 a.m. to 6 p .m.
Photo packages available
If you go to see the Easter Bunny, you'll definitely receive a free 4X6 photo.
However, you will have the option to purchase additional photos with this long-eared, mammal-like character.
Package options include (along with the free photo):
Digital image: $15
Basket package $15: 1 5×7 print, 4 wallets
Jelly Bean Package: $20: 1 6×8 print, 2 5×7 prints, 2 4×6 prints, 4 wallets, digital image
Make your reservations online at the special Easter Bunny page on the Cabela's website.
The Cabela's in Scarborough is located at 100 Cabela Blvd. in the The Gateway Shoppes at Scarborough.
Finally, in case you didn't know, Easter is Sunday, April 9, 2023.
Because of Maine law, Cabela's is closed on Easter Sunday.