If you loved all the goodies and sugar house visits during Maine Maple Weekend, then you're going to love Maine Maple Fall Fest.
In fact, when we covered Maine Maple Weekend earlier this year, we noted which of the farms, sugar shacks and other places would also be part of this fall festival.
Now that there's a bit more information available, we decided to write this separate article.
What is Maine Maple Fall Fest
Photo credit: Leah Ingram.
The Maine Maple Producers Association (MMPA) are the folks that started Maine Maple Sunday aka maple syrup Sunday back in 1983. Then, in 2020, they decided to expand the festivities by adding Maine Maple Fall Fest.
The idea is to embrace the changing leaves and fall foliage, and give leaf peepers in Maine something else to do — and eat — in October.
Here is how the MMPA describes this fall festival:
"We invite you to come join us as we open our sugar houses for tours, maple syrup tastings, baked maple treats, cotton candy, syrup, ice cream, candy and so many things maple."

Maine Maple Producers Association
When is Maine Maple Fall Fest?
Like Maine Maple Sunday, Maine Maple Fall Fest is a two-day event.
In 2023 this maple syrup celebration is Saturday, October 7 and October 8. Since it started in 2020, this will be the third annual fall festival that the MMPA is hosting.
Where can you go for this fall festival
Whereas Maine Maple Sunday in the spring has hundreds of places you can visit, this fall festival has fewer places open. Combine that with the fact that this is a new festival, and chances are the crowds will be smaller. That's a good thing, for you, the maple enthusiast.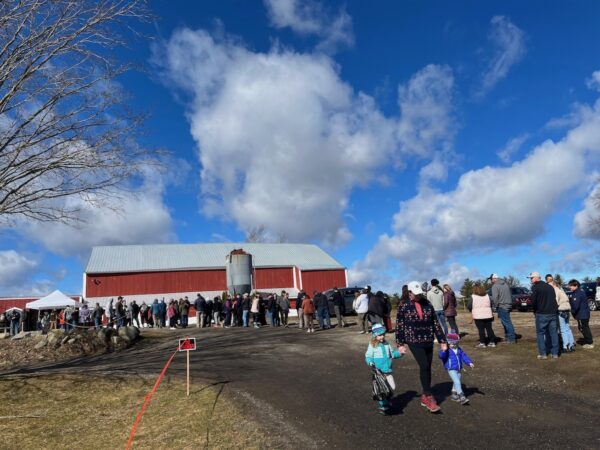 207 Tappers, Biddeford, Maine Maple Sunday. Photo credit: Leah Ingram.
In the photo above, you can see the line we encountered at 207 Tappers in Biddeford this past spring. Also, it was full-on mud season. Hopefully, it will be drier in the fall, though 207 Tappers doesn't seem to be on the list of participating farms for this October event.
Cumberland County Maine Maple Fall Fest
Here are the Cumberland County, Maine, places participating in 2023.
Balsam Ridge
140 Egypt Road
Raymond, Maine
During Maine Maple Fall Fest, Balsam Ridge will have its Christmas tree farm open for touring.
Balsam Ridge itself is open 10 a.m. to 4 p.m.
Jim's Sugar House
296 Maple Ridge Rd.
Harrison, Maine
Open 9 a.m. to 3 p.m. both days of Maine Maple Fall Fest, you can see how maple syrup is made and take some home with you. I've heard they have the best dark maple syrup in Southern Maine.
Merrifield Farm
195 North Gorham Road
Gorham, Maine
Merrifield Farm will be open Saturday Oct. 8th and Sunday Oct. 9th, from 9am to 3pm for Maine Maple Fall Fest.
You can buy a range of maple products–maple syrup (or course), maple cotton candy, maple whoopie pies, maple candy and more.
This year, you can visit the farm museum. There you'll find displays about maple sugaring, logging, ice harvesting and more.
Admission: Adults $5; kids are free with an adult.
You can find any updates on Maine Maple events on the Merrifield Farm Facebook page.
Royal River Orchards
201 Peacock Hill
New Gloucester, Maine
Royal River Orchards is part apple farm (no surprise, given its name) and part maple syrup producer in their sugarhouse.
During Maine Maple Fall Fest, they have a pancake breakfast both days, starting at 9 a.m. The farm itself is open 9 to 5 both days.
Cost is $10 per person and breakfast includes: homemade pancakes, bacon, applesauce, maple baked beans and hot beverage of your choice (coffee or hot cocoa). Tickets are limited and they sell out fast. So, get there early.
I'm told they'll have cider donuts, too. Yum.
After breakfast you can go apple picking, select pumpkins or go through the corn maze.
Finally, check the Royal River Orchards Facebook page for any last-minute updates.
Spiller Country Farm
118 Spiller Rd.
Gorham, Maine
Spiller Country Farm hasn't announced yet if it will have any special events or demonstrations for Maine Maple Fall Fest. However, they are participating.
York County Maine Maple Fall Fest
Here are the locations in York County, Maine participating.
Cole Farm Maple
13 Cole Farm Rd.
Dayton, Maine
I'm pretty sure that Cole Farm are the folks behind the farmstand on Route 1 in Wells where we get fresh produce in the summer. (If I'm wrong about this, please let me know.)
Dunn Family Maple
419 Chicopee Rd
Buxton, Maine
Like many other sap houses, Dunn Family Maple will be participating October 7-8, 2023. They will be open both days, from 9 am to 2 pm.
Some of what Dunn Family Maple farm will be offering includes demonstrations of how they make their maple confections.
Maple Coated Peanuts at 10:30
Maple Cream at 1:30
You can start or finish your visit with the purchase of Maple Mini Donuts. These come with maple sugar or maple cream and bacon by the dozen.
Photo credit: Courtesy Dunn Family Maple.
Highland Farms Sugar Works
152 Towles Hill Rd.
Cornish, Maine
Enjoy the best fall foliage views of Mt Washington and the sounding foothills from the top of Towles Hill at Highland Farms Sugar Works. While the farm hasn't updated its schedule for Maine Maple Fall Fest for this year, I'm hoping they'll offer similar activities and items for sale as last year.
Photo credit: Courtesy Highland Farms Sugar Works
Last year they had the following:
Pure Maine Maple Syrup in glass and plastic bottles
Maple Candy and Maple Coated nuts
Maple Lollipops other maple products.
mr. Peabody's hot apple crisp
Apple crisp hot cider and fall festive treats.
hand-picked pumpkins
unique gourds
corn stalks
mums
Hilltop Boilers
157 Elm St.
Newfield, Maine
Hilltop Boilers is a handicap-accessible farm so everyone, regardless of mobility, can visit (much like these accessible Maine beaches). Here is how the farm describes its accessibility:
"Our farm is handicapped accessible with paved parking areas, handicapped ramps, and a handicapped parking area. Of course, service animals are allowed but please do not bring pets as they may not interact well with all of the other animals on the farm. We do our best to accommodate our friends with special needs."

Hilltop Boilers
They are open Saturday 10 a.m. to 4 p.m.
Map for Maine Maple Fall Fest
If you're looking for a map of participating sap houses or sugar houses or farms with fall fest events, the MMPA has just such a map.