The LL Bean Discovery Park lawn transforms into an outdoor yoga studio in the park five days a week during Summer in the Park events in Freeport, Maine.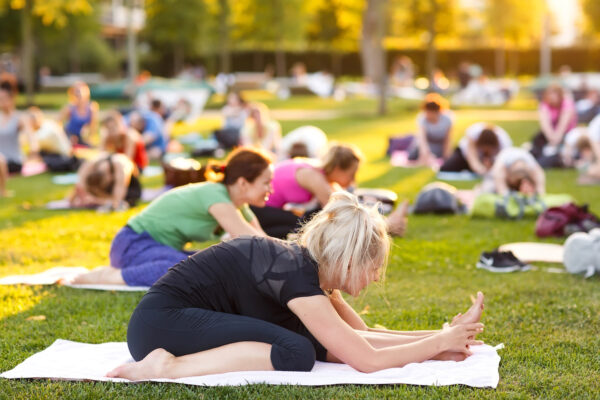 Yoga in the Park in Freeport, Maine
That is, on Mondays, Tuesdays, Wednesdays, Fridays and Sundays during the summer, you can unroll your yoga mat in Discovery Park and practice yoga for free. This is all part of LL Bean Summer in Park, which runs July 4-September 3, 2023, and includes outdoor family movie nights and outdoor concerts.
Sun salutations start at 8 a.m. and class goes until 9 a.m. This is for yogis of all levels who would like to take their yoga practice outside.
What you need to practice yoga
Bring your own mat and yoga blocks. However, if you don't have either, there will be some on hand to borrow.
They are given out on a first-come, first served basis, though. So, it's probably a good idea to bring your own.
Here are ideas on yoga basics to own to elevate your practice. In my opinion, you need the following:
sticky yoga mat
two foam yoga blocks
strap (nice to have)
yoga blanket (nice to have)
bolster (nice to have)
Finally, yoga in the park is weather-dependent. For the latest information about weather or event cancellations, call 1-877-755-2326.