Looking for free stuff you can get on your birthday is nothing new for our family. Looking for birthday freebies in Maine was.
For example, I already know about the chain restaurants with freebies, discounts or gifts that you can get from them. And I've included them here.
But what about uniquely Maine places? Do they have any birthday benefits, too?
Signing up for birthday freebies
This quest for birthday freebies started with Bill's birthday in October. And, as luck would have it, we found a few we could enjoy. Now with my birthday around the corner, I've continued researching where I might go in Southern Maine for some kind of reward for becoming one year older.
Before I get into the details of what I found, I wanted to explain one thing: to get these birthday bonuses, you usually have to register with a rewards program or at least on a company website. So, it's not like you can just walk into a place, flash your license to show it is your birthday, and you'll get a free dessert or something.
Keep this in mind whenever registering for any rewards program. If there is a line in there for you to fill in your birthday, chances are they have some sort of birthday bonus program.
Finally, many places that give out birthday rewards do this for both adults and kids. And for adults who are married, you may be able to get something free on your wedding anniversary, too.
Now onto the list of places where you can go in Southern Maine for birthday freebies. I'll start with national restaurants. Then I'll move onto the local ones.
Here's the lowdown on birthday freebies exclusively for kids and teens.
National restaurant chains in Maine that offer birthday freebies
Here are the restaurant chains that I'm aware have at least one location in Southern Maine and which offer birthday freebies.
99 Restaurant
Members of the 99 Restaurant Rewards club always get a free dessert on their birthday. There is one 99 Restaurant location in Southern Maine, and it's in Biddeford.
Applebee's
When you share your email with Applebee's, you'll get a coupon for a free appetizer. Applebee's also asks you for your birthday. Rumor has it you'll get a BOGO coupon by email that you can use on your birthday.
Also, when you sign up, Applebee's asks if you are a veteran or active duty. I'm guessing they ask because they'll send you additional discounts on Veteran's Day or something like that.
You'll find Applebee's in the following Southern Maine locations:
Biddeford
Sanford
South Portland
Chili's
When you join the My Chili's Rewards program, you'll get two freebies. First, you'll get free chips and salsa when you sign up. And, second, on your birthday, you'll get a free dessert.
There is a single Chili's location in Southern Maine. It's in South Portland.
Dairy Queen
You'll need to sign up for the DQ Rewards program to get free ice cream on your birthday. You can do this through the DQ app.
However, it appears there might be a way to get second birthday treat from Dairy Queen — signing up for the DQ Blizzard Fan Club. There's a spot when registering to add your birthday.
Here's where you'll find DQ locations in Southern Maine:
Auburn
Biddeford
Kennebunk
Kittery (seasonal)
Saco
Sanford
South Portland
Topsham (seasonal)
Wells (seasonal)
Westbrook
Windham
Denny's
Both kids and adults eat free on their birthday, as long as you've joined the Denny's Rewards program. I'm told that a birthday freebie is a build-your-own Grand Slam breakfast.
The closest Denny's to Southern Maine is Augusta. There are also locations in Augusta and Bangor.
IHOP
You get free pancakes on your birthday at IHOP. That's no surprise, right? IHOP stands for International House of Pancakes. (I almost typed House of Pizza, because, you know, that's a Maine thing.)
You'll find IHOP locations in Maine in Saco and Portland.
Panera Bread
When you sign up for MyPanera, the rewards program, Panera Bread asks you for your birthday. Why do you need my birthday, you may ask? So they can "reward" you on your birthday. It's usually a free chocolate chipper cookie or that's what it's been for me in the recent past. You'll see the freebie in the MyPanera app.
The only Panera Bread location I've ever seen in Southern Maine was in South Portland. If you know of another location in the region in Maine, do let me know.
Red Robin
Red Robin gives you a free burger to chow down on when it's your birthday. Plus, at Red Robin, you get bottomless fries. I love Red Robin fries!
You'll find Red Robin locations in Augusta and Scarborough.
Starbucks Free Birthday Drink or Food
The big news in York County is that Sanford is getting its first Starbucks. There are other Southern Maine towns with Starbucks, too.
However, when it comes to your birthday drink or food, the one place that doesn't work is the Starbucks in the Maine Turnpike rest stops. Other towns with Starbucks include:
Biddeford
Brunswick
Falmouth
Freeport
Kittery
Portland
Saco
Scarborough
South Portland
Topsham
Westbrook
Local Maine restaurants with a birthday bonus
We found a few places in Southern Maine that are locally owned and give some sort of birthday bonus. If you know of others we've missed, please post a comment and let us know. In the meantime, here are two we've tried out.
Congdon's Doughnuts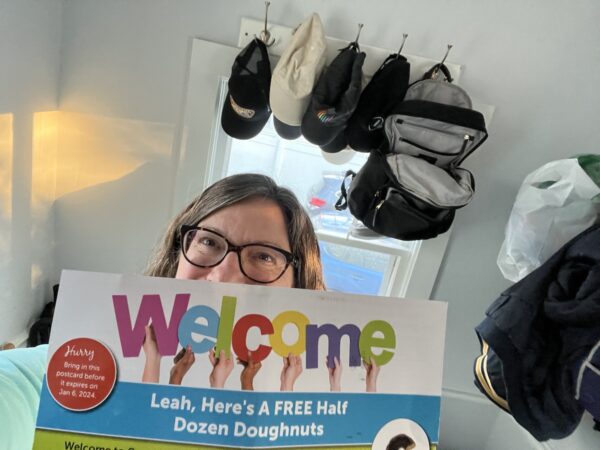 We love the doughnuts from Congdon's in Wells. So, we were thrilled to find out they have a rewards program that includes a birthday freebie.
I just got the postcard for mine, which is, no surprise, free doughnuts. Also, the Congdon's rewards program lives in the Royalty Rewards app on your phone.
Pepper's Landing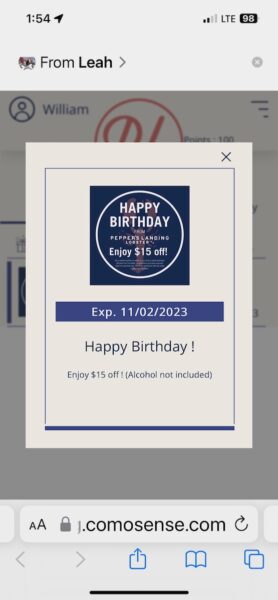 The folks that own Pepper's Landing in Ogunquit have locations in other places in Maine. For example, there is a second Pepper's Landing in Brunswick.
They also own two other restaurants in Southern Maine. They are:
Sea Salt Lobster, Saco
Cape Neddick Lobster Pound, Cape Neddick
When you join the Pepper's Landing loyalty program and share your birthday date, you'll get a $15 off coupon to save money on a meal. That's what we did when we went to the Pepper's Landing in Ogunquit for Bill's birthday last month.