I've just updated this article on how to see Santa at the Maine Mall, because we just got back from taking our dogs to have pictures with Santa there. It was a hoot. Santa was a real dog lover and so was the staff. Treats for everyone!
Speaking of treats, this article includes a coupon code that can save you big bucks on pictures with Santa at the Maine Mall or any of the dozens of malls where Cherry Hill Programs set up a Santa meet and greet.
I've included one of the pictures we took with Santa. My dog Oscar and I are "howling" to make it fun. So, no, he's not showing his teeth to Santa.
This post is sponsored by Cherry Hill Programs. All opinions are our own. Read our full disclosure here.
Seeing Santa at the Maine Mall
Getting photos with Santa at the mall is a timeless tradition for Mainers with children. It's the perfect way to celebrate the holiday season. The closer we get to Christmas, the busier photos with Santa events get.
It can be hard enough to get a good photo with Santa with kids – between nap time, meal times and sometimes fear of strangers. We parents never know what to expect with Santa pictures. While no one can promise your kids won't cry, being able to schedule a Santa visit around the best time for your kids will give you the best chance!
When our daughters were young, we would do walk-in appointments at the mall and there was always a long line. Then, everyone ended up hot and sweaty (because they were in their special Christmas dresses, which were always warm) and cranky. Even the adults felt that way.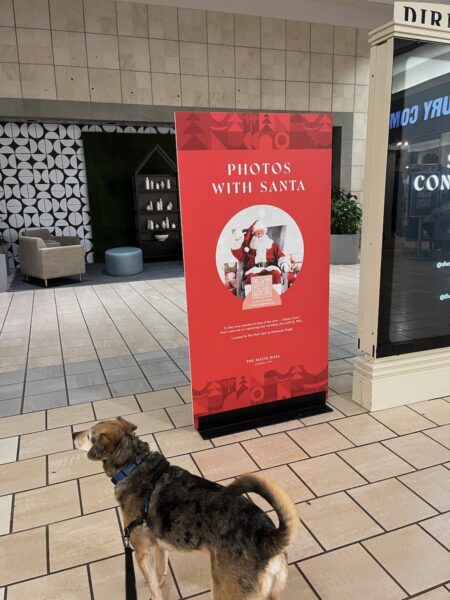 Booking an appointment with the Maine Mall Santa
Guess what? This year you can avoid the lines and book an appointment to see the Maine Mall Santa.
Santa is available starting November 24, 2023, and going through Christmas Eve, December 24, 2023. However, reservations for appointments with Santa are open now.
When you schedule an appointment ahead of time, you'll receive additional benefits. This includes:
Free phone call from Santa, powered by Portable North Pole
Lock in the date and time of your choice
Free access to MyPhoto all holiday season
Make checkout a breeze onsite
Head to whereissanta.com to schedule photos with Santa at the Maine Mall. It is the only location in Southern Maine this year with this offer.
The Maine Mall event includes two special add ons. One, there are Santa Cares sensory-friendly visits. And two, there will be pet parties for taking Santa photos with your pets.
This whereissanta.com link will bring you to the booking site for all of these get-togethers. Again, you can book dates now.
Where to find Santa at the Maine Mall
Now that we've come back for pictures with Santa with our dogs Oscar and Sadie, I wanted to explain how you'll find Santa at the Maine Mall. Once you know which entrance to go in, it's pretty easy.
Park by Old Navy. As you pass Old Navy on your right, you'll see mall entrance doors up ahead. That's where you want to enter.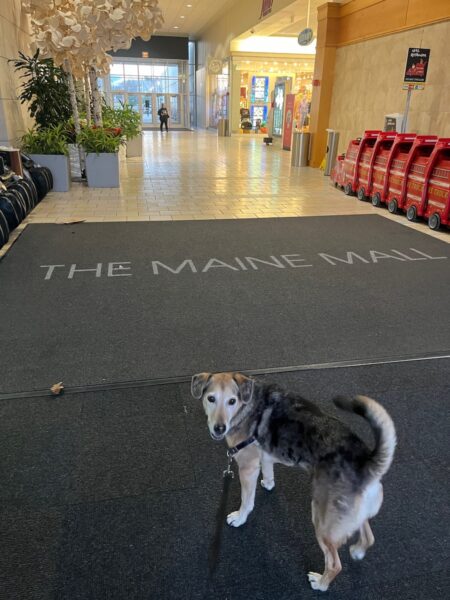 After you get inside, take a right. You can't miss Santa's photo area. It's just across from the Super Shoes store.
Our experience taking pictures with Santa
After making our appointment, we received an email confirmation that asked us to arrive 15 minutes before our scheduled time.
When we arrived for our 4:15 appointment, one family with a dog was leaving and another was just arriving for their picture appointment.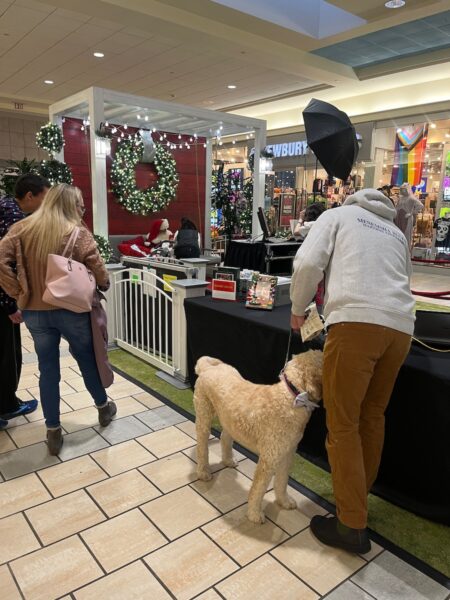 There was one family ahead of us in the line and then it was our turn. Santa's helper asked for our phone number and that allowed her to bring up our reservation. Then, it was time to sit down with Santa.
Santa knew that it was important for Oscar and Sadie to sniff him first. And he obliged. Normally, Sadie barks at strangers but she must have sensed that Santa was a dog person.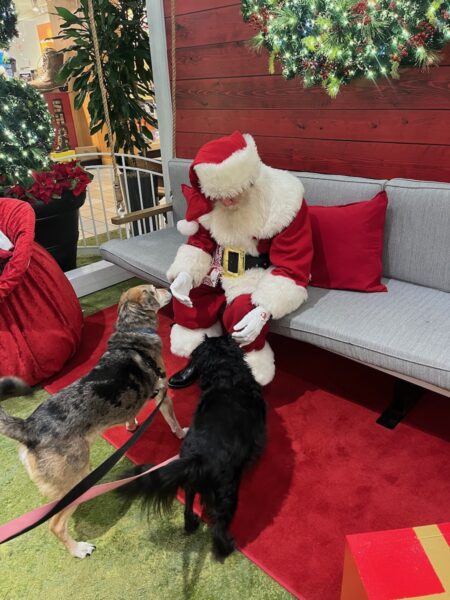 The staff encouraged us to have the dogs sit with us on the bench with Santa. At first Sadie was sitting with me but the photographer suggested she sit with Bill and Oscar come to me. Why? Because I was wearing a dark sweater and Sadie is a dark color.
"We're losing Sadie in your sweater," she said. So we switched. Man, loved that attention to detail.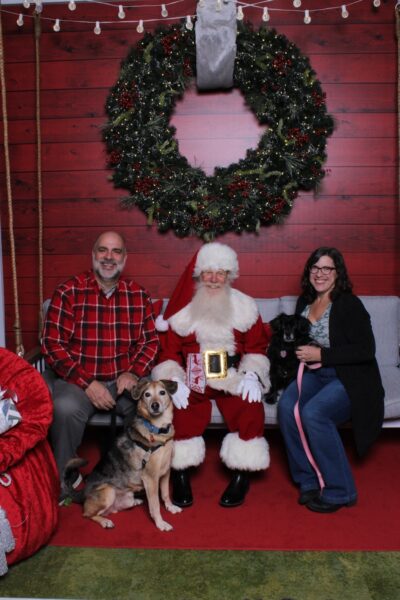 The photographer knew that our dogs understood the word "Treat" so they said that, plus howled, repeatedly to get the dogs to look at the camera. Finally, I joined in the howling. Everyone was laughing.
Photos on the spot
When our turn was over, we waited as our photos printed out right then and there. It was so cool to see the different pictures in different holiday frames as they printed out. That is, the frames were part of the photo paper, not that we got a separate frame.
Then it was time to say goodbye to Santa and head back to our car. By the time we got home, Cherry Hill had texted us a link so we could download our photos.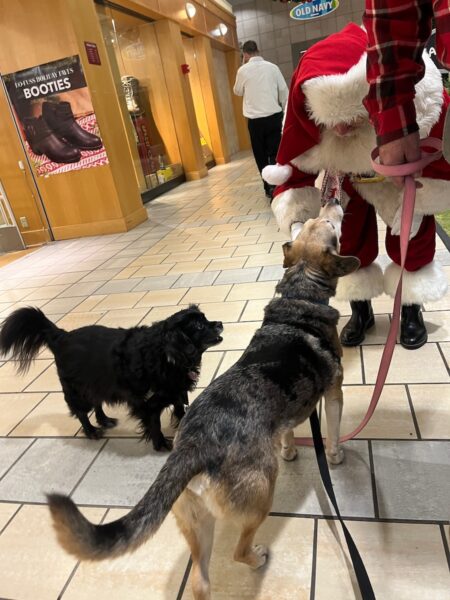 Unfortunately, only one of the photos available for download was clear. Of course, it's the one of me howling with Oscar. I love it.
Update: the photos were blurry because I tried to download them on my iPhone. When I clicked the link on my computer, all the pictures were crystal clear. So, even though it is easier to download from the text link on your phone, if you can get iMessage or something similar on your desktop or laptop, download them that way for better quality.
Santa Cares sensory-friendly visit
There is one day for a Santa Cares sensory-friendly visit with Santa at the Maine Mall. It is on December 3, 2023.
Dates for Pet Parties
There were four dates set aside to bring your pets to take pictures with Santa. We went on the first day, which was November 27th. The remaining dates are:
November 28, 2023
December 4, 2023
December 5, 2023
Coupon code for a freebie
Here's how you can get your freebie with our special coupon code. First, you'll need to select your package when you're making a reservation. However, if you're unsure which package you want, that's OK. You can select the Reserve Now, Decide Later option to hold your space.
When you checkout, don't forget to use coupon code LOTC for a Free 5 x 7 Print with Package A! This was our free 5X7 below.
Once you book your appointment, you'll have the opportunity to schedule a phone call from Santa to invite your children to visit him. The call is a pre-recorded call on which you can personalize a few options.
You can set it to call right away, or pick a time and date to receive the call. It's just one of the free extras that come with the photo packages.
And that's it! Hurry and book your visit now, because this is one tradition you don't want to miss!
Finally, this whereissanta.com link can help you find pictures with Santa at any of the nearly 900 participating malls in the United States. And the coupon code LOTC is good at any participating mall, too, not just in Southern Maine where we live.