Polar bear plunges have been a New England tradition since the early 20th century. Some people tout health benefits from diving in frigid waters, as does a cousin of ours. You can find her, year round, in the water at Willard Beach in South Portland (she's a resident).
When Polar Bear Plunges occur
However, for many Mainers, plunges simply offer the opportunity for camaraderie with other daredevils as well as an opportunity to raise money for a good cause. Also, January 1 is unofficially National Polar Bear Plunge Day. So, it's not surprising that most Polar Bear Plunges in Southern Maine, including the Portland area, typically take place around New Years.
However, there is a small subset of polar bear dips that happen again around St. Patrick's Day. Go figure.
Typically, plunges charge a registration fee and encourage participants to raise additional funds for the named charity. Some offer prizes for those who raise the most funds.
Here is a roundup of upcoming Polar Bear Plunges. Keep in mind: these are events where you run into the water and run back out. Swimming is not encouraged. Also, emergency personnel and rescue squads are usually on hand for any injuries or cases of hypothermia.
New Year's Plunges
As of right now we're aware of three Polar Bear Plunges around New Year's Day in the Portland area. Here are the details for all three.
The Polar Bear Dip and Dash, South Portland
The Polar Bear Dip and Dash takes place on January 31 on the campus of the Southern Maine Community College in South Portland. That's also where you'll find a very cool Maine Lighthouse.
There is a run at 9 am. The plunge is at 10:30.
Registration is open now and the cost is $65 after November 15. All proceeds benefit the Natural Resources Council of Maine. The Natural Resources Council of Maine advocates for energy efficiency, clean transportation and renewable energy sources.
Atlantic Plunge, Kennebunk
Annual Atlantic Plunge – Freezin' for a Reason takes place at 11 am on New Year's Day at Gooch's Beach in Kennebunk. Registration for the plunge is $25 and is available online until December 29.
Onsite registration is available as well. All proceeds go to support Caring Unlimited, York County's Domestic Violence Resource Center.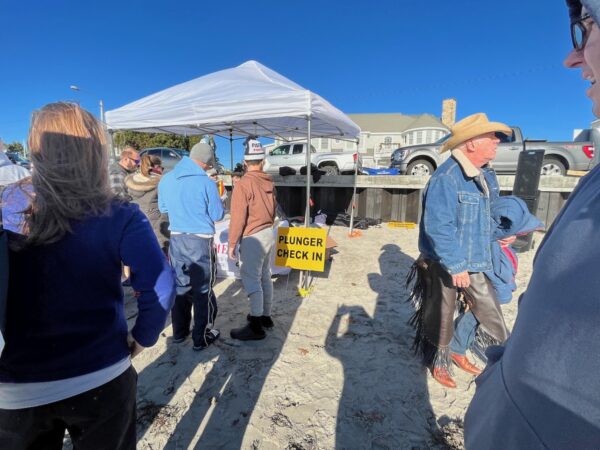 We happened to stumbled upon the Atlantic Plunge last year, when we took the dogs to Gooch's Beach on New Year's Day. It was unseasonably warm, which probably made the Polar Beach Plunge here a bit less shocking for the participants. Nonetheless, it looked like a ton of fun and that's where we took the pictures that appear in this article.
The Lobster Dip, Old Orchard Beach
The Lobster Dip takes place at The Brunswick in Old Orchard Beach at 11 am and again at noon (two waves, no pun intended). Dippers are expected to raise $100 each to participate. All proceeds benefit the Special Olympics of Maine.
March Polar Plunges
Since 2024 dates have not been announced yet, we will update this post as they become available. However, here are the details from two 2023 Polar Beach Plunges held in Maine in March.
Behold the Cold takes place in March (March 3, in 2023) in Ogunquit. Fundraising is encouraged, but not required. All proceeds benefit Rett's Roost, an organization that provides resources for families experiencing childhood cancer or child loss. The link provided here is for last year's plunge. It will be updated when a new link is available.
Paddy Plunge takes place near St. Patrick's Day (March 17 in 2023) to raise funds for the Portland Firefighters Children's Burn Foundation. The link provided here is for last year's plunge. It will be updated when a new link is available.