We never stopped to think about what to do with pumpkins after Halloween until one year we stumbled on something brilliant. At that time we had a yard waste compost at our home. After carving our Halloween pumpkins with our daughters, we tossed the pumpkin guts in that compost. Throughout fall we continued to add lawn clippings and leaves to the compost as well and never gave it another thought.
Then fast forward to the following fall: we went into the backyard to take the dog out. And next to that compost pile was a veritable pumpkin patch. We never stopped to think that composting our pumpkins after Halloween would give us free pumpkins for the next year.
What to do with pumpkins after Halloween
Now that Halloween has come and gone, you may be wondering what to do with the pumpkins you may have purchased at a local pumpkin patch. Clearly, tossing them in your compost pile is a great idea — especially knowing you may end up growing new pumpkins for next year's Halloween celebrations.
However, composting at home is hardly the only thing to do with pumpkins after Halloween. Here are some additional ideas.
Cook your leftover pumpkin
If your Halloween pumpkins are uncarved and still in good condition, you can cook them. For example, you can make pumpkin puree, which can be used in recipes for pies, breads and soups.
Simply cut the pumpkin into small pieces, remove the skin and seeds, and puree the flesh in a food processor. While you're at it, take the seeds and roast them for a future snack.
Recycle your Halloween pumpkin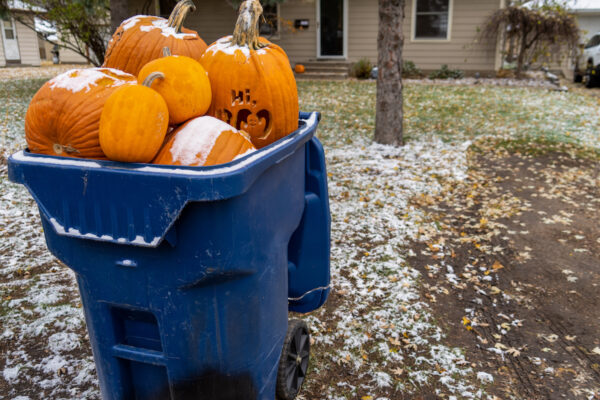 This was a new one on me — pumpkin recycling. But it's a real thing. Towns and organizations will take pumpkins off your hands to recycle or compost them for you. However, this isn't done with municipal curbside pickup. You have to bring the pumpkins to them.
For example, if you're a Kittery resident and have a sticker on your car to use the transfer station, you can compost your pumpkin for free at the Kittery Resource Recovery Facility (KRRF). This is during Hazardous Waste hours, though I'm not sure why pumpkins are considered to be hazardous waste. This portion of the facility is open on Wednesdays, from 9 AM – 5 PM and on Saturdays, from 7:15 AM – 3:15 PM.
Take your Halloween pumpkin to a community composting site
The City of Portland offers community composting, with multiple composting drop-off sites throughout the city. According to the PortlandMaine.gov website, here are some of those compositing drop off locations where you can take pumpkins as food scraps:
Boyd Street Community Garden (2 Boyd Street)
Brentwood Farms Community Garden (178 Brentwood Street at the edge of Evergreen Cemetery)
Libbytown Community Garden (175 Douglass Street)
North Street Community Garden (195 North Street)
Parkside, King Middle School (92 Deering Ave, in the back of the school near the Portland Fitzpatrick Stadium parking lot)
Payson Park Community Garden (Drop-off located at 82 Front Street)
Reiche School (166 Brackett Street, drop-off on the Clark Street side)
Riverton Community Garden (Drop-off located at far end of the Gerald E. Talbot Community School parking lot)
Parks, Recreation and Facilities (212 Canco Rd)
Peaks Island (Trott-Littlejohn Park)
If your town has a similar community composting program, you may be able to take your pumpkin there, too.
Curbside composting
Some Southern Maine towns offer curbside composting through the private organization Garbage to Garden. You can sign up and request a bucket, into which you'll put food scraps for weekly pickup — including Halloween pumpkins.
According to Garbage to Garden, they serve the following Southern Maine towns:
Bath
Brunswick
Cape Elizabeth
Cumberland
Falmouth
Gorham
Portland
Sanford
South Portland
Westbrook
Windham
Yarmouth
Feed farm animals or wildlife
There is an organization called Pumpkins for Pigs that lists pig farms that will take old pumpkins off your hands. Unfortunately, there aren't any listed in Maine. However, if you know a Maine farmer with pigs, reach out to see if they want your old pumpkins.
Back at your house, if you have a backyard with critters that visit, you can leave the pumpkin outside for them to eat. Squirrels, deer and other animals will enjoy the treat.
We have tons of chipmunks in our backyard. And I'm sure they'll enjoy munching on any pumpkin seeds we leave out for them. I just hope that if I decide to bury the seeds in our garden, for next year's crop of Halloween pumpkins, that they don't dig them up.
Final thoughts on what to do with pumpkins after Halloween
Whatever you do, please don't toss your Halloween pumpkins in the trash. According to the U.S. Department of Energy, most pumpkins end up in landfills. Remember: the primary reason for growing pumpkins is for food. In fact, it's one of the surprising things you can buy with food stamps. So don't waste pumpkins after Halloween is over.