If you are looking for a fun family friendly activity this fall, consider a trip to a corn maze or one of the Southern Maine pumpkin patches. At most pumpkin patches, you can pick your own pumpkin for less than they cost at your local grocer. And, you get a great day outdoors as well!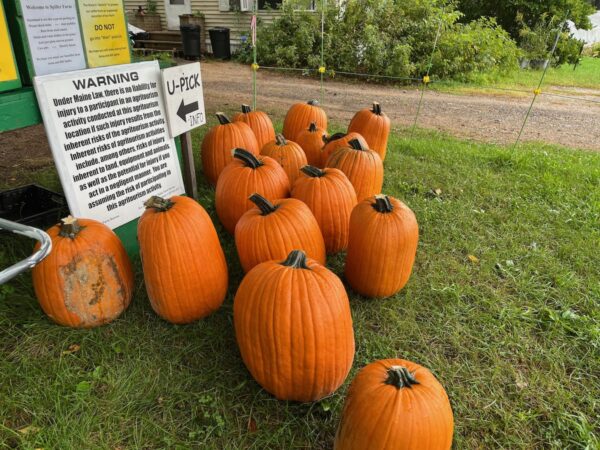 How we organized information about corn mazes and Maine pumpkin patches
We've listed attractions alphabetically by location. Most corn mazes and pumpkin patches are located on working farms or orchards. Also, most are within an hour of Portland, Maine.
Many of the orchards also feature pick-your-own apples peaches, pears or berries. This year, please note that many area peach crops have failed due to the February warming and frost.
Many pumpkin patches include their other activities for free or for a nominal charge. Others create a more carnival-like atmosphere and have an admission fee for their maze and other things you can do there.
In general, the pumpkin patches themselves have no admission fee. However, they do charge for the pumpkins that you pick (usually 60-80 cents per pound). Call ahead for costs and hours (which can vary based on the weather).
Alfred
Giles Farm — At Giles you can get your pumpkin along with a fresh apple cider donut. Their Southern Maine farmstand has a full selection of produce. And of course, since Giles has an orchard, you can pick your own apples.
139 Waterboro Road, Alfred, 207-324-2944.
Cape Elizabeth
Alewives Brook Farm — At the Pumpkin Patch by the Sea, you can enjoy a corn maze as well as the pumpkin patch. On the weekend there are farm-themed games and activities as well as food trucks.
Also, this Southern Maine pumpkin patch really is by the sea. Alewives Brook Farm is in Cape Elizabeth, close to both of these Maine lighthouses–Two Lights as well as the Portland Head Light.
Alewives is open seven days from 9 am to 7 pm.
83 Old Ocean House Rd – Cape Elizabeth, 207-799-7743.
Dayton
Pumpkin Valley Farm — As the name suggests, Pumpkin Valley Farm is a fantastic place to pick your own pumpkin. They have turned pumpkin season into their own fall festival complete with:
five-acre corn maze
bounce houses
corn pit
duck races
ball zone
farm animals
cow train ride (10 & under only, please)
There is a $15 charge to visit the festival area.
On the weekend there are refreshments, including craft beer, wood fired pizza, kettle corn, hot dogs and cider. Some concessions are cash only.
Open Saturdays & Sundays 10 am – 5 pm​. Call for weekday availability.
100 Union Falls Rd, Dayton, 207-929-4088.
Limington
Brackett's Orchards — Since Brackett's is an orchard, you can enjoy apple picking as well as the pumpkin patch. Enjoy hot mulled cider, donuts, a fun kid's train and an oversized apple slingshot.
32 Staples Road, Limington, 207-730-9169.
You'll find two Southern Maine ponds worth visiting in Limington, too.
New Gloucester
Royal Rivers Orchards — As we wrote about in our article about Maine Maple Sunday Weekend, Royal Rivers Orchards is part apple farm (no surprise, given its name) and part maple syrup producer. In the autumn, they also have a corn maze ($6 per person). There is also a mini corn maze for the little ones.
During the fall (September 1 through October 29, weather permitting), you can visit the orchard or maze from 9-4 on Friday, Saturday and Sunday. Check the Royal Rivers Facebook page for updates.
201 Peacock Hill Road, New Gloucester, 207-625-4756.
Springvale
McDougal's Orchard — At McDougal's, enjoy fresh donuts along with the corn maze and pumpkin patch. On weekends there are often wagon rides and a food truck. This is also one of our favorite places to go apple picking.
While the maze, patches and orchards are off limits to pets, McDougal's has miles of pet-friendly hiking trails. They will gladly share a map with you.
Hours are Saturday-Wednesday 9am-5pm, Thursday and Friday 9am-6pm.
201 Hanson Ridge Road, Springvale, 207-324-5054.
Wells
Spiller Farms — At Spillers you can pick your own apples, berries and veggies as well as pumpkins. On the weekend Farmer Bill offers wagon rides. There are also farm animals to visit and enjoy.
Hours are 9 am-5 pm daily, depending on the weather. The you-pick farm is cash only.
85 Spiller Farm Lane, Wells, 207-985-2575.
Final thoughts on Maine pumpkin patches
Finally, pumpkin patches and corn mazes (much like orchards for apple picking) are typically not dog friendly. So, please leave Fido at home. We know, sad face emoji. We love to take our dogs everywhere, too. However, when it's not appropriate, just leave them home.