Apple picking in Maine is great family fun. And nothing evokes a New England autumn like apple picking.
Maine apple picking season typically runs from mid-September into late October. Each apple variety ripens at its own pace. So, if you have favorites and hope to get them when you visit a nearby orchard, we recommend that you call ahead to see what's available.
For example, while researching this article my wife and I visited a few apple orchards in York County that let you pick your own. At one orchard, the honeycrisp were ready to go. At another, the Cortland apples and McIntosh variety were already off the trees. Honeycrisp was coming a few weeks later.
In general, orchards are not pet friendly, so it's best to leave the furry friends at home.
How we organized information about apple picking in Maine
Orchards are listed alphabetically by location. When it comes to picking your own apples in Southern Maine, in general, most orchards are within an hour of Portland. Many apple orchards also feature peaches, pears or berries.
Some have pumpkin patches as well. This year, please note that many area peach crops have failed due to extreme weather in February.
Pricing for pick-your-own apples
Many orchards sell by the pound. Some, though, rely on the traditional measurements, which are the bushel and peck. This denotes the size of the container for the apples.
A bushel equals 32 quarts.
A peck is a quarter of a bushel or eight quarts.
As far as weight goes, here's how that translates to a bushel and a peck:
A peck of apples typically weighs about 10 pounds
A bushel of apples is about 40 pounds.
Honey Crisp apples (our favorite) at our local grocer cost about $2 per pound. Pick-your-own can cost much less.
At many orchards, they are about $1.60 per pound. So, depending on your local grocery store prices, picking your own can be a deal. And, the experience is a lot more fun.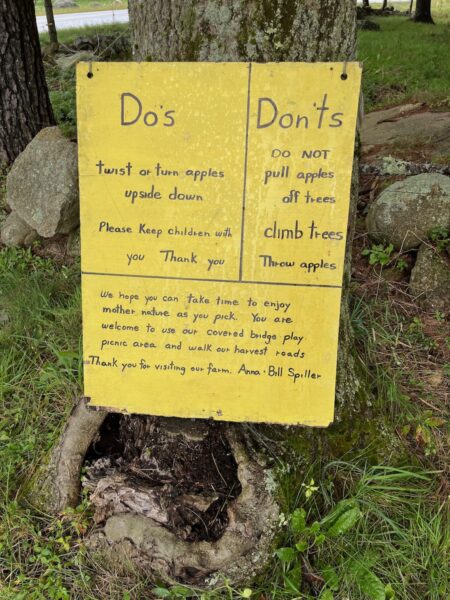 Apple picking in Acton
Kelly Orchards — In addition to more than a dozen apple varieties, you'll find peaches, blueberries, raspberries, pumpkins and fall squash. This year, their focus is on apples and blueberries.
Apples are $12 per peck or $20 per half bushel.
Blueberries are $5 per quart, $23 for five quarts.
Fall hours are Thursday to Sunday 9-4. Sill hours can vary by season and weather. Call ahead if there are concerns.
82 Sanborn Road, Acton, 207-636-1601.
Apple picking in Alfred
Giles Family Farm — Giles' farm also features a pumpkin patch as well as apple cider donuts (another of our favorites).
Apples are $1.50 per pound.
Pumpkins are 60 cents per pound.
Hours are Wednesday-Sunday 9-5, weather dependent. Call ahead if there are any doubts.
139 Waterboro Road, Alfred, 207-324-2944.
Apple picking in Gorham
Orchard Ridge — The Orchard Ridge store offers a variety of warm and cold foods. Sometimes, there are also live chickens available for folks who want to raise them and harvest their own eggs. In addition to pick-your-own apples at $2.49 per pound, they have pears for $3.30 per pound.
Orchard Ridge hours are Sunday, Monday, Wednesday and Thursday 8am-6pm; Friday and Saturday 8am-7pm. They are closed on Tuesdays.
236 Sebago Lake Road Gorham, 207-712- 1433.
Apple picking in Limerick
Libby's — Featured as a Best Apple Orchard by USA Today, Libby's lets you pick a variety of apples plus blueberries and raspberries. On the weekends there is often live entertainment. Make a day of it with wood-fired pizza, beer and burgers from local food vendors.
Blueberries cost $11.99 for a container that holds about a pound-and-a-half.
Apples cost $17.99 for a half peck. They have a variety of pricing structures for different sized containers and different sized groups of pickers. You can check out the Libby's Picking Today page to find out what's happening at the orchard that day.
Fall Hours are Tuesday – Thursday 9am-4pm and Friday – Sunday 9am-5pm. Libby's is closed Mondays, except holidays.
86 Sawyer Mountain Road, Limerick, 209-793-4749.
Apple picking in Limington
Brackett's Orchards — Enjoy hot mulled cider, donuts, a fun kid's train and an oversized apple slingshot.
Prices are $30 for 1/2 bushel and $16 for a peck.
Hours of operations at the scenic hilltop orchard are Saturday & Sunday 9am-4pm.
Picking at the orchard near the farm stand are seven-days-a-week 9am-5pm.
32 Staples Road, Limington, 207-730-9169.
You'll find two Southern Maine ponds worth visiting in Limington, too.
Apple picking in New Gloucester
Royal Rivers Orchards — As we wrote about in our article about Maine Maple Sunday Weekend, Royal Rivers Orchards is part apple farm (no surprise, given its name) and part maple syrup producer in their sugarhouse.
During the fall (September 1 through October 29, weather permitting), you can visit the orchard for pick-your-own apples.
Royal Rivers grows the following apple varieties:
Red Delicious
McIntosh
Cortland
Here are the Royal Rivers prices for apple picking:
1 peck $15
1/2 peck $10
1/4 peck $5
Apple picking is Fridays, Saturdays and Sundays only. Check the Royal Rivers Facebook page for updates.
201 Peacock Hill Road, New Gloucester, 207-625-4756.
Thompson's Orchards — The Thompson family has been running the farm since 1906. Along with 15 varieties of apples, you'll find mulled cider, baked goods, jams and handicrafts at the farm store.
Pick your own apples are $1.60 per pound. The orchard is open every day from 9-6.
276 Gloucester Hill Road, New Gloucester, 207-926-4738.
Apple picking in North Yarmouth
Hansel's Orchard — Hansel's offers you-pick apples for $14 per peck. They are open from 10-5 on Wednesdays, Saturdays and Sundays.
44 Sweetser Road, North Yarmouth, 207-829-6136.
Apple picking in Springvale
McDougal Orchards — Things get so crowded at McDougal's that before Indigenous People's Day, they encourage weekend reservations. In addition to the farm store and donut shack, enjoy a corn maze, wagon rides and a pumpkin patch.
Pick your own apples cost $2.00 per pound. If you bring your own bag, it's $1.90 per pound.
There are other things you can pick at McDougal's, too.
Raspberries are $7.00 per pound.
You can also pick your own flowers. Fill a paper towel tube for $5 or fill a plastic iced-coffee cup for $15.
They accept cash, cards, local checks, Apple Pay, WIC and SNAP. (These Maine farmers markets also take SNAP EBT.)
Hours are Saturday-Wednesday 9am-5pm, Thursday and Friday 9am-6pm. Use the McDougal webpage for reservations.
201 Hanson Ridge Road, Springvale, 207-324-5054.
Apple picking in Wells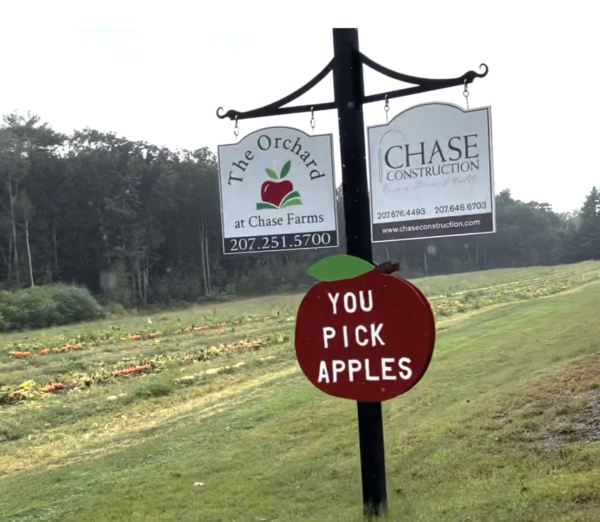 The Orchard at Chase Farms — Chase Farms has been owned and operated by the same family since the 1600s. In addition to produce and baked goods, Chase Farms offers their own farmed-raised beef and pork.
The Orchard is down the road from the farm store. Apples are $2 per pound.
They take cash, check or Zelle at the orchard. They are open from 9-4 Fridays, Saturdays and Sundays.
1396 North Berwick Road, Wells, 207-251-5700.
Spiller Farm — Spiller farm offers you-pick veggies, berries, pears and pumpkins as well as apples. On weekends, Farmer Bill offers wagon rides and is happy to talk about the farm animals. There is also a CSA at Spiller Farm plus a farm store.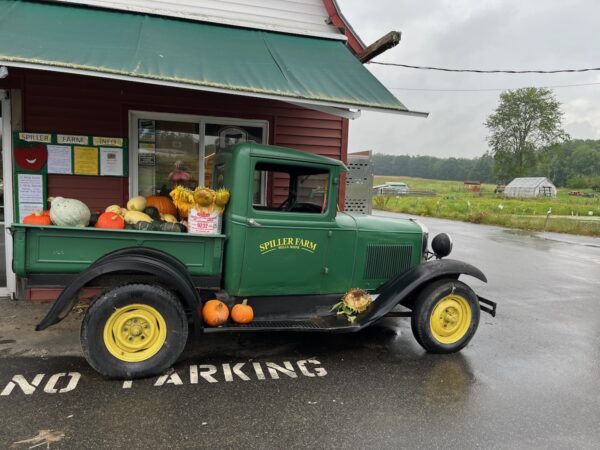 Apples are $9.50 per half peck, $16 per peck and $30 per half bushel. Pears are $2.49 per pound. Raspberries are $5.29 per pound.
Hours are 9 am-5 pm daily, depending on the weather. The you-pick farm is cash only.
85 Spiller Farm Lane, Wells, 207-985-2575.