As I wrote about in this roundup of national food days and holidays, National Pretzel Day happens each year in late April. This year that food holiday falls on April 26.
Primarily, you'll find free pretzel offers from national chains. However, most of the chains don't have a presence in Maine–except for one. And that is Auntie Anne's.
Currently, there are two Auntie Anne's locations in Southern Maine. One location is at the Maine Mall in South Portland. The other location is at the Maine Turnpike South Travel Plaza (exit 25) in Kennebunk.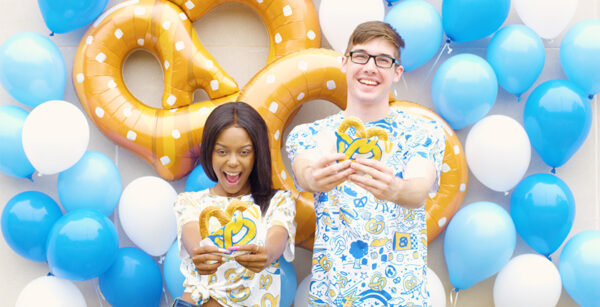 Photo courtesy of Auntie Anne's
National Pretzel Day offer at Auntie Anne's
Before I get into the details of the National Pretzel Day offer, I wanted to explain that lots of times travel plaza locations don't participate in food holiday offers or app offers or anything like that. I don't know if it's because these are municipal locations versus private stores like in a mall. Therefore, I don't think the Kennbunk location will have this offer.
On the other hand, if you want to get a free pretzel on April 26, I would recommend stopping by the Auntie Anne's at the Maine Mall on National Pretzel Day.
While the brand hasn't yet announced exactly what it's giving away this year, here's what I know from pretzel day's past. If you had the Auntie Anne's Pretzel Perks app downloaded on your phone and you showed it at the counter, you would get a BOGO offer.
That is, you would buy one pretzel and then you would get one for free. Again, in year's past the free pretzel was a cinnamon sugar pretzel. If you've never tried them, well, they're delicious!
Based on this post on the Auntie Anne's Facebook page, it appears that having the Pretzel Perks app is once again required to get the National Pretzel Day offer.