Did you hear the news about Bed Bath and Beyond stores closing? Just this week the company filed for bankruptcy protection. Then, days later, they announced that they were winding down all operations. That's fancy talk for saying that they were closing their stores.
This includes the one store in Southern Maine on Running Hill Road in South Portland. (There is a second store in Augusta.) I'm really bummed about this news as I just shopped at that Bed Bath and Beyond store in December for window treatments for my new exercise space.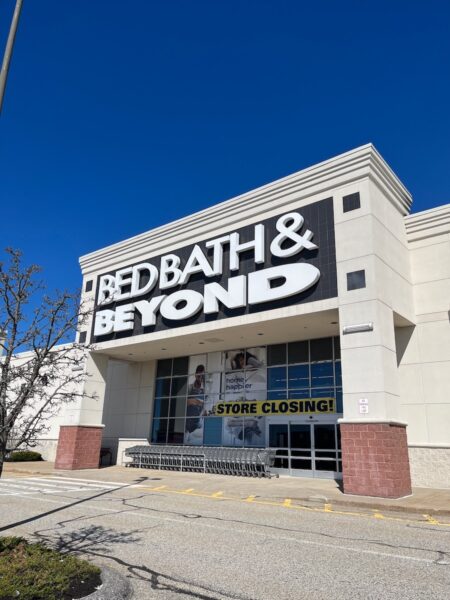 Photo credit: Leah Ingram
Anyway, I know that this news is real for a number of reasons. One, I've seen it reported in most major news outlets. Two, as a Bed Bath and Beyond customer, I got an email announcing the stores' closing.
And, three, when I visited the store website today, I was greeted with the message below on the home page.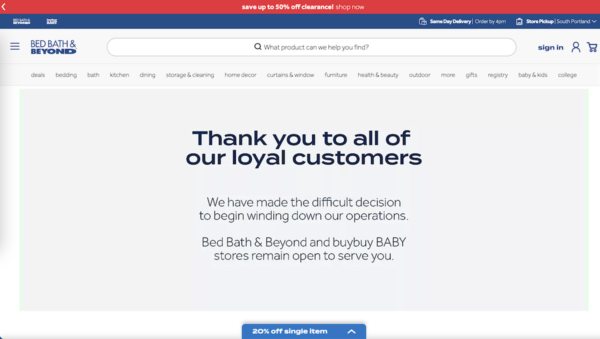 What you need to know about Bed Bath and Beyond stores closing
My colleagues at Living on the Cheap put together an FAQ about the Bed Bath and Beyond stores closing. I've reprinted some of that information below.
Bed Bath and Beyond returns and exchanges
Returns and exchanges at Bed Bath and Beyond stores will continue per the store's existing policy through May 24, 2023. That is, if you purchased anything prior to April 23, 2023, you will have until May 24 to return or exchange that item.
This is a huge change from the prior Bed Bath and Beyond store return policy. Previously, you had 90 days to make a return or exchange.
Gift cards, gift certificates and the like
If you have any gift cards or gift certificates to Bed Bath and Beyond, use them now. Seriously, dig them out of your wallet, junk drawer or car's glove box and spend them.
That's because after May 8, 2023, the stores will no longer accept any form of gift cards or gift certificates or loyalty certificates from the Bed Bath and Beyond rewards program.
All coupons and rewards are expiring
I grabbed the image at the top of this article on the Bed Bath and Beyond website on April 23. You'll notice at the bottom, there is a tab for a 20% off coupon.
Later, I got a popup offering me the same 20% off. Well, guess what? Those won't be around for much longer.
The store says that starting April 26, 2023, you cannot use any coupons or welcome rewards coupons at the store or on the website. I'm guessing because of this news, those tabs and popup offers will be going away very soon.
Gift registry's future is unknown
In this article about the best bridal registries that save money, I tout the Bed Bath and Beyond gift registry for its generous discounts and free products that registered couples receive. I'm confident that will no longer be true–about the discounts and freebies, that is.
In fact, in the email I got from Bed Bath and Beyond, here is what they said about the future of the gift registry:
"Your registry data is safe. You can still view your registry at this time. We expect to partner with an alternative platform where you will be able to transfer your data and complete your registry. We will provide details in the coming days."
Note to engaged couples in Maine: consider registering at Target instead. They have a huge selection of the housewares you may have found at Bed Bath and Beyond.
Final thoughts on Bed Bath and Beyond stores closing
Bed Bath and Beyond says that all in-stock orders placed online prior to the bankruptcy filing will be fulfilled. Also, the store says it will continue to fill orders for as long as it can.
However, I think it would be smart to start shopping elsewhere. Because if you spend money at a business that has declared bankruptcy and you don't get your order, then you're going to have to get in line behind all of the other creditors waiting to be paid. It's not worth the risk.