You have two opportunities to enjoy IHOP free pancakes on National Pancake Day each year. That's because there are two pancake holidays annually.
One, there is IHOP free pancakes on IHOP's own pancake holiday. In 2023, that occurs on February 28.
Two, then there is the nationwide National Pancake Day that other restaurants, including IHOP, are likely to celebrate. That flapjack celebration usually occurs in late September–on or around September 26.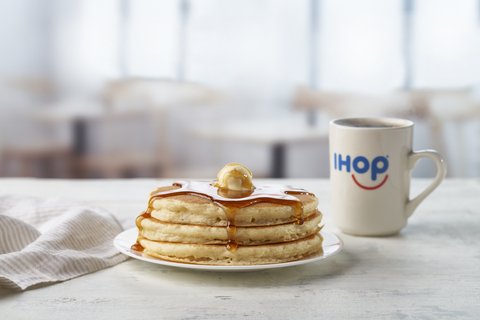 How to get IHOP Free Pancakes on National Pancake Day
So, how do you get those free pancakes at IHOP on its singular National Pancake Day? Just show up at your local IHOP location.
The IHOP-only free pancake promotion starts at 7 a.m. and ends at 7 p.m. on Tuesday, February 28, 2023. This is for dine-in only service.
Sure, the restaurant will give you a free short stack. However, they hope that you'll order something else and then roundup your bill to the nearest dollar. Finally, all the money IHOP raises on National Pancake Day is donated.
While you may see this food holiday as a way to get free food, it's actually an annual fundraising event. From the IHOP website that describes its National Pancake Day celebration:
"For the past 16 years, IHOP has celebrated its own national holiday, National Pancake Day, a one-day, in-restaurant event where guests enjoy a free Short Stack together under IHOP's blue roof. Every dollar raised during IHOP's National Pancake Day campaign stays local and supports the nearest children's hospital associated with the charity partners. Since the first National Pancake Day, IHOP guests have raised over $30 million for various children's hospitals throughout the country."
Where to get free pancakes at IHOP in Southern Maine
I've tracked down the three IHOP locations in Maine that are within the Southern Maine on the Cheap coverage area. Remember, you can get your free shortstack from 7 a.m. to 7 p.m. for dine-in only.
IHOP, 649 Turner St.
IHOP, 195 Maine Mall Rd.
IHOP, 515 Main St.
This article provides a comprehensive list of national food holidays and free food days.