If you're looking for flights to Portland, Maine, there are a few important things you need to know.
One, the Portland, Maine airport is actually called the Jetport.
In fact, it's the Portland International Jetport.
Two, its call letters are PWM.
And, three, it's one of the nicest, small airports you can fly in and out of on the East Coast.
So, I wanted to give you a rundown on what you need to know about the Portland Jetport as well as which airlines offer flights to Portland, Maine.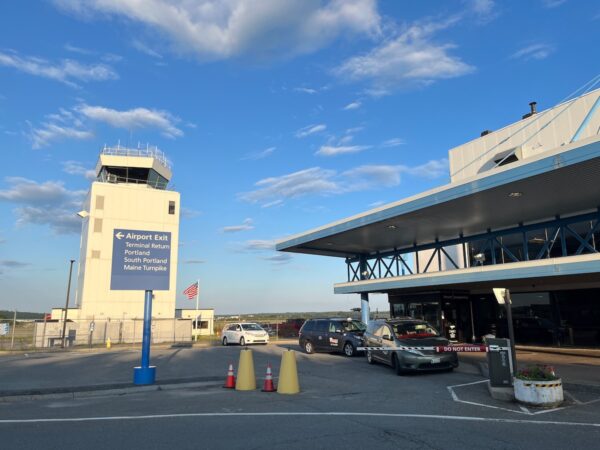 Photo credit: Leah Ingram.
Flights to Portland, Maine
Right now, there are eight carriers with direct flights serving the Portland Jetport.
Below I've listed those airlines alphabetically.
Also, I've included the non-stop, direct destinations they serve.
Finally, if the information is available, I've also added dates that flights resume to the Jetport.
You see, with Maine being such a popular summer destination, some airlines only offer direct flights to/from certain cities during the warmer weather months.
Now onto the list of airlines with direct flights to the Portland (Maine) International Jetport.
American Airlines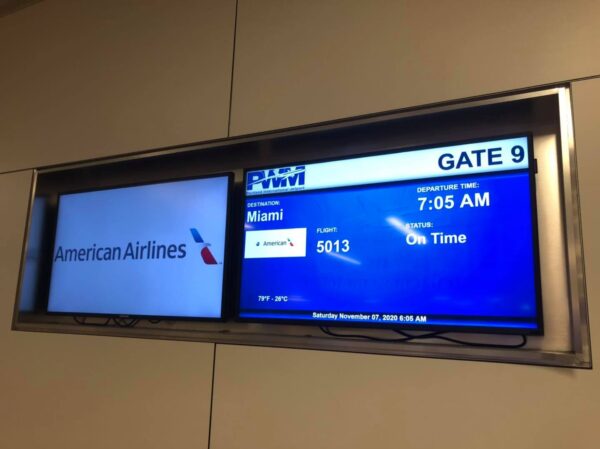 Photo courtesy of Portland International Jetport
You can fly American Airlines from Portland Maine airport to the following destinations:
Charlotte, North Carolina
Chicago O'Hare
Dallas, Texas (Service Resumes June 3, 2023)
Miami, Florida
Philadelphia, Pennsylvania
Washington (DC) Reagan National Airport, Arlington, Virginia
Starting in June 2024, American adds two daily direct, non-stop flights to LaGuardia Airport in New York City. So, you can add New York to list of flights you can catch from Portland to New York.
Breeze Airways
Photo courtesy of Breeze Airways
Most recently, Breeze Airways announced it would be offering non-stop flights to and from Portland Maine.
Some of these flights cost as little as $39.
So, if you're looking for cheap flights to Portland, Breeze may be your best option this year.
Flights begin on May 17, 2023 to some of these destinations.
That's just in time for the Memorial Day holiday weekend.
Breeze will serve all of these destinations by June 2, 2023.
Where are the non-stop Breeze Airways flights to and from Portland, Maine?
Charleston, South Carolina
Norfolk, Virginia
Pittsburgh, Pennsylvania
Tampa, Florida
Note: Flights to/from Norfolk and Pittsburgh are seasonal summer only. However, they're perfect if you're planning a weekend in Pittsburgh.
On the other hand, Breeze flights to/from Charleston and Tampa are year round.
Delta Airlines
Since Delta Airlines is based out of Atlanta, it's no surprise that they fly from Portland, Maine to Atlanta, GA.
However, that's hardly the only destination Delta serves from the Portland Jetport.
Here's the alphabetical list of cities:
Atlanta, Georgia
Detroit, Michigan
Minneapolis, Minnesota (service resumes June 5, 2023)
New York City JFK Airport
New York City LaGuardia Airport
Frontier Airlines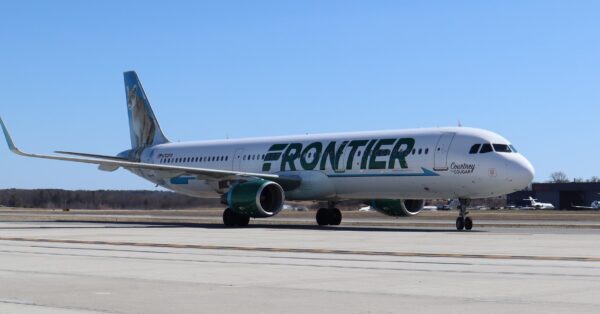 Photo courtesy of Portland International Jetport
Right now, Frontier Airlines is the only carrier at the Jetport that offers nonstop service to Orlando, Florida.
Also, on April 21, 2023, it will resume service to Raleigh/Durham Airport in North Carolina.
Frontier is known for offering cheap, no-frills airline service.
Finally, these are the only two destinations that Frontier flies to from Portland, Maine.
By the way, one year you could get free cookies at PWM on National Cookie Day in December.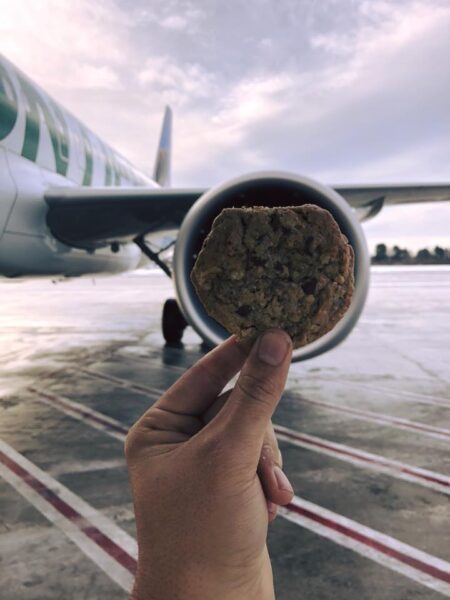 Photo courtesy of Portland International Jetport
JetBlue Airlines
Until May 3, 2023, if you want to fly JetBlue Airlines anywhere, you'll need to drive to Boston Logan Airport in Massachusetts.
That's one of JetBlue's hubs.
However, starting May 3, 2023, JetBlue brings back regular service from Portland to two New York City airports:
Southwest Airlines
Southwest Airlines serves two destinations to/from Portland, Maine. They are:
Baltimore/Washington (BWI) Airport in Maryland
Chicago Midway (service resumes June 4, 2023)
SunCountry Airlines
Photo courtesy of Sun Country Airlines
Right now, SunCountry Airlines isn't offering any flights at the Portland Jetport.
That's because it offers a seasonal flight schedule only.
So, starting June 8, 2023, SunCountry will fly from Portland to Minneapolis, Minnesota.
In June, it will make this trip on Sundays and Thursdays.
Then, starting in July, flights will increase to Sunday, Monday, Thursday and Friday.
That will continue through August–four days a week.
Finally, the last flight of the season is on Monday, September 4th, or Labor Day.
United Airlines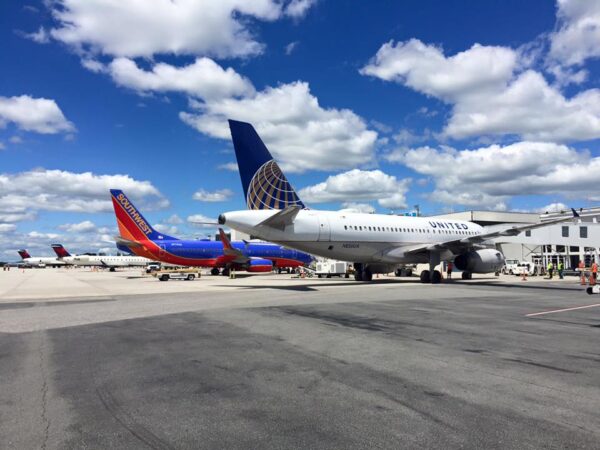 Photo courtesy of Portland International Jetport
You can fly to Portland, Maine on United Airlines if you're coming from one of these airports:
Chicago O'Hare
Denver (service resumes June 2, 2023)
Newark/New York City Airport, Newark, New Jersey
Washington Dulles Airport, Dulles, Virginia
Flights from Portland, Maine to NYC
Only a handful of airlines that serve the Portland Jetport offer non-stop flights to New York City airports
In case you didn't know, there are three NYC-area airports.
They are JFK International Airport, LaGuardia Airport and Newark Liberty International Airport, which is actually in New Jersey.
As of this writing, here are the airlines with flights from NYC to Portland, Maine:
JFK
LaGuardia
Delta
JetBlue (seasonal)
American (starting June 2024)
Newark Liberty International Airport
Car rentals at the Portland Maine Jetport
Here are the car rental services at the Portland Jetport:
Alamo
AVIS
Budget
Dollar
Enterprise
Hertz
National
Note: all of these car rental services are located in the parking garage atrium.
Don't make the mistake that we did and try to Google directions to the car rental offices.
You'll end up on the service drive at the end of the airport, with nary a car rental counter in sight.
Like I said you'll need to head to the parking garage.
Hopefully, the airport has updated signage since we last tried to return a rental there.
Parking for Portland Jetport arrivals
There are two short-term parking lots that you can use for arriving flights at the Portland Jetport.
One is called a cell phone lot.
It's near the Embassy Suites hotel on the airport property but farther away from the terminal.
The other is a short-term lot right outside baggage claim.
It says passenger pickup, loading only.
That is, you cannot leave your car and go inside the building.
However, when I've brought my dogs Sadie and Oscar with me to pick up my husband, I've been able to walk them around the perimeter of that lot while waiting for him to collect his baggage.
Park and Fly packages at the Portland Jetport
There are a handful of hotels near to the Portland Jetport that offer Park and Fly packages.
That is, if you stay at the hotel the night before your flight, you can park your car for free for up to seven days, depending on the hotel.
There are two hotels right at the airport.
They are the Hilton Garden Inn and the Embassy Suites.
Check with them and see if they offer free parking for hotel guests who leave their car before flying out.
Finally, here is the airport website for more information on the Portland International Jetport.