My introduction to candlepin bowling in Maine was going to the Strike and Spare bowling alley in Kezar Falls. That's where my grandfather, an avid bowler, was in a league.
My cousins and I loved going with our Grandpa Maine–that's what we called him–because we didn't have that kind of bowling near us. This was even true for my cousins who lived in Connecticut.
Since candlepin seems to be a very New England thing, I just assumed that they have candlepin bowling alleys in the New Haven area where they lived. Nope.
According to the International Candlepin Bowling Association (ICBA), these three New England states have the most alleys that offer candlepin bowling:
Massachusetts: 17
New Hampshire: 8
Maine: 11
In fact, according to the ICBA, they are the only three states that do. And, candlepin bowling got its start in Worcester, Massachusetts.
You may be curious about candlepin bowling given the recently Maine Public Radio story, which NPR picked up: "A Maine community comes together to save a candlepin bowling tradition."
Where to go candlepin bowling in Southern Maine
The bowling alley in that NPR story is not in Southern Maine. And of the 11 alleys the ICBA says are in Maine, fewer than half are in Southern Maine.
However, I did my own research. Therefore, I've found a few more to add to the list.
Here is an alphabetical list, by name of alley, to places in Southern Maine that offer candlepin bowling.
Finally, some of these bowling alleys may offer a senior discount.
Archie's Strike & Spare Candlepin Bowling, Parsonsfield, Maine
Archie's is what the lanes are called where my grandfather, my cousins and I would go bowling years ago. The building is in the same location. However, it's now called Parsonsfield (since Kezar Falls no longer exists as a legit town).
Even though vintage candlestick bowling continues, the alley itself and atmosphere has been modernized somewhat. For example, instead of just offering bowling, Archie's now has regular trivia nights plus free WiFi.
Also, Archie's still has regular bowling leagues. That is, there are leagues for men, women, co-ed teams and kids.
Big 20 Bowling Center, Scarborough, Maine
The Big 20 Bowling Center has been around since 1950. Located right on Route One in Scarborough, it has 20 lanes of candlepin bowling. No surprise, I guess, since it is called the Big 20.
Every Friday and Saturday nights, the Big 20 hosts "Rock N Glow" bowling. It's glow-in-the-dark bowling set to classic rock and current pop music.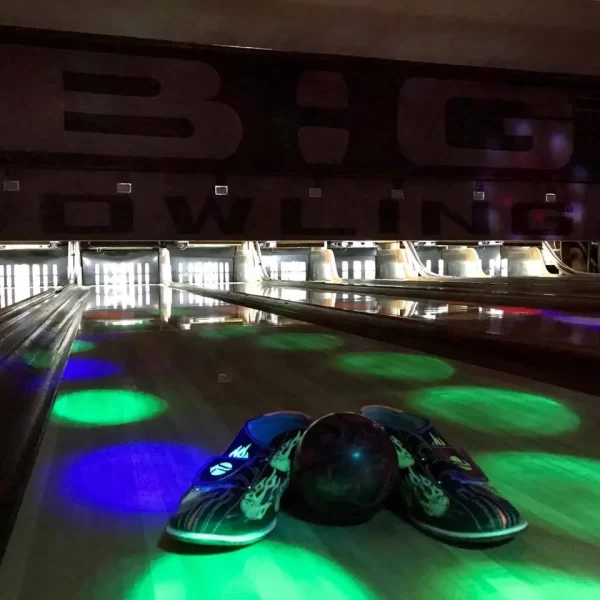 Rock N Glow Bowling/Photo courtesy of Big 20
The Entertainment Book of Southern Maine may have bowling coupons inside.
Bowl-a-Rama, Sanford, Maine
You'll find 20 lanes of candlepin bowling at Bowl-a-Rama on Main Street in Sanford.
Saco Valley Sports Center, Fryeburg, Maine
Not only does Saco Valley Sports Center have 16 lanes of candlepin bowling, but also there is a golf simulator, pool tables and an arcade.
Note: don't try to go bowling here during the annual Fryeburg Fair. The bowling alley is always closed.
West-Port Bowling Lanes, Westbrook, Maine
You know why this candlepin bowling alley is called West-Port? Because it sits close to the border of both Westbrook and Portland.
In 2023 West-Port Bowling Lanes hosted the Maine State Candlepin Classic Tournament.
Facts about candlepin bowling
Let me give you a quick rundown of candlepin bowling vs regular bowling.
Bowling pins
In candlepin bowling, you are trying to knock down 10 bowling pins like in regular bowling. FYI, "regular" bowling is called ten-pin bowling, which is weird since both games use 10 pins.
However, the pins in candlepin are cylindrical whereas "regular" bowling pins are bottom heavy.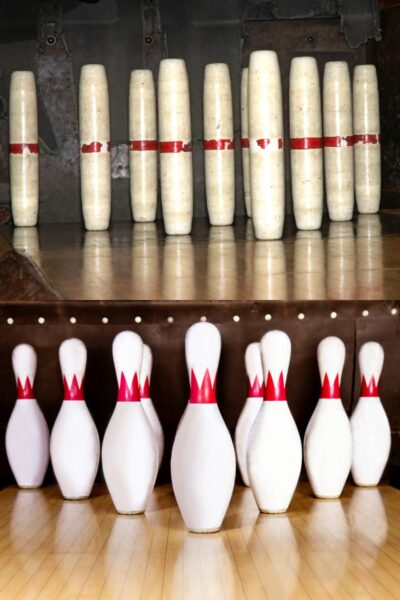 Candlepin bowling pins vs regular bowling pins
Balls used for bowling
The candlepin bowling ball is more akin to a bocce ball, in that it can fit in your hand. There are no finger holes. It weighs under three pounds.
On the other hand, a "regular" bowling ball is similar in size to a soccer ball or basketball. Therefore, you need the three finger holes to hold it. Finally, regular bowling balls weigh anywhere from six pounds to 16 pounds.
Candlepin bowling ball vs full-size bowling ball
Number of bowling frames
In ten-pin bowling, you have two frames per throw to knock down the 10 pins. The only exception to this rule is the last frame of a game. If you happen to get a strike in your first frame, then you have two more frames to bowl to end the game.
On the other hand, you always have three frames during candlepin bowling. Also, unless the rules have changed, the lane is not "swept" or cleaned up in between frames. Therefore, you can use the deadwood (pins that have fallen down) to help knock down other pins until your turn is over.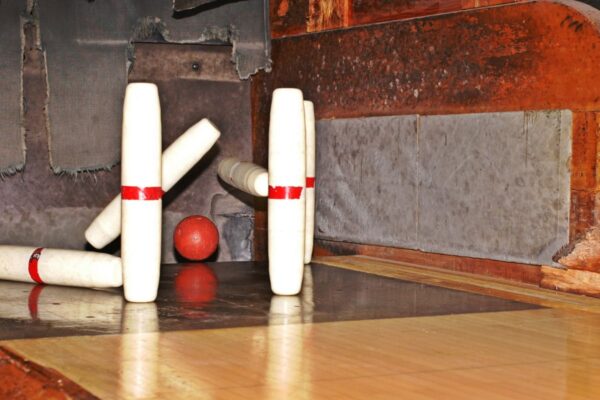 Finally, candlepin and tenpin bowling are hardly the only kinds. This article on Groupon.com explains other kinds of bowling you might enjoy.
Here are places where kids can bowl for free in Southern Maine.